We're getting ready to be beach bound for a week and I'm so excited for a vacation. Traveling with a little one makes packing a bit more extensive, so I try to make a list and stick to it. (Or else I end up overpacking.) A few things I can't forget include swimwear, sunscreen, & a good book. Even though I doubt I'll get much reading done, I've had Go Set a Watchman on my must-read list since I first learned of Harper Lee's sequel. And so many people have recommended Where'd You Go, Bernadette that it'll most definitely be in my beach tote.
Finding the right swimwear can be difficult, especially after having a baby. I know it's been hard for my girl friends and myself over the last couple of years. After all, we can't have our 21-year-old bodies forever! So I wanted to provide a few suits I've found that cover more and provide a bit more security while chasing a toddler. I couldn't resist sharing a few matching suits for baby girl too.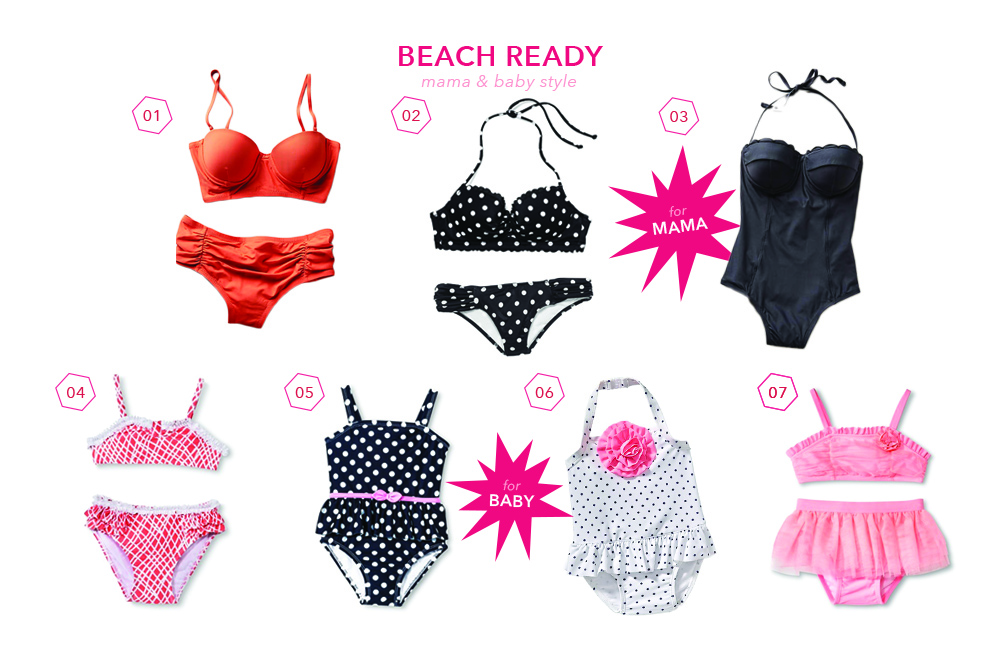 Sources: (1) mix & match with mid-rise bottom & top (2) black & white polka dot (3) black scalloped one-piece (4) ruffle, coral bikini (5) navy & white polka dot (6) polka dot rosette (7) rose tankini
Not pictured is this adorable ruffle one-piece by Victoria Secret. Several of my mama friends have this one and love it.
I'll be tossing this SPF 30 by Honest Co. and this one by Coola in my beach tote too. For Joy Belle, I like to use this SPF 50 by Babyganics. It's worked well for us this summer! And I love knowing that while being protected from the extra UV rays, our skin isn't exposed to nasty chemicals either. What's in your beach tote this summer?