Now that Joy Belle is a bit older, we've transitioned from our diaper bag to this adorable, mermaid pack. It was a birthday gift for Joy Belle and she loves it. It's the perfect size for necessities (diaper + wipes, sippy cup, snack, & a toy or two) and it's adjustable straps make it easy her to wear. This summer, I've found it hard to keep her snacks and water cool whenever we're on the go; so I've been in search of a lunchbox for when we're out and about.
With all of the back to school promotions, I managed to find several that I really like and a few were on sale!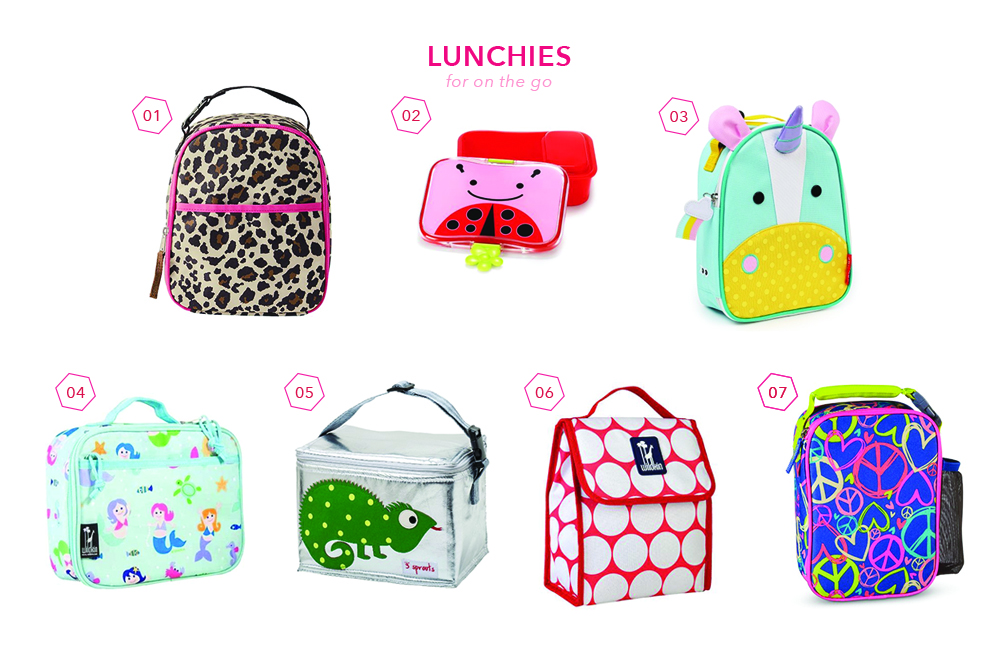 Sources: (1) leopard print lunch bag; (2) zoo lunch kits; (3) unicorn lunchies; (4) mermaid lunch box; (5) big dot lunch bag; (6) iguana lunch bag; (7) multicolor lunch bag.
These What's For Lunch Bags are insulated, kid-tested, and available in various prints. The outside pocket is perfect for a pack of fruit snacks or cash. And isn't the leopard print adorable? I can't get over the hot pink zipper. Added bonus: Now through August 16th, back to school shoppers can enjoy 20% off backpacks, lunch boxes, and more at Hanna Andersson.
These lunch kits by Skip Hop are just awesome. Perfect to toss in a diaper bag, lunch box, back pack, or purse! I love the cute, zoo animal options and that it seals shut to prevent leaks.
Skip Hop nailed it with their adorable lunchies too. Insulated, soft exterior, wipe-clean interior, with friendly faces and matching zipper-pulls, these zoo lunchies make snack time fun! Right now I'm obsessed with anything magical and whimsical, which is why I want this sweet unicorn lunchie for Joy Belle (or me!).
Mermaids, the reason this lunch bag made my list of favorites! It's conventional and cute, with a front zipper pocket. (Can you tell I like a front pocket?)
This Munch n' Lunch bag by Wildkin folds flat, is insulated, and easy to clean. It's BPA and phthalate free. Plus, the big dot print is fashionable for baby and mommy – win, win.
Recently I discovered 3 Sprouts at Target and I'm obsessed with everything they make, especially these lunch bags. This one with the iguana is too stinkin' cute. Everything I've seen by 3 Sprouts makes me smile!
Last by certainly not least, this multicolor lunchbox by Circo screams fun. Neon hearts + peace signs = love. Plus, it's super affordable.
I'd take my lunch to the office in several of these lunch boxes! How about you? What have you found to be your go-to for on the go?