If you've seen any photos of my child, you may have noticed she rocks a hair bow like a princess rocks a tiara. We love bows! And because of that, Joy Belle has hair bows in lots of colors. With so many bows, I wanted a convenient place to store them – something that allowed me to easily find a matching bow and wouldn't mess up their form. If you grew up in the 90s, you're probably familiar with the little girl head with yarn braids to hang bows. (Click here if you don't know what I'm talking about.) Not exactly what I had in mind. With a little ingenuity, I came up with this ribbon option that has worked perfectly for us. It's a simple, quick, and affordable option too.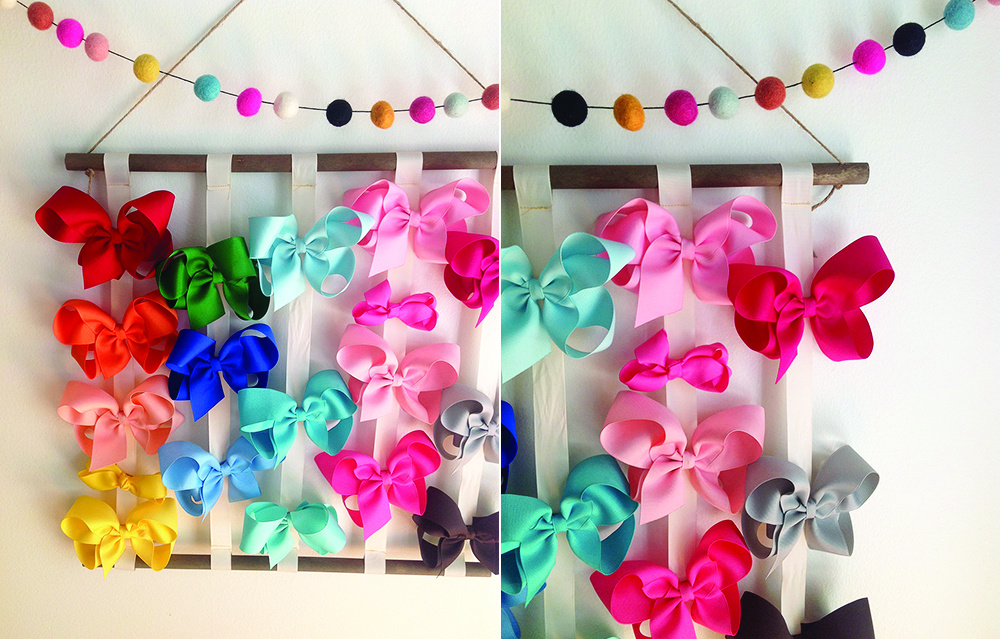 What you will need:
ribbon
3/4″ dowel
twine or yarn or string
hot glue gun or sewing machine
drill
To get started, you will need a dowel – any size will do. I used a 3/4″ round dowel I purchased at Hobby Lobby for another project and cut it in half. You could purchase two shorter dowels at a craft store and skip that step. I wanted a little contrast on the white door, so I stained it using a coffee and vinegar stain.* While it dried, I measured and cut five 14″ ribbons. I folded the ends over with 1″ (creating a 2″ loop) and sewed it together. You could easily hot glue the ends too.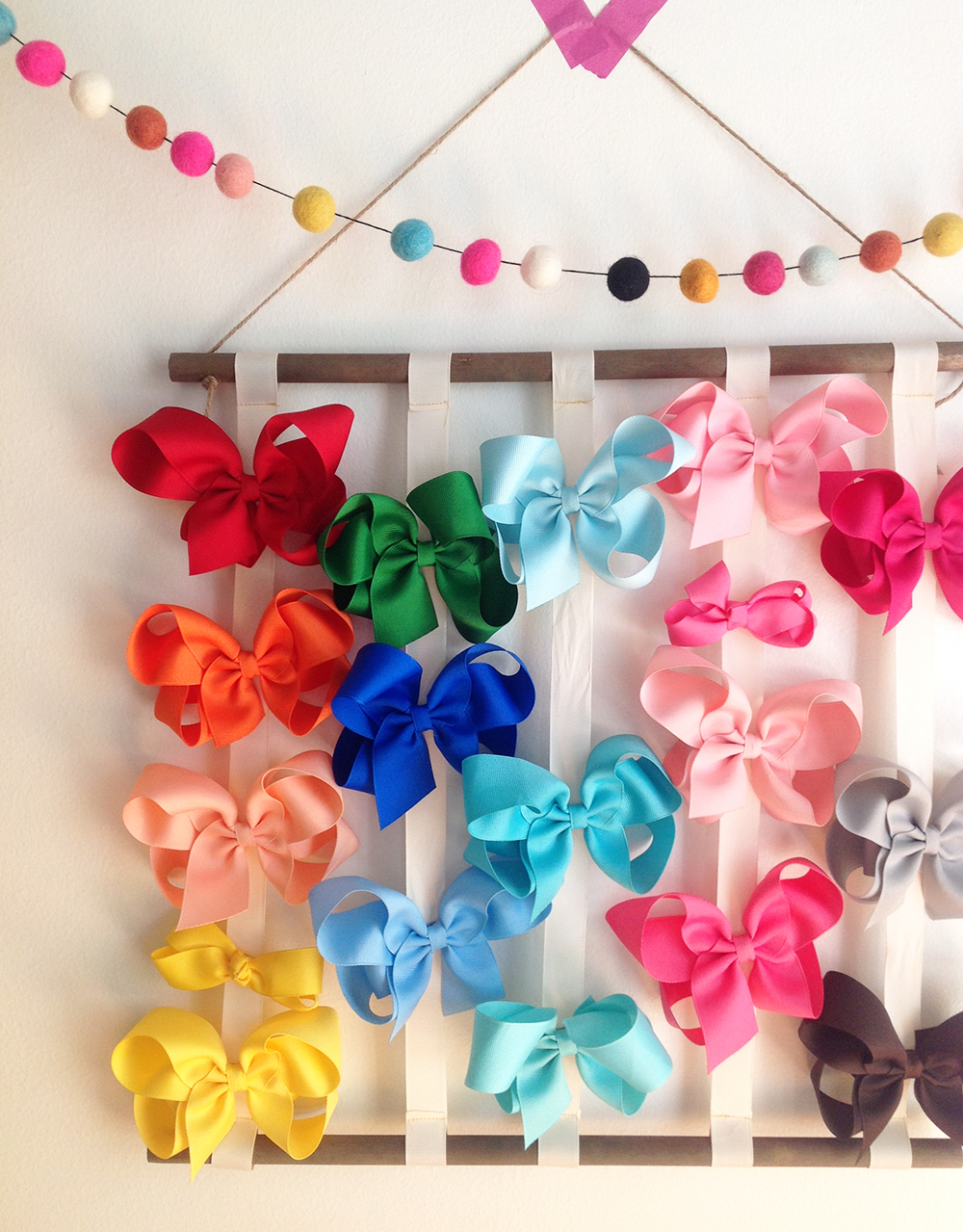 Once the dowels are dry (you may have to wait overnight), you can either drill a hole through one dowel or use eye hooks to hang the twine. Before threading the twine, slip the ribbons onto the dowels (one for the top and one for the bottom). Thread the twine through the pre-drilled holes or tie the twine through the eye hooks.
Our bow hanger is hanging on the back of Joy Belle's door, but it's cute enough to display in a girl's bedroom or bathroom.
This is a $12-ish, DIY project, but it cost me nothing because I had the supplies on hand. Think outside the box and try to use supplies you have around the house. The ribbon I used was actually wrapped around a Pottery Barn gift box and I keep twine on hand for gift wrap.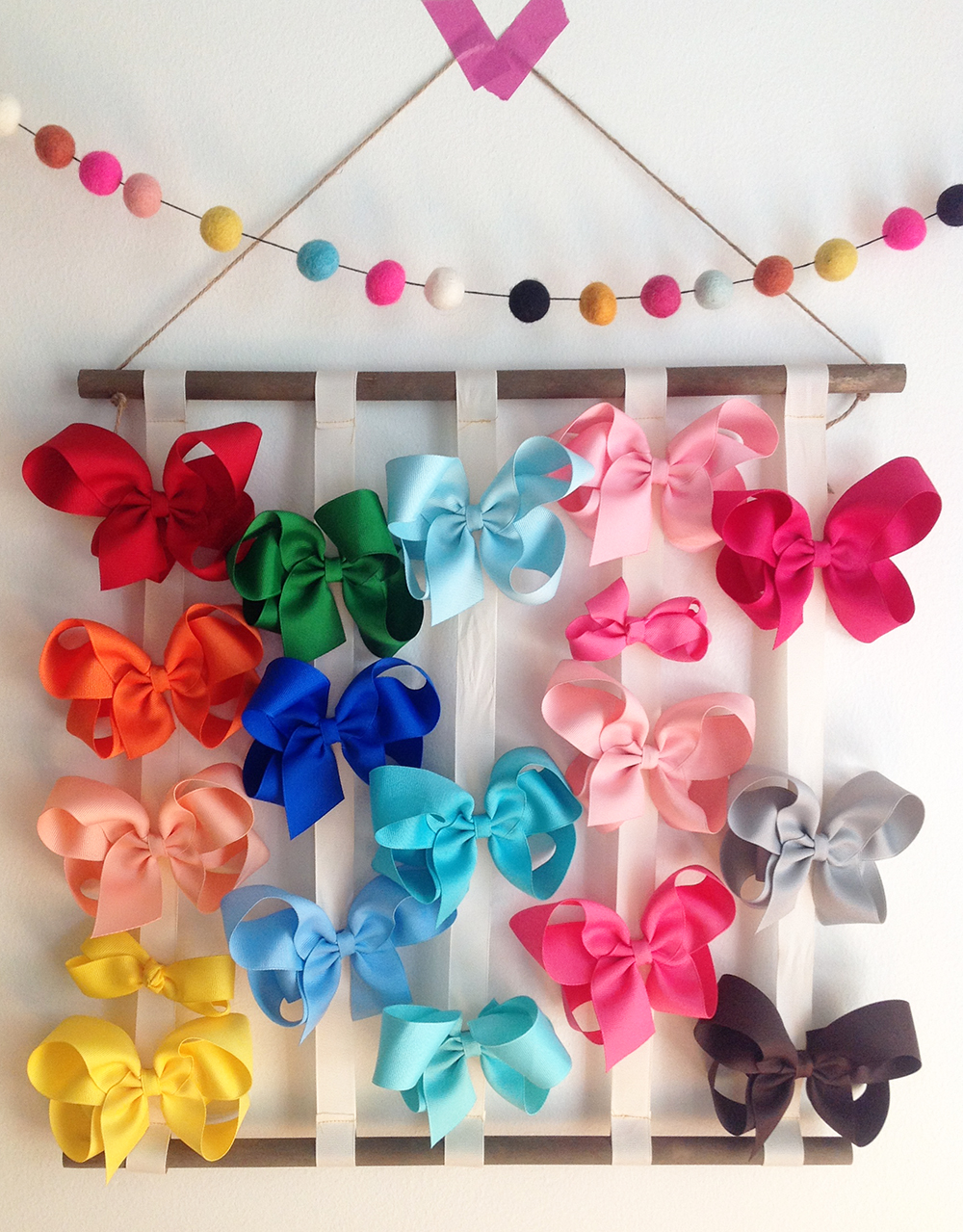 *Combine a 1/2 cup of coffee with a 1/2 cup of apple cider vinegar, and use a bundle of steel wool to apply. It works best if the coffee + vinegar mixture sits with the steel wool in it for a minimum of 30 minutes.
Most of our bows are from Georgia Belle's Bows on Etsy.