For so many reasons, it's become a tradition for almost every occasion, for Joy Belle to paint us, grandparents, aunts, and uncles a gift. It all started because I absolutely love to paint, I want Joy Belle to be able to express herself, and I hope (why wouldn't I?) that she loves crafting as much as I do.
Just before Christmas last year, Joy Belle was cast-free for the first time since she was 6 days old, so I really wanted to get her feet prints on ornaments to recognize God's goodness. On one side was her footprint, with this scripture on the other side. It was a sweet, priceless gift we'll have forever and so will our loved ones.
Earlier in the year, we had plates made for the grandparents with her tiny handprint. I absolutely love documenting those tiny, growing hands and feet.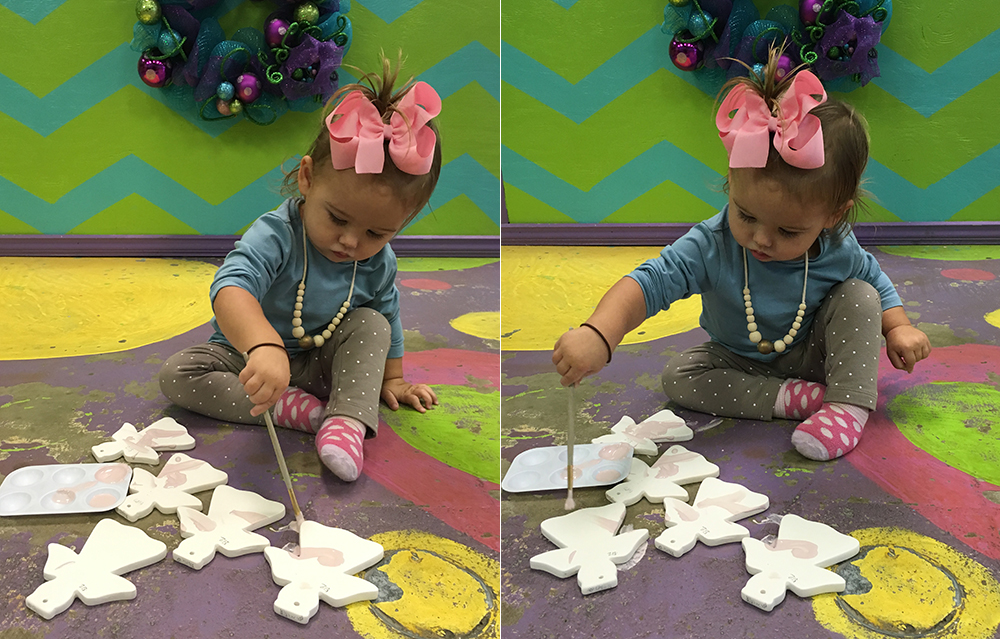 This year, we're celebrating the fact that she's our walking miracle baby. Those once crooked feet are straight-ish, wrinkled all over, covered in only a million creases, and beautiful. So, we documented this moment in time with footprints of those precious feet on an ornament once again.
Along with our footprint ornament, I decided to let Joy Belle paint ornaments for our family. Since she's our little angel, we decided the angel ornament would be perfect. With all of the rainy days that we've had lately, The Clay Spot has been one of our favorite outings.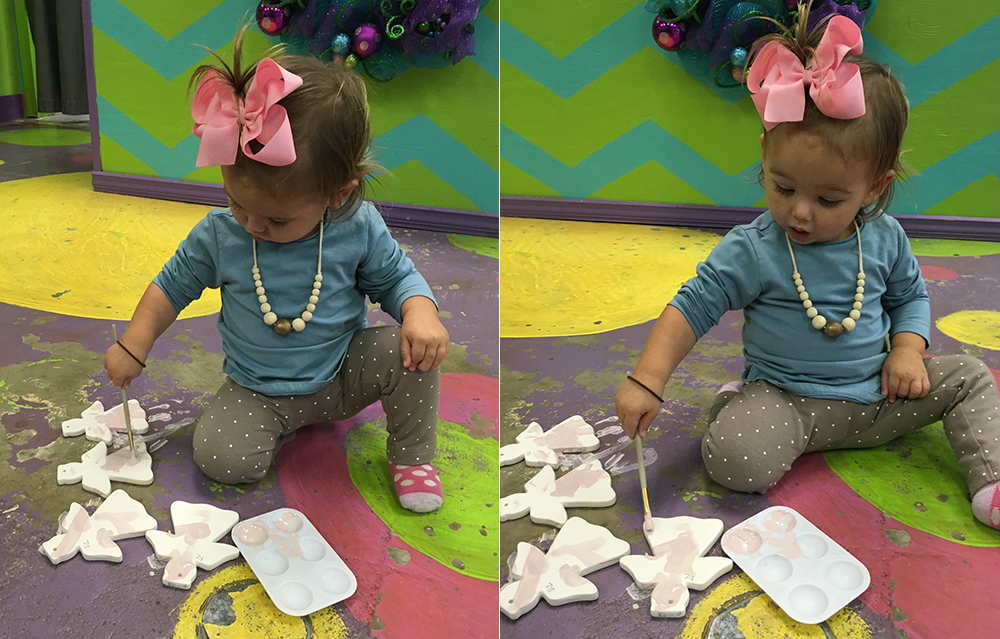 Stacie (owner of The Clay Spot) is such a gem to work with. She's wonderful with children, very patient, and extremely talented. Not only is she great to work with, she has generously decided to give one lucky reader an ornament. For your chance to win, visit The Clay Spot on Facebook and be sure to like our Facebook page and tweet about the giveaway for extra entries.
This year make Christmas special with personalized gifts for everyone on your list. You can stop by the shop during store hours and let your little one paint you a beautiful, made-for-you ornament to treasure forever. They have everything from plates, serving dishes, coffee mugs, and holiday decor to paint. No matter your child's age, they are sure to enjoy making a mess masterpiece with the paint(s). Not crafty? Let Stacie and her team transform your child's hand or foot print into a turkey, a Christmas tree, or reindeer! I promise you, they are super cute and all of your gift receivers will love them.