Joy Belle is 16 months! What? How is that possible?
She's sassy, sweet, and full of love. She's growing like a little weed and I find myself wishing I could make time standstill. I know it's been said before, but it feels as if she was born yesterday, while at the same time I can't imagine life before her. The Lord blessed me and Justin beyond words when He gave us this little feisty girl.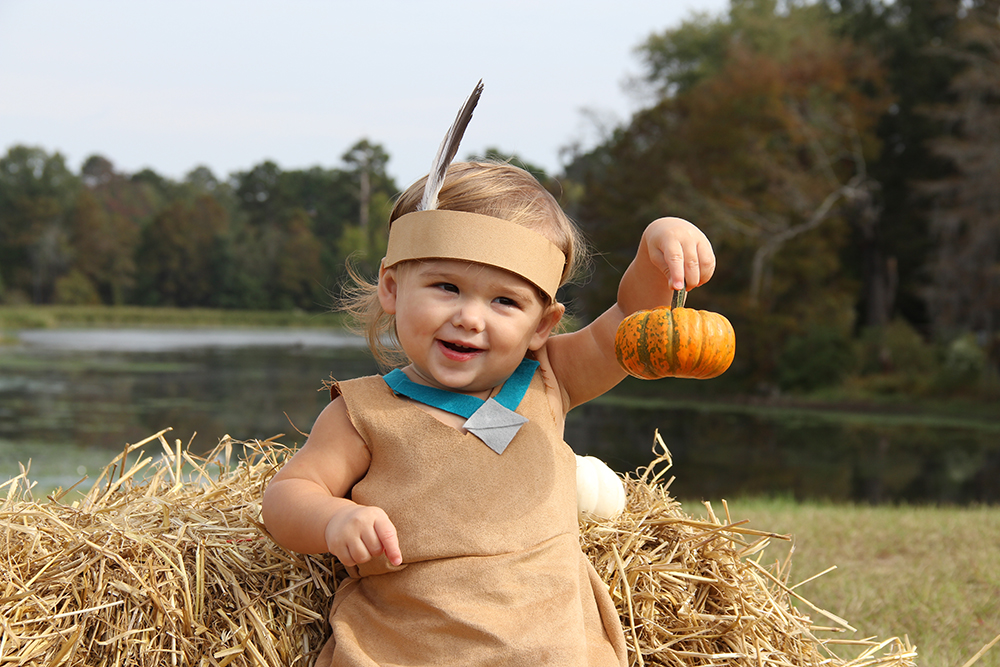 Joy Belle, 16 Months
HOW OLD IS BABY?
16 months, 8 days. (Taken on Halloween morning.)
BEST MOMENT(S)?
Seeing our girl take her very first steps! Talk about a miracle. It seems like yesterday that I thought I'd never see that happen.
FAVORITE FOOD(S)?
She loves Annie's Cheddar Bunnies/Goldfish, Cheetos, chips, cucumbers, broccoli, rice, macaroni & cheese, black beans, chicken fingers, edamame, shredded cheese, and pickled anything!
SLEEP?
Her sleeping habits are the same, some nights are better than others, but she still isn't sleeping through the night. Naps are a huge improvement though. We cut the morning nap and she sleeps for about 2 hours in the afternoons, most days.
ACTIVITY?
As you may have seen here, she took her first steps and is daily taking more. Since she's gotten her newest shoes and braces, it's as if she's been given extra confidence. Every time she walks further distances, we clap and cheer! It won't be long before our little priss is running.
MOOD(S)?
Happy, sassy, and hangry – covers all moods of our girl. She's only cranky whenever she's hungry or sleepy (hangry), but who can blame  her.
GROWTH?
She's quickly outgrowing her 12 month clothing, but she's not quite in the 18 months clothes yet. She's petite, like her mommy, so the pants and dresses are all long. I'll have to try to make a point to get some measurements one day soon.
FAVORITE TOY(S)?
Her dolls, hands down. She rocks them, loves on them, puts them to bed, feeds them. They go everywhere she goes. It's the sweetest. She loves stuffed animals too. She's really into puzzles and books. Her favorite book right now is, "Brown Bear, Brown Bear." She's so smart, she can identify (by pointing to) each of the animals when you name them.
WHAT IS BABY'S FAVORITE THING TO DO WITH MOMMY?
She loves for us to sing and dance together! We sing lots of "If You're Happy & You Know It"; "Zacchaeus"; "I've got the love of Jesus"; and "Mickey Mouse Clubhouse." She also loves for us to chase Chipper and her to practice walking. I love to take her to the park at the church (indoor & outdoor), on walks in her wagon, bike rides, and on mini adventures, like to the pumpkin patch. She loves for me to tickle her and snuggles too. One of her favorite things lately is for us to color and put stickers all over paper and our faces. 
WHAT IS BABY'S FAVORITE THING TO DO WITH DADDY?
She loves when Daddy flips her over his shoulder, swings her around, and flips her upside down. She giggles and giggles and squeals for more! She also loves when he colors with her. And after her bath, she only wants Daddy to get her out and dry her off. She'll scream for "Da-dee" until he comes to get her out of the tub.
LIKES?
She loves snacks, clapping, dancing, walking outside/strolls, anything she can chew on, using a straw, FaceTime with Aunt Bethany, music, daddy, mommy, & Chipper, her puppy. She loves to see her grandparents & aunts & uncles. She likes to cuddle before naps & bedtime. She likes to chase Chipper & watch him catch bubbles. She likes to take Chipper's toys & get him to chase her. If he won't, she chases him. She loves Mickey Mouse Clubhouse, especially the songs at the beginning & end of the show. Her favorite is Minnie Mouse and she's gotten to where she'll squeal whenever she sees Mickey or Minnie. She loves to dance & bounce to music. She likes to be flipped upside down. She loves her baby dolls! She likes to climb up & on everything. She's recently discovered jumping & wants to jump on everything! That & walking up the stairs are her favorite activities at physical therapy.
DISLIKES?
She doesn't like to sleep & isn't a fan of laying down. She doesn't like loud noises or other babies to cry. She doesn't like to sit in her highchair or to be told "no". She's not a fan of milk or any beverage, but water.
IS BABY DOING ANYTHING NEW?
She's recently taken her first steps, so walking is her new thing. She also loves to jump, which I mentioned above. New words include "Blue" (for my dad), "Piper" (David & Teal's pup), and a couple of sounds that mean "Mickey" and "pumpkin". I keep expecting her to start talking up a storm, but she's content conversing with us in her own way.
HOW MANY (IF ANY) TEETH DOES BABY HAVE?
12! She looks like a toddler. She's got a mouth full of teeth!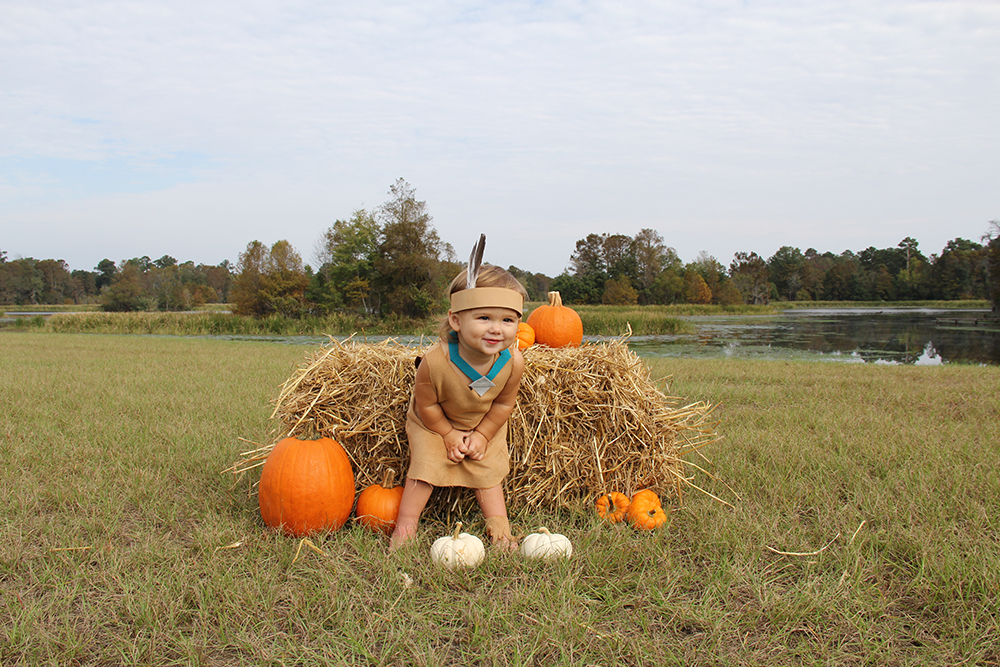 These photos were taken on Halloween morning. I might be bias, but I fully believe I have the most adorable Pocahontas. More photos from our little photo shoot coming soon.