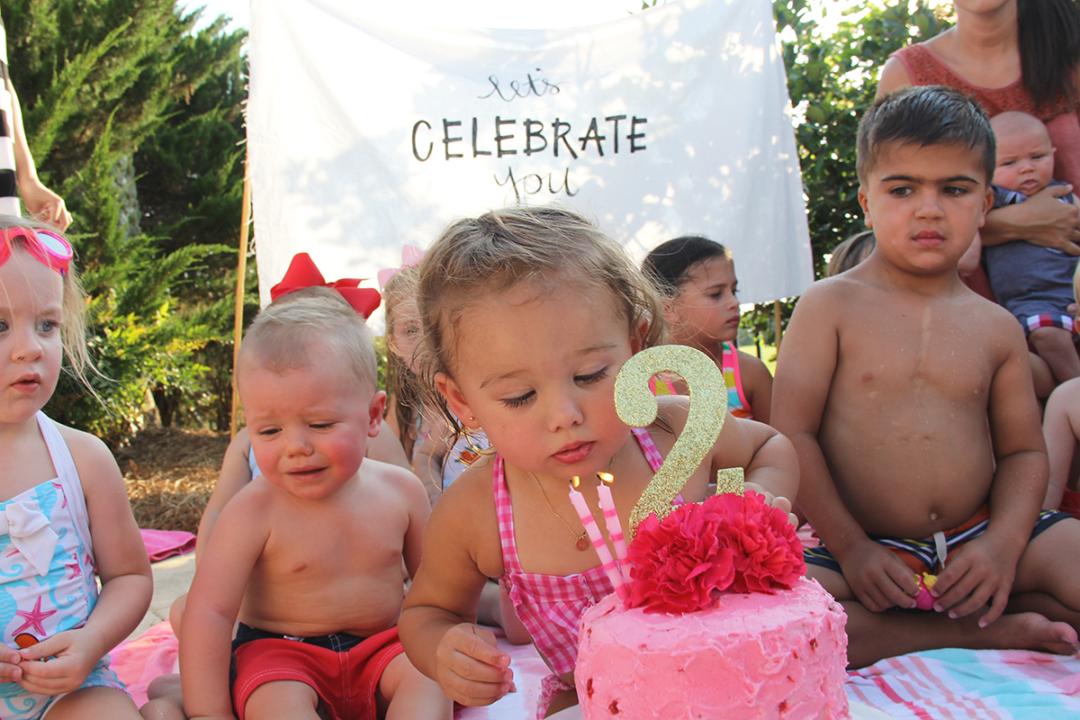 Our sweet girl just turned TWO and I still can't believe it. We decided to celebrate with a poolside picnic, all things pink, and a few of her favorite things. We invited some of her cousins and friends to join us in celebrating, while keeping the guest list pretty small. My goal was intimate but festive, and to make our girl feel like a princess.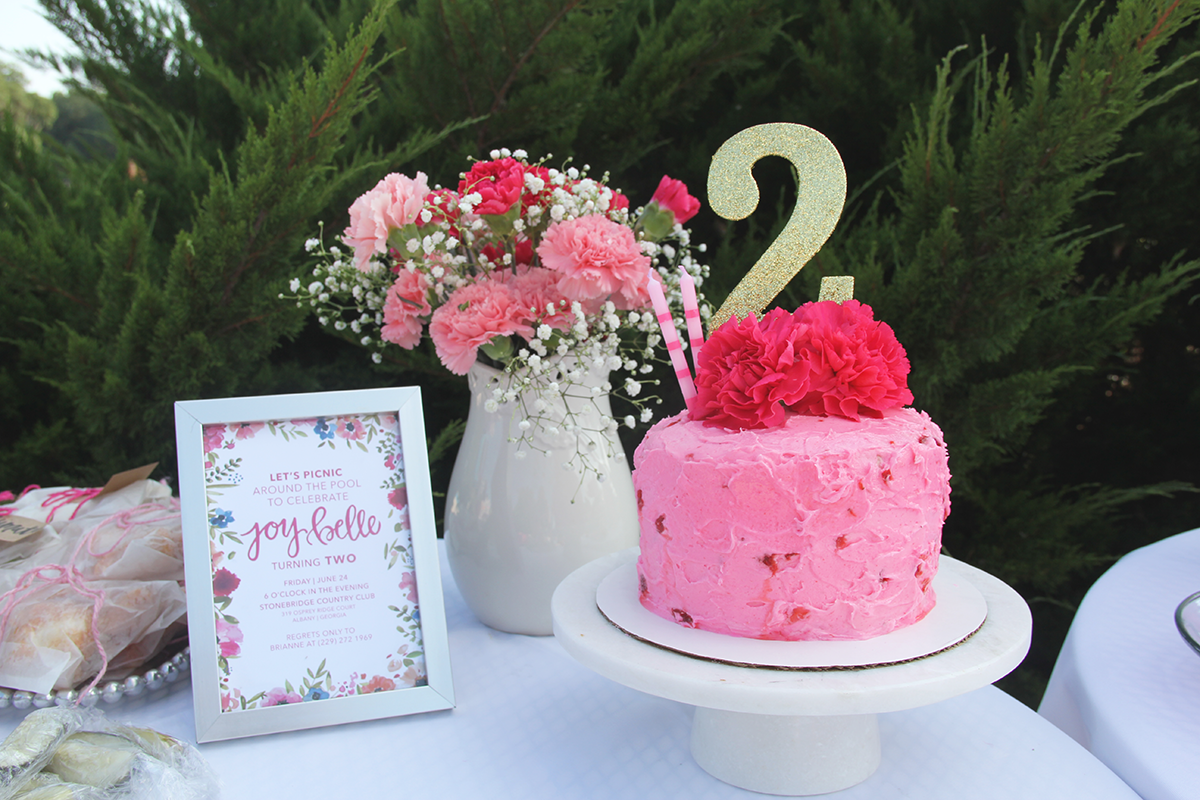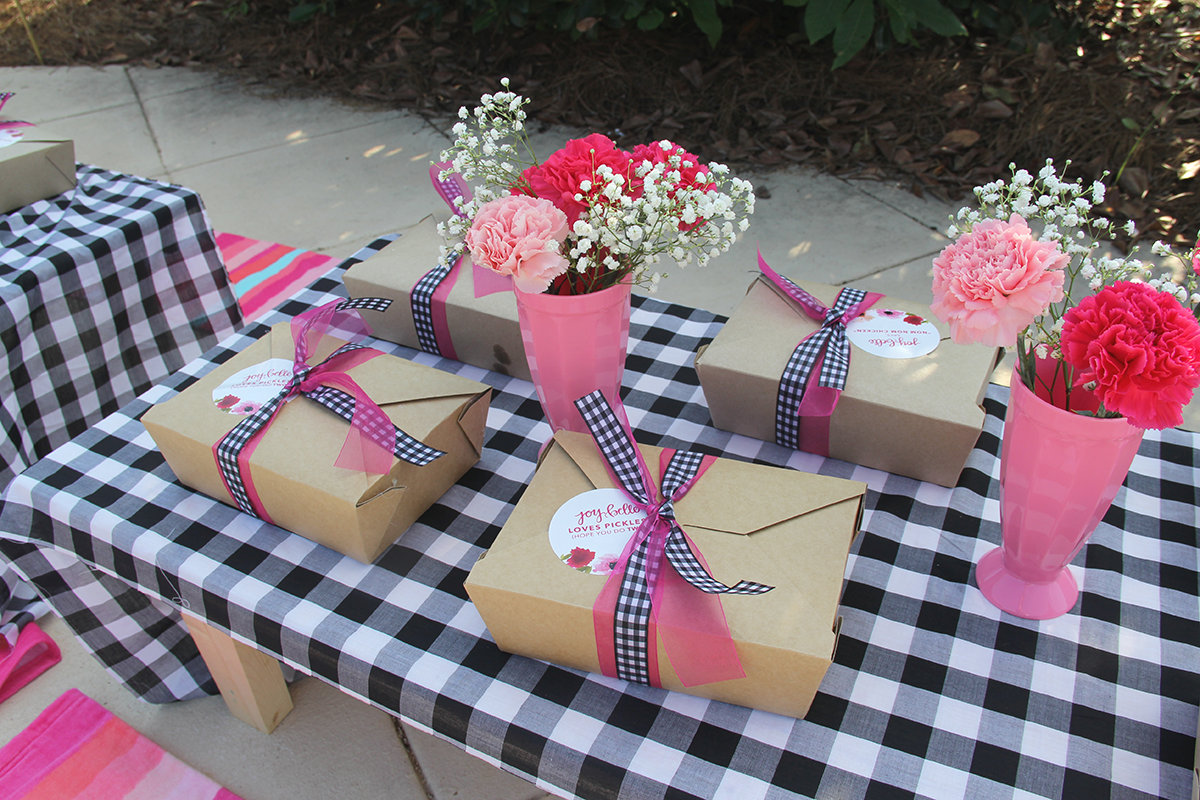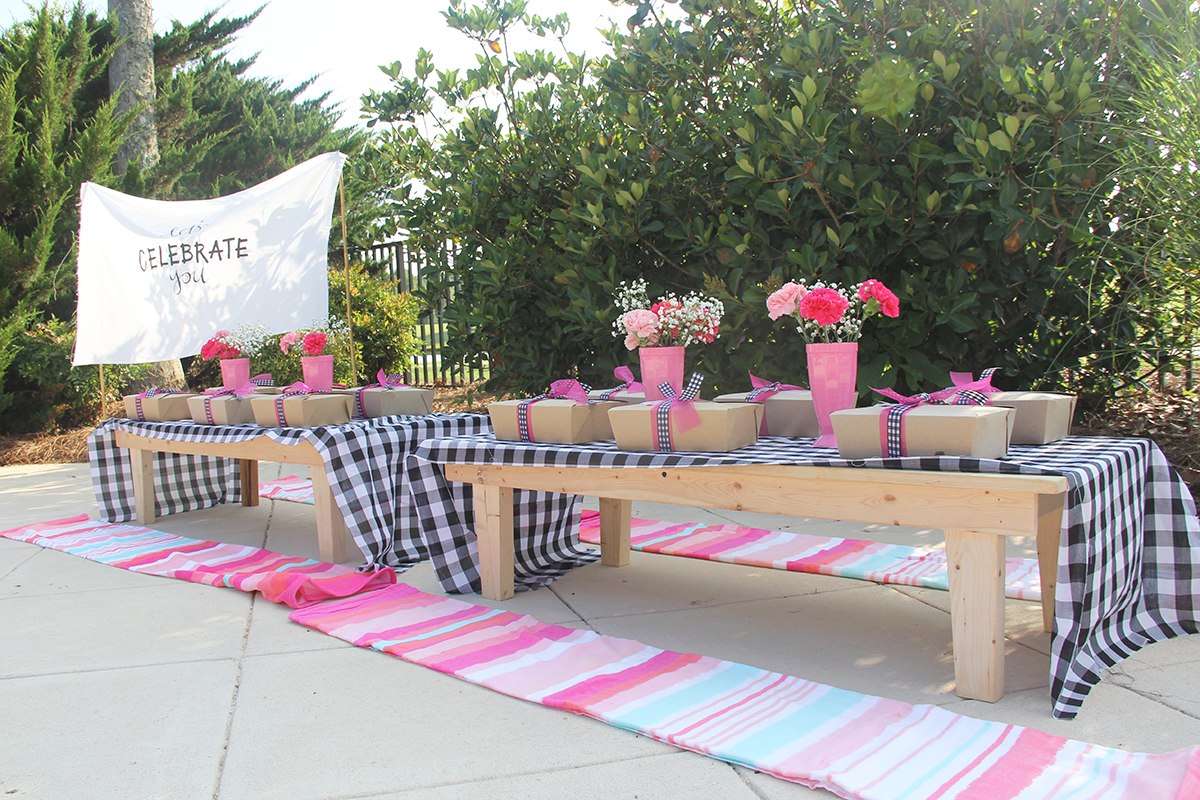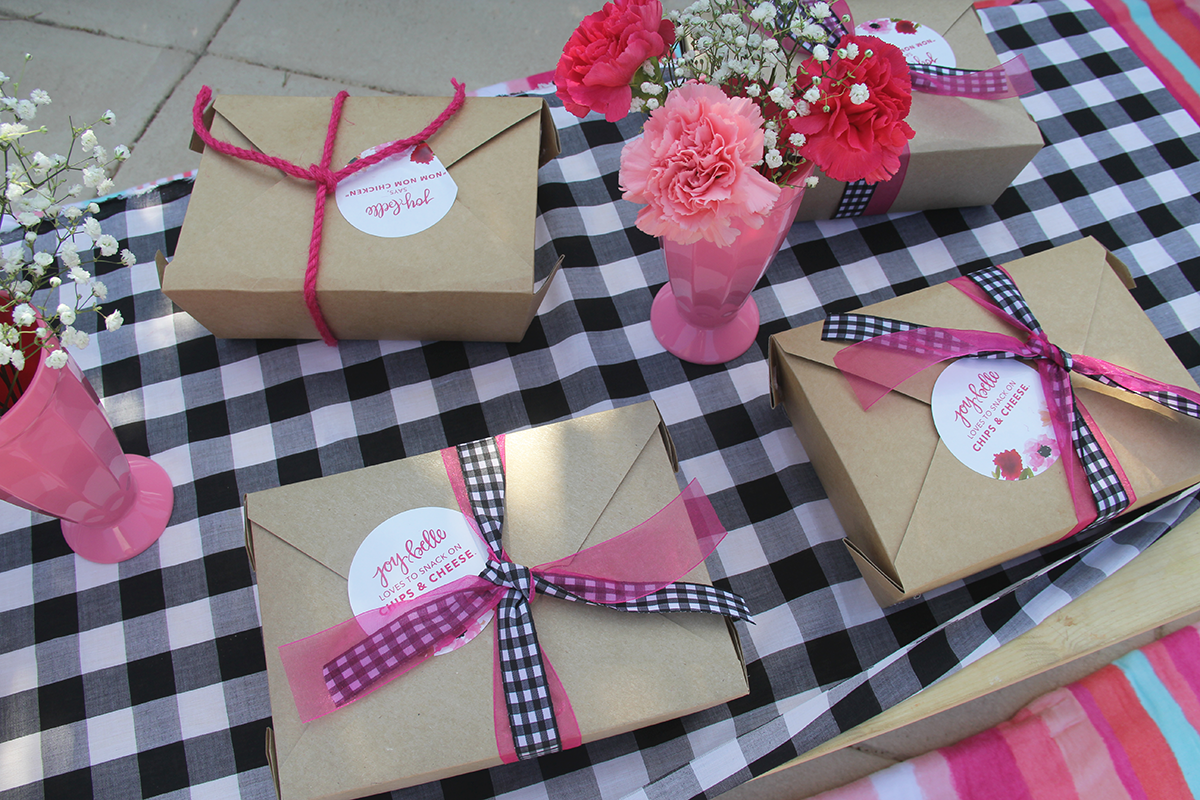 Recently, Joy Belle has developed a slight obsession with flowers and she loves all things pink – so they were a must! It seemed only logical to celebrate by the pool, since the birthday girl loves to swim and seeing as I'm 8 months pregnant, the only chance of surviving outside in the south Georgia heat is poolside.
I really liked the idea of prepping the food ahead of time too – easy set-up and pretty presentation! We boxed some of Joy Belle's favorite foods, including chicken fingers, chips, cheese stick, fruit, and a pickle! For the adults, I ordered wraps and individually packaged them to keep the gnats and flies off. Most of the stuff we had on hand or you could find at a local craft or grocery store, so it was pretty simple to pull together.
(pictured above: invitations & stickers; similar vase; similar cake stand; milkshake cups; kraft boxes; towels)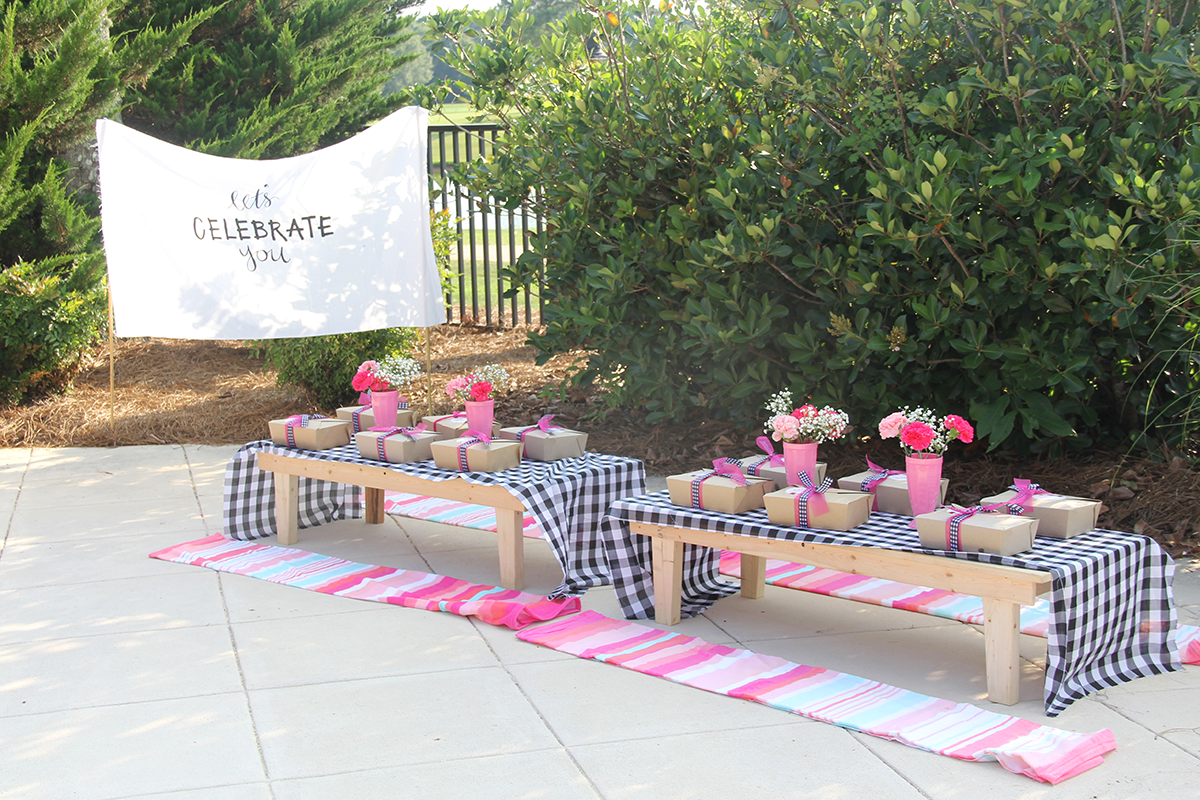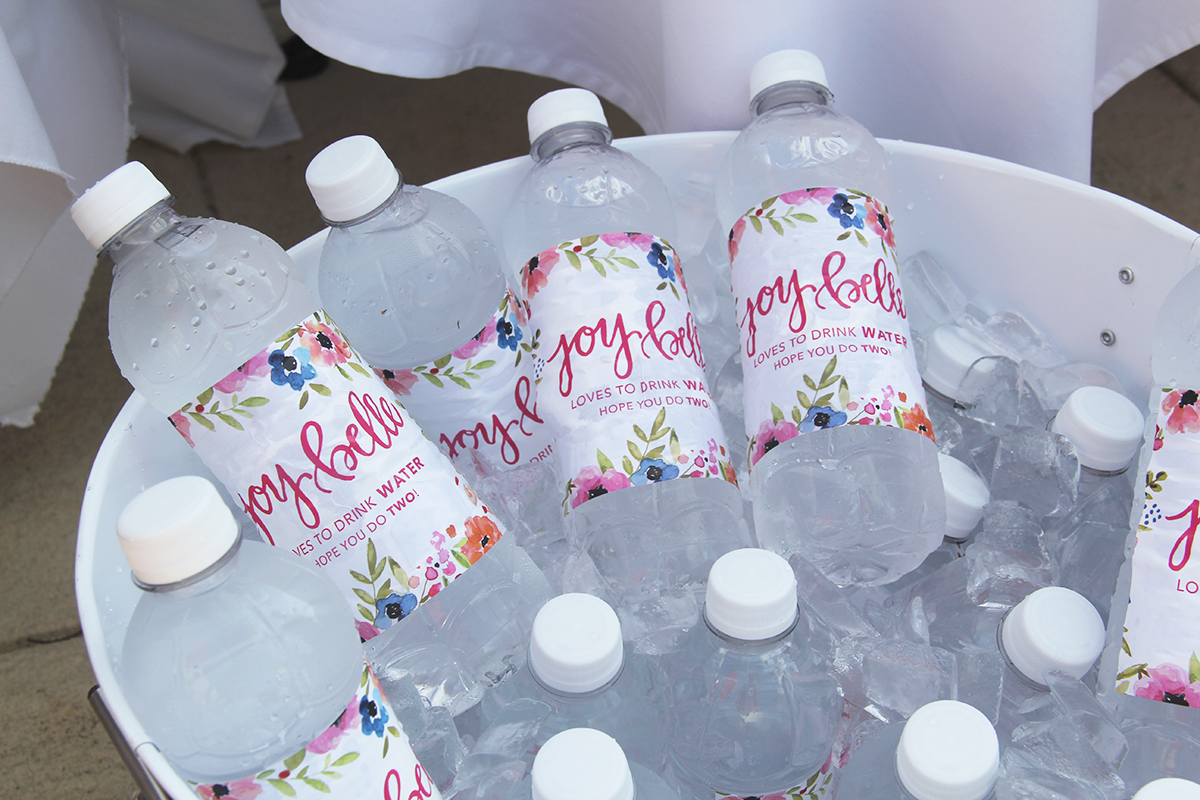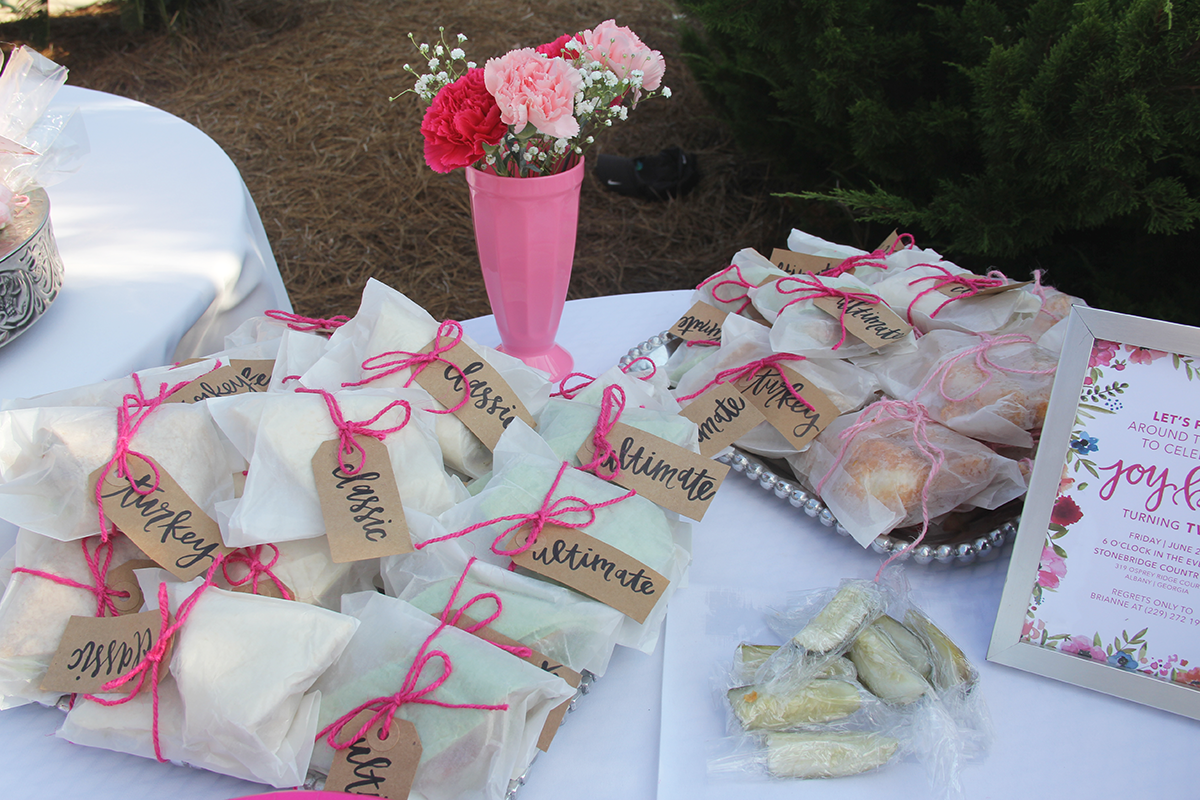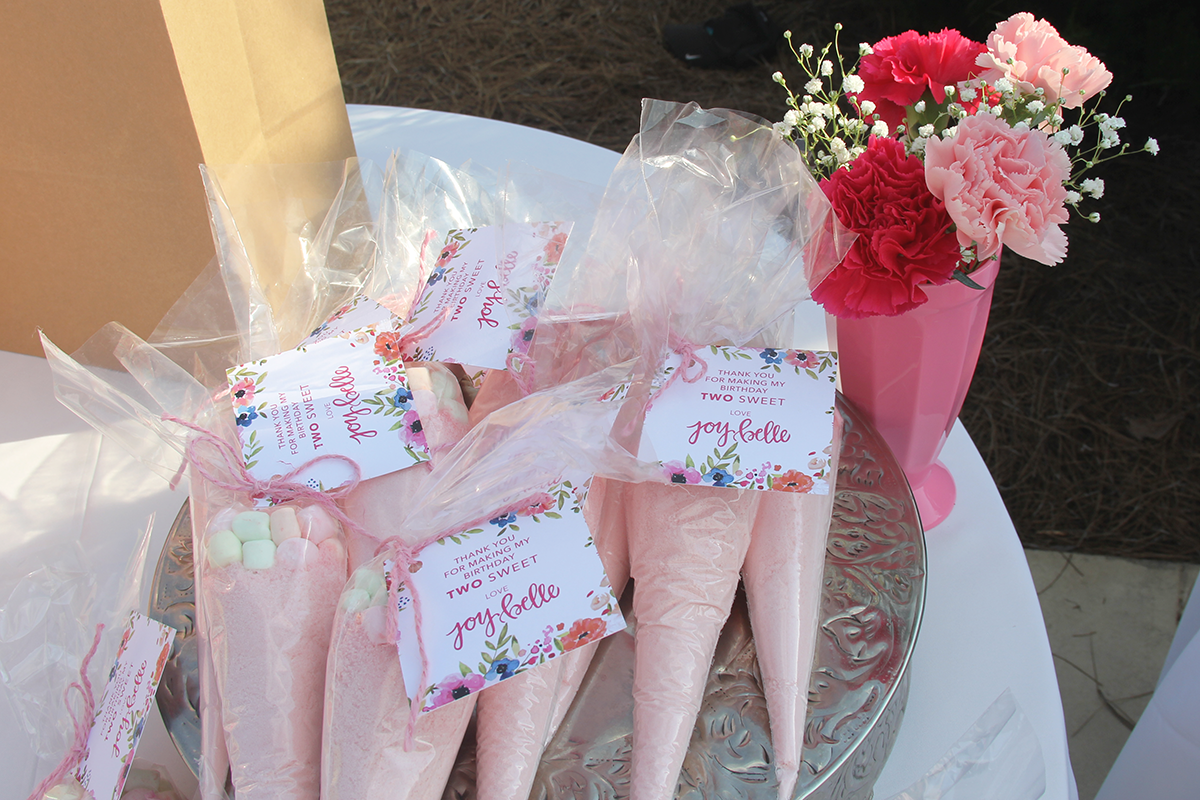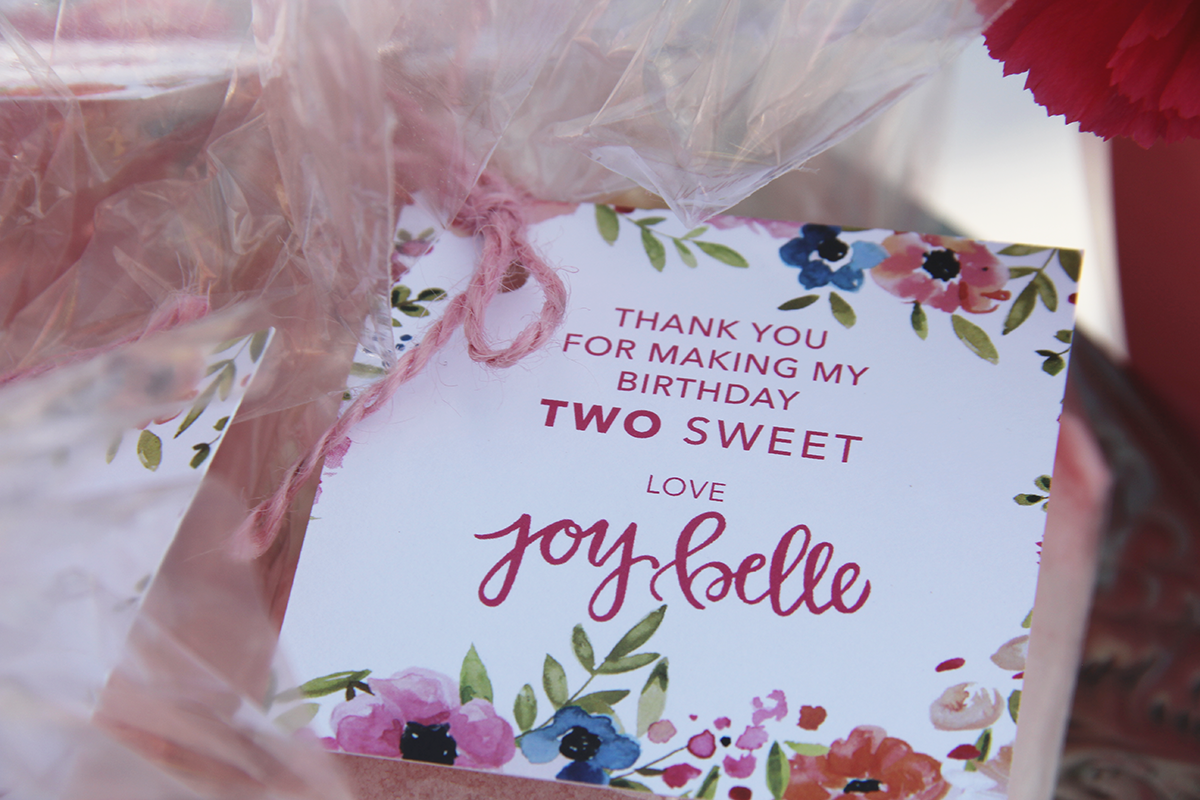 Party favors were super simple, affordable, and adorable this year! I filled these cellophane, cone bags with pink lemonade mix and fruit flavored marshmallows for each guest. The tags read, "Thank you for making my birthday TWO sweet. Love, Joy Belle" on one side, with instructions of adding 8 cups of water "and a Heape of JOY" to make the pretty drink. I was really happy with how these turned out and loved seeing my sweet girl hand them out to each guest.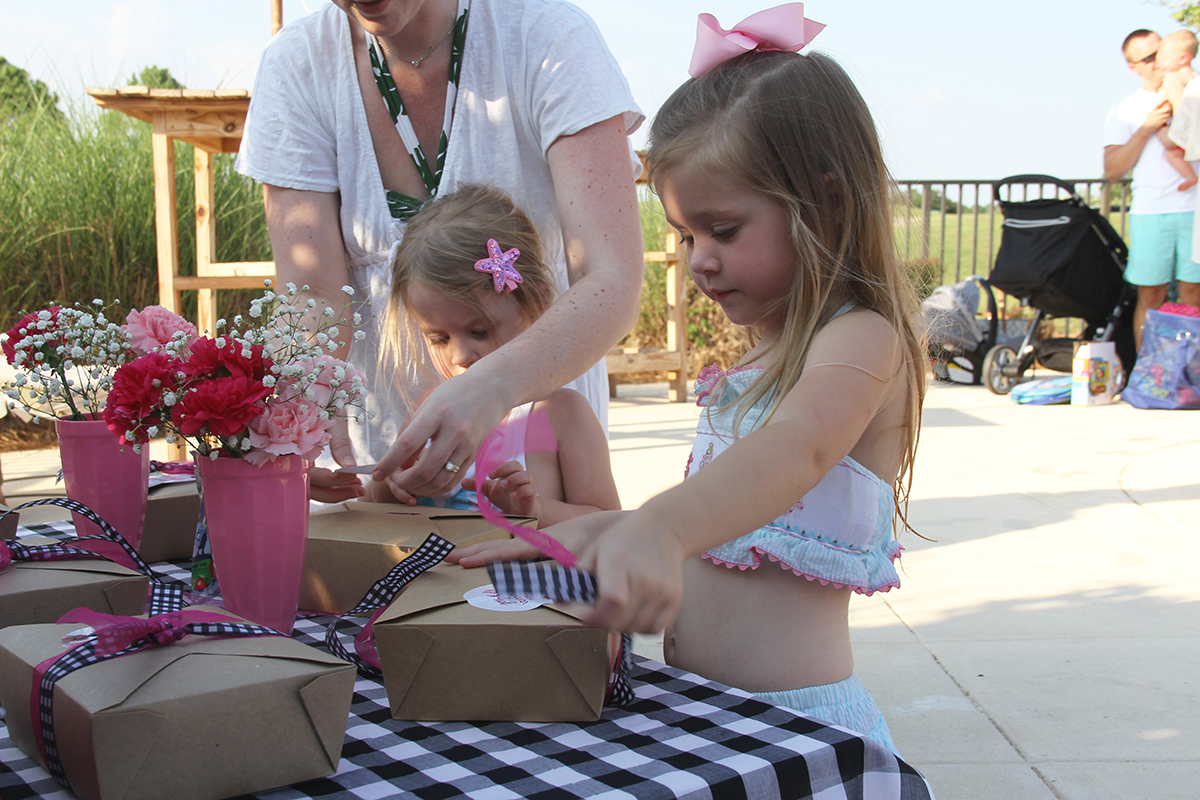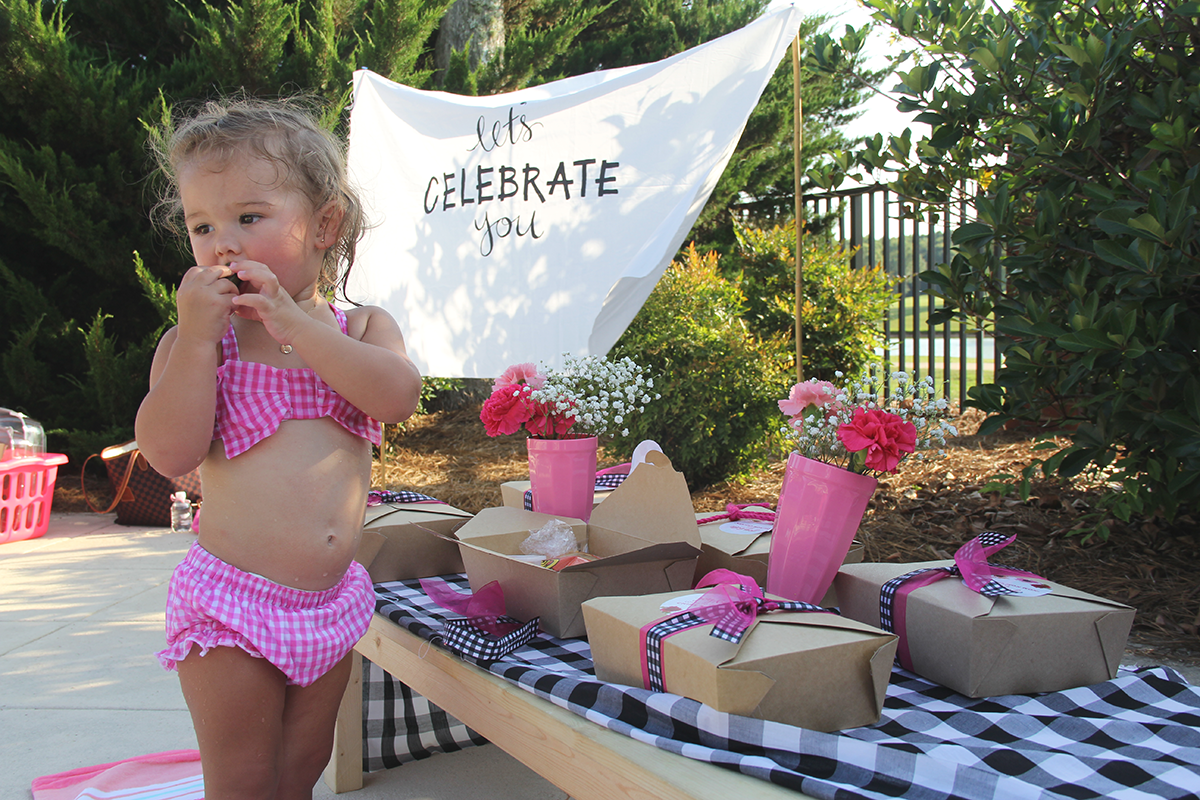 Those adorable, kid size tables were a custom build (by my handyman Daddy) for last year's party. We absolutely love them and use them daily for crafts, snacks, and puzzle fun. The table clothes were leftover from another project and I snagged the matching ribbon at our local craft store!
(pictured above: bottle labels & party favor tags; cellophane cone bags; glassine large bags; similar kraft tags; milkshake cups; kraft boxes; towels; Joy Belle's bikini)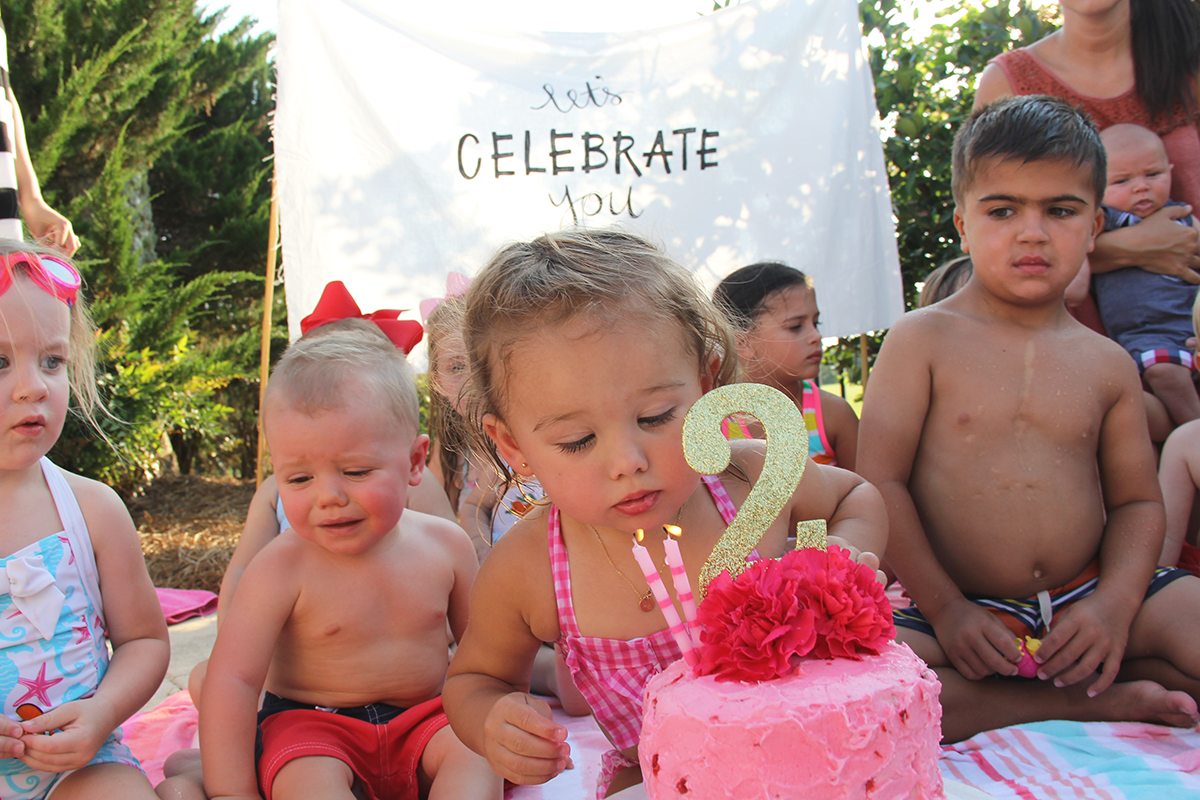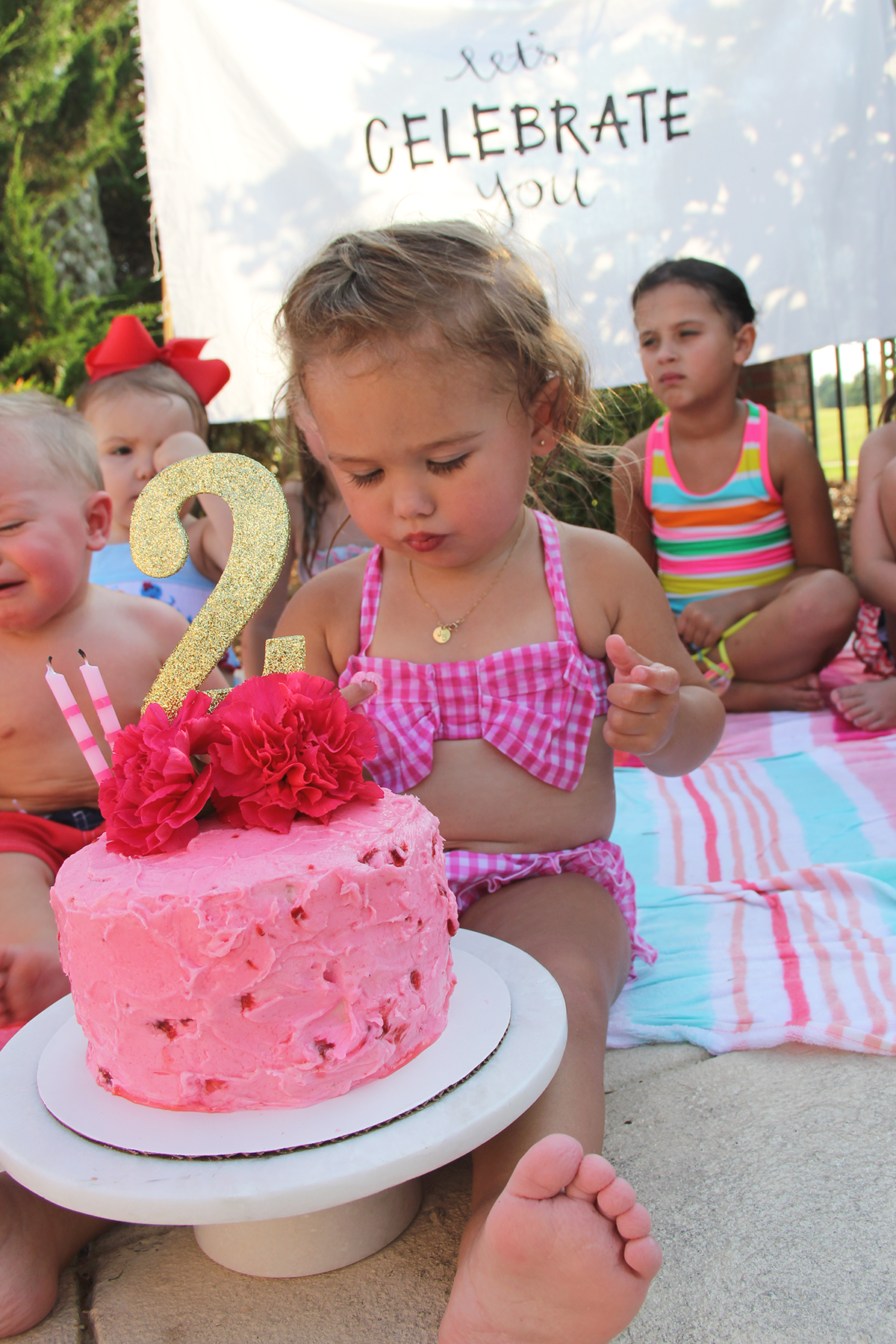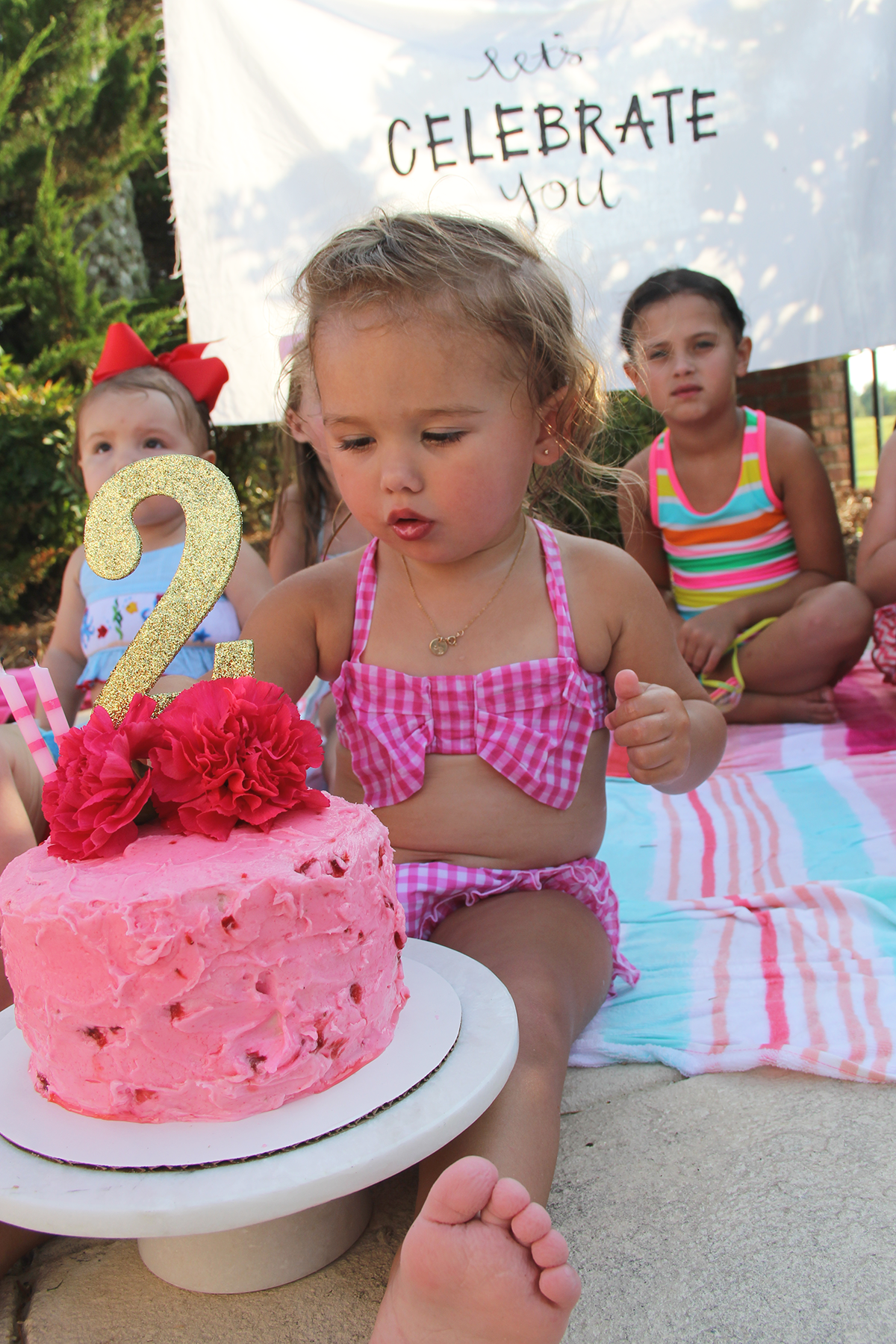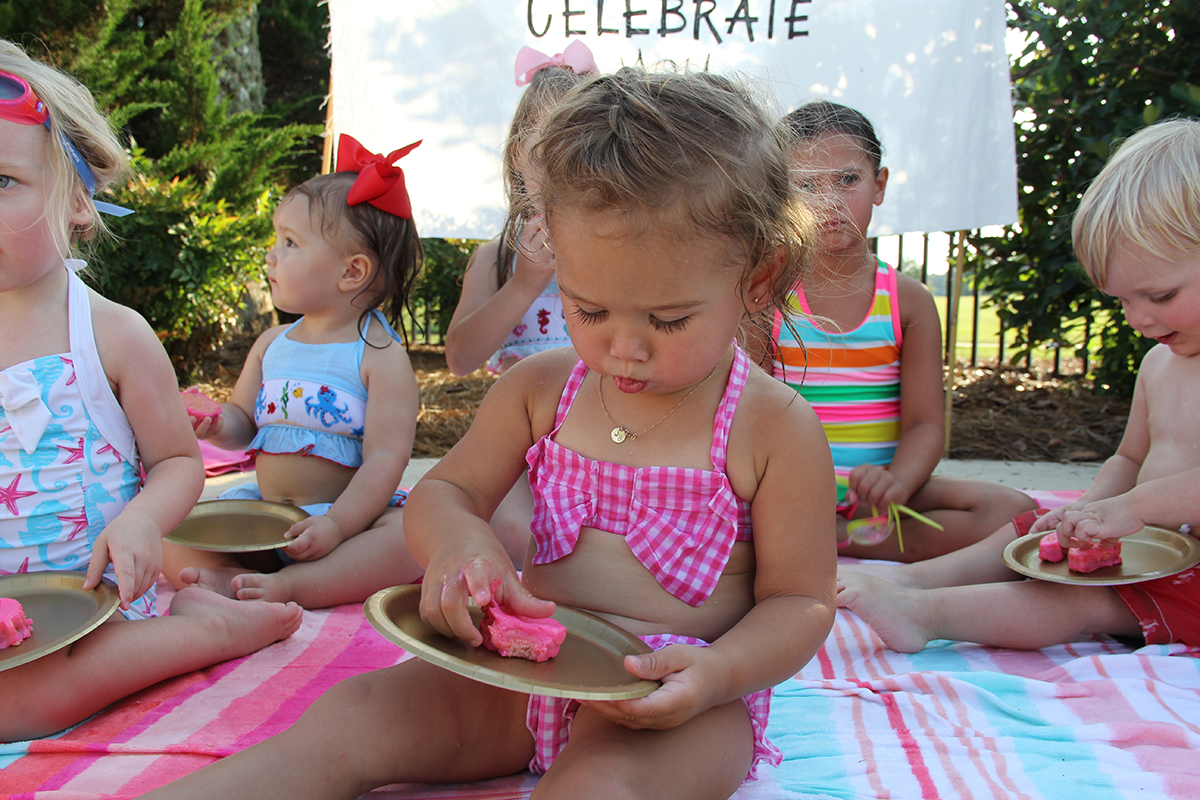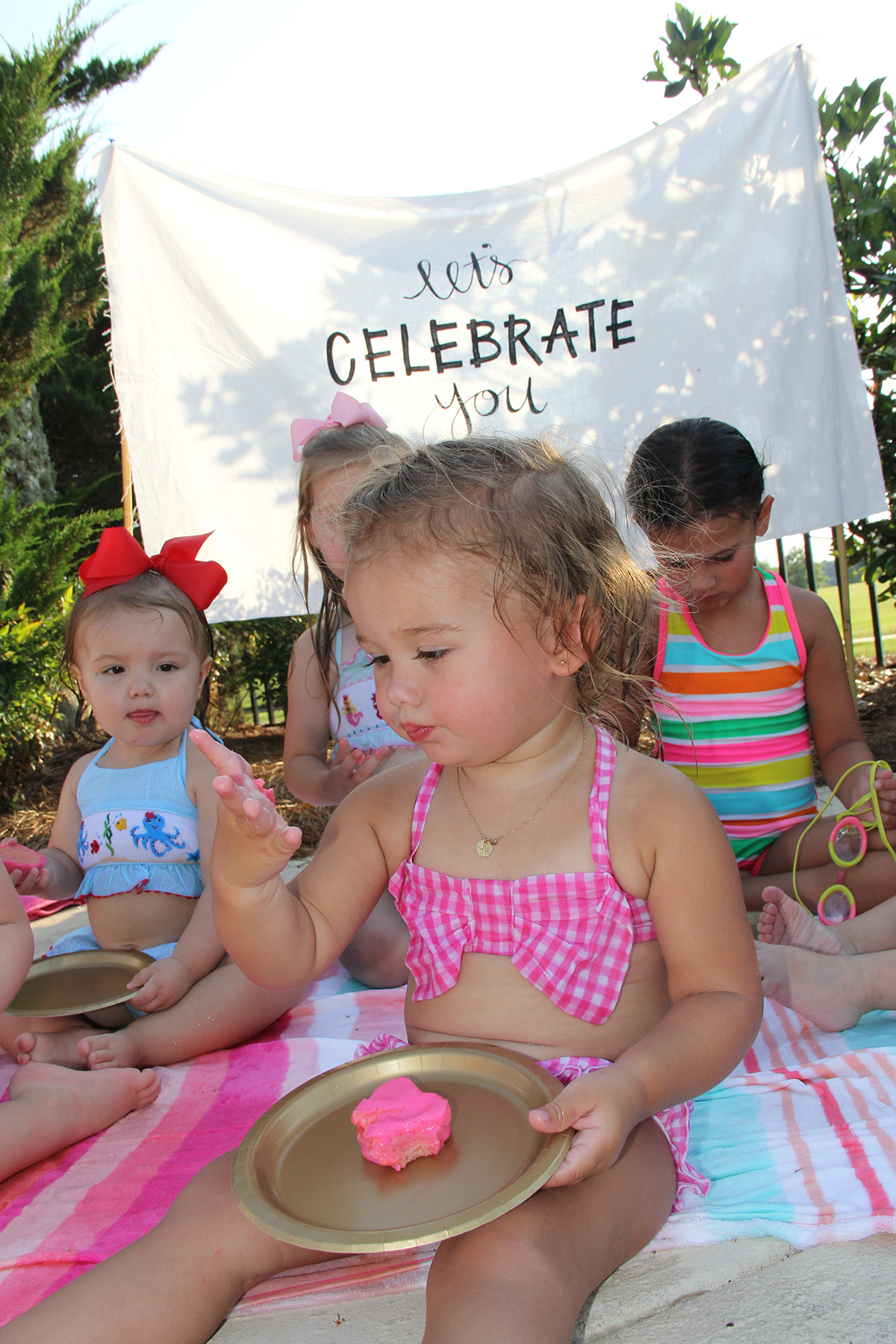 The cake and petit fours are homemade creations by local baker and friend, Sara White. And I must say, they were equally as delicious as they were adorable. Strawberry flavored cake has become a birthday tradition around here and I must say I love it.
The "let's celebrate you" sign was something I made on a whim, but am so glad I did. It turned out just how I had envisioned and I'm sure I'll use it for future celebrations too.
(pictured above: cake by Sara White; similar glitter cake topper; candles; gold plates; hot pink plates; hot pink napkins)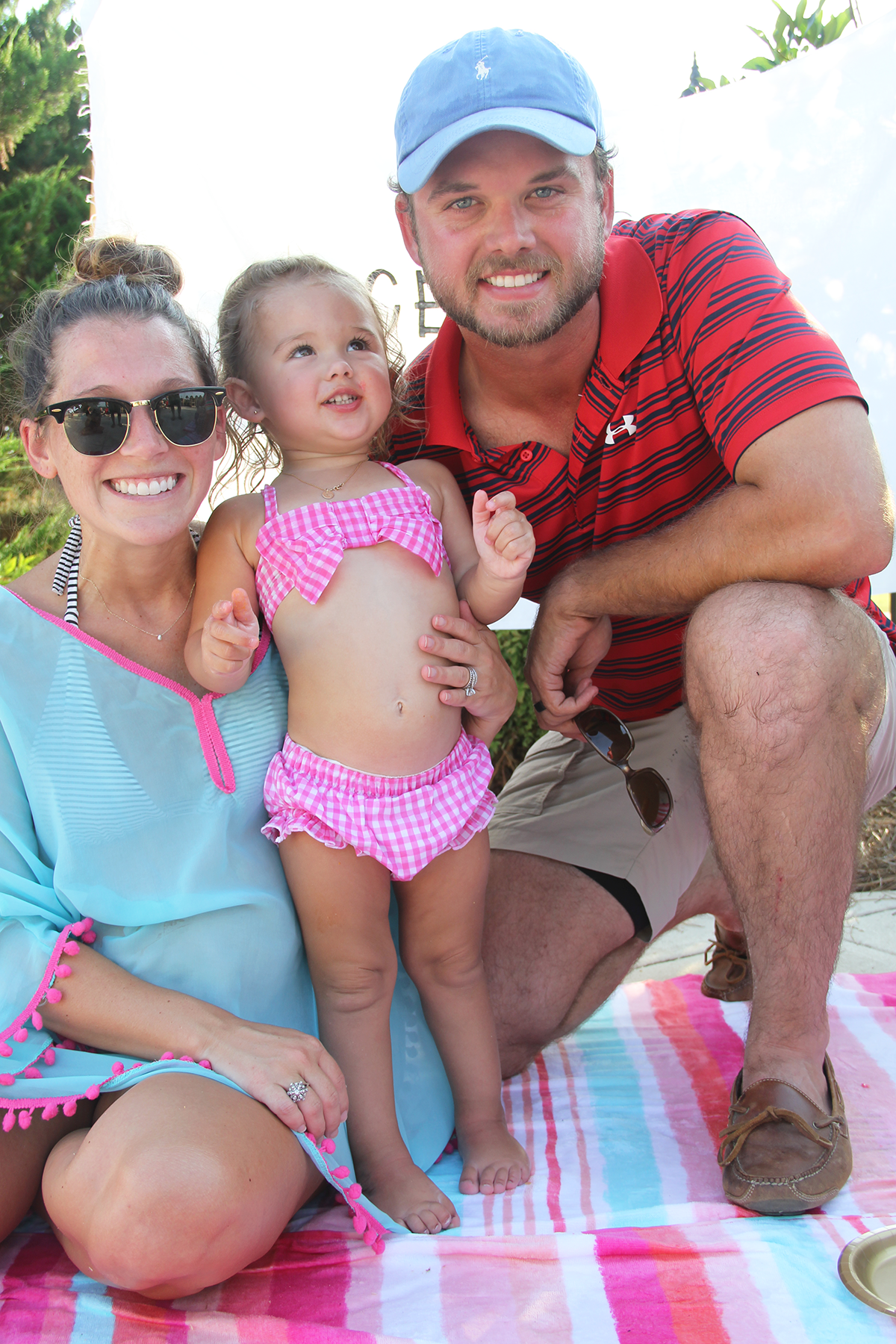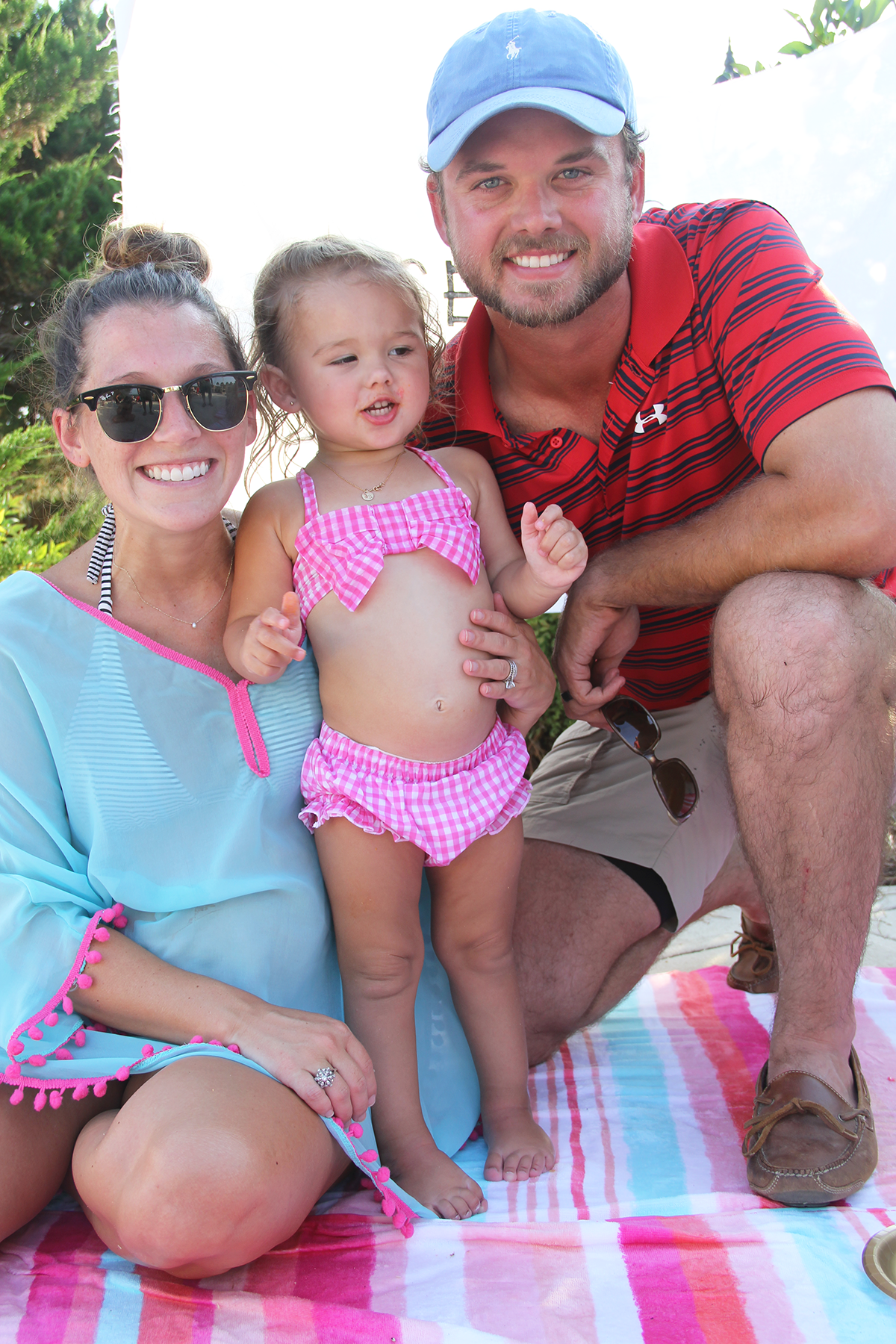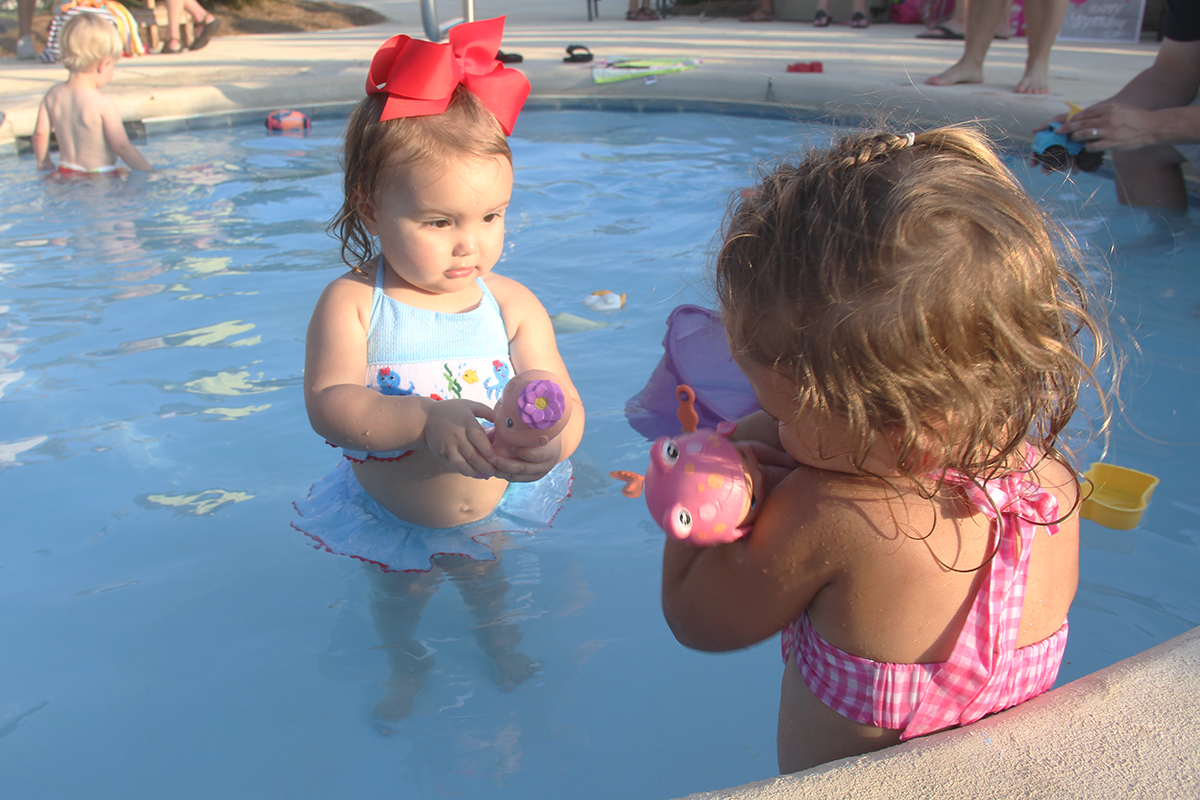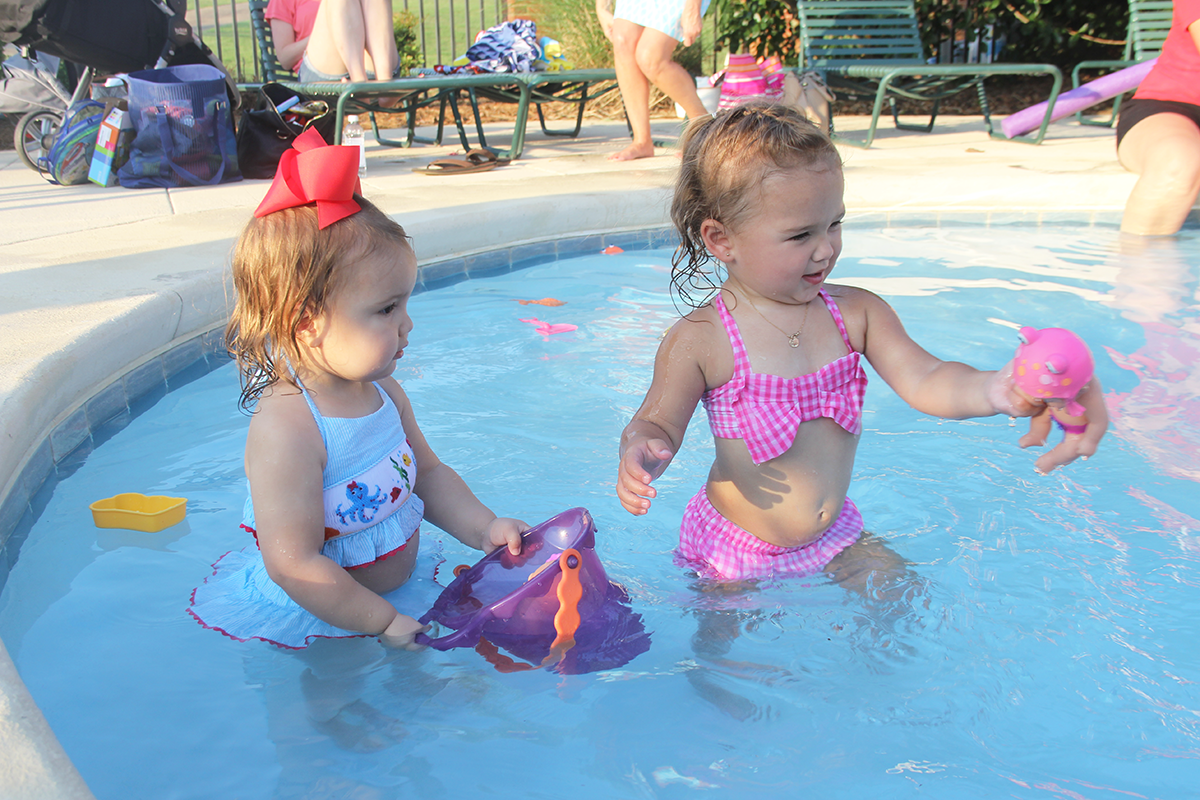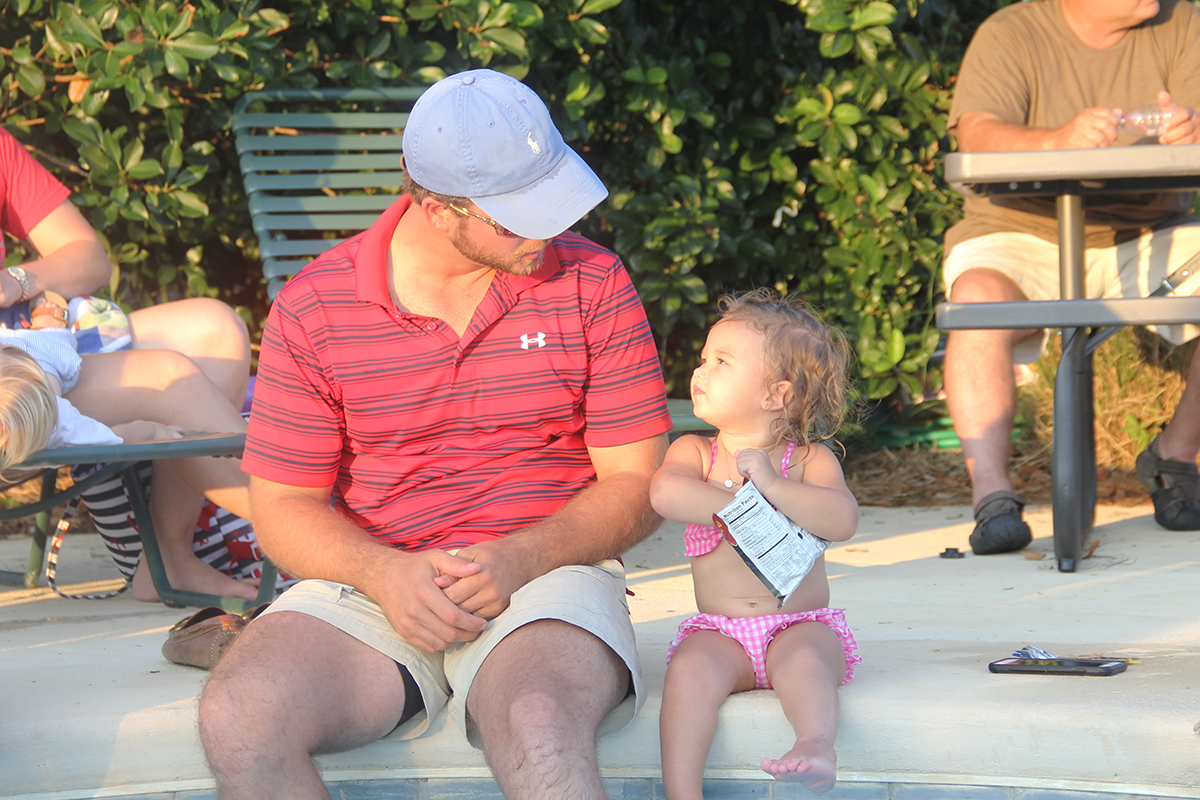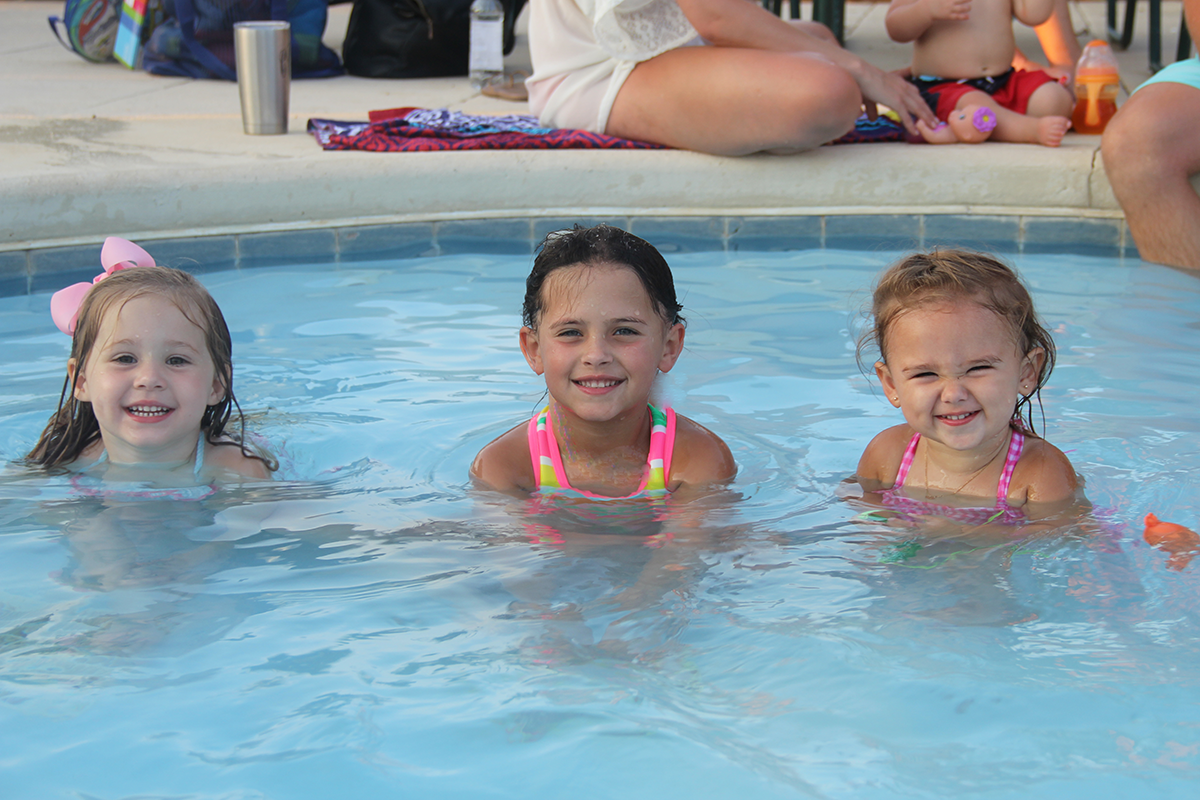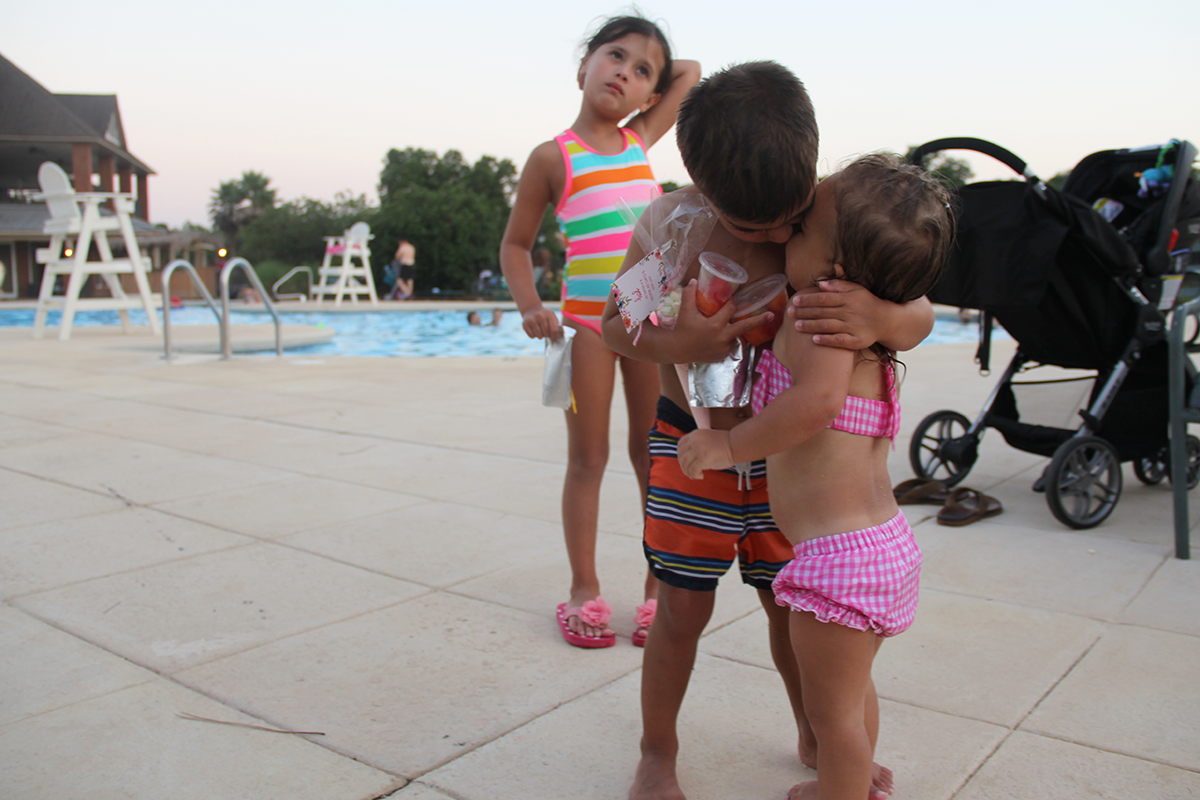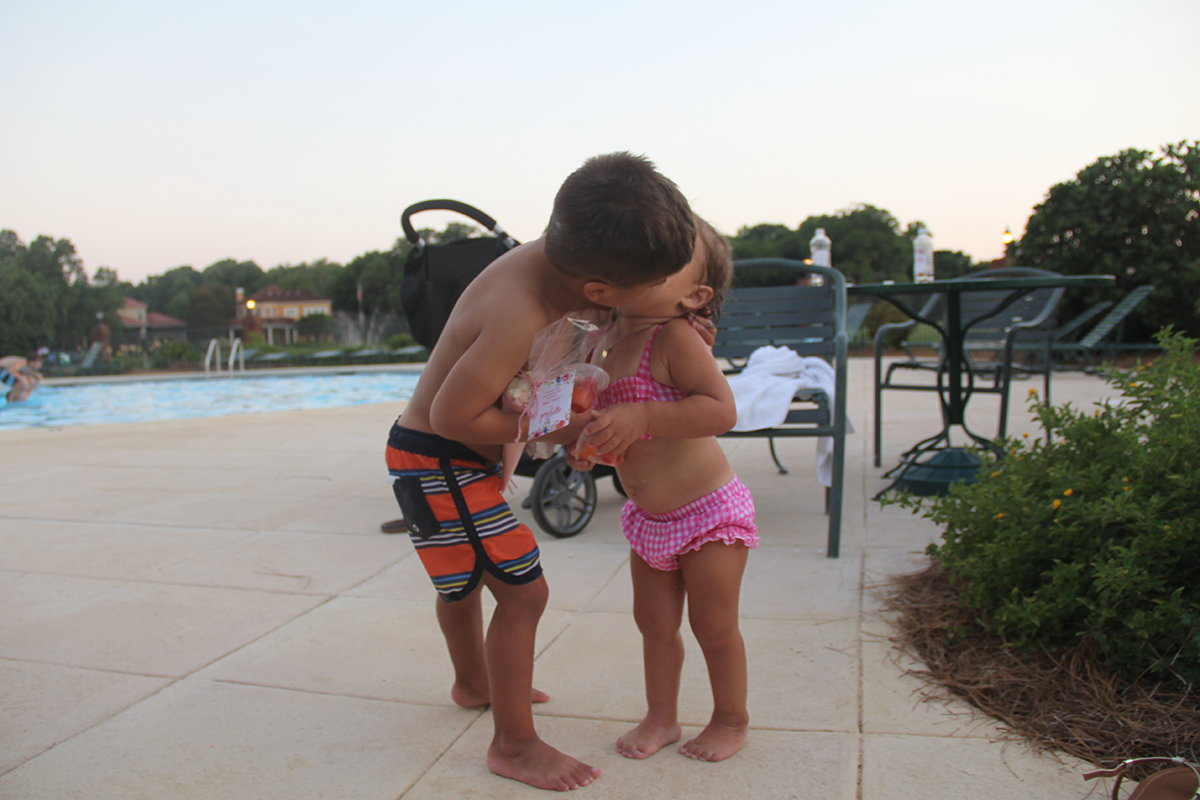 These two have such a sweet and special friendship! They had been standing there, saying good-bye and in their own little conversation when I caught them hugging bye. I had no idea what I was asking for when I asked him if he'd give her a little kiss. I honestly thought it'd be a simple peck on the cheek, but James had other ideas!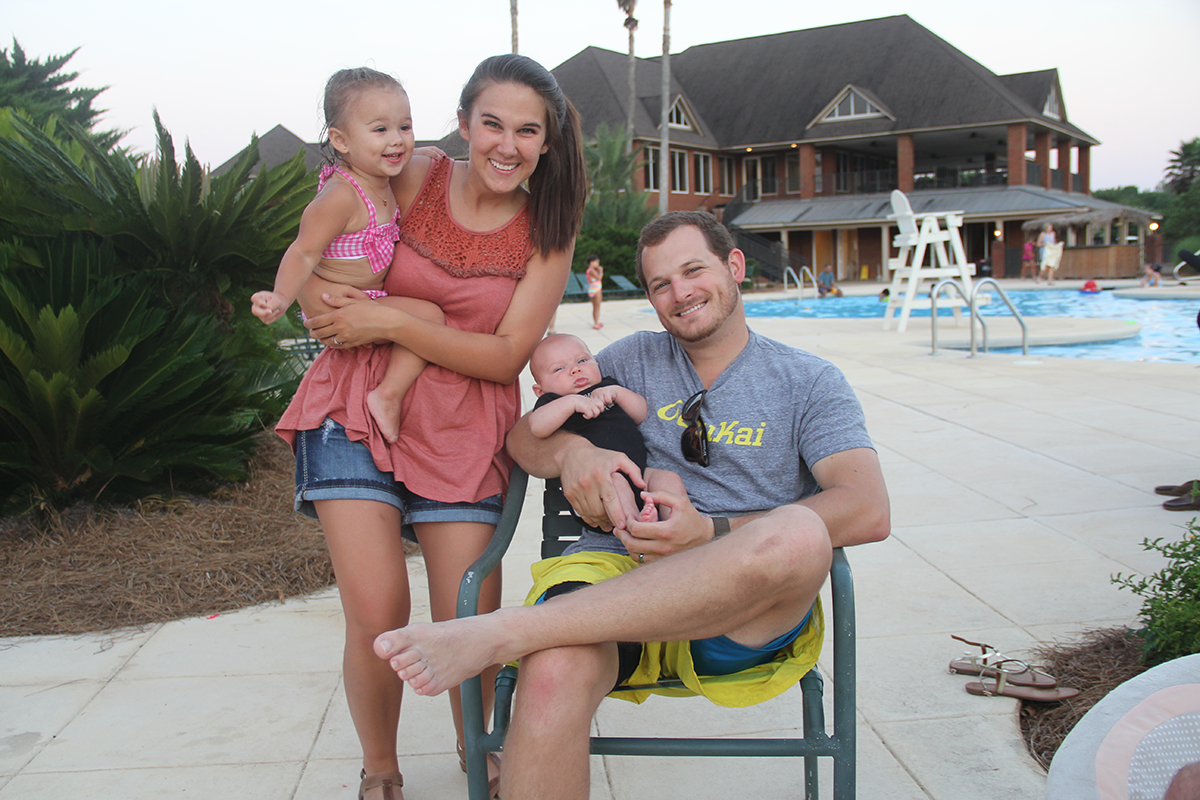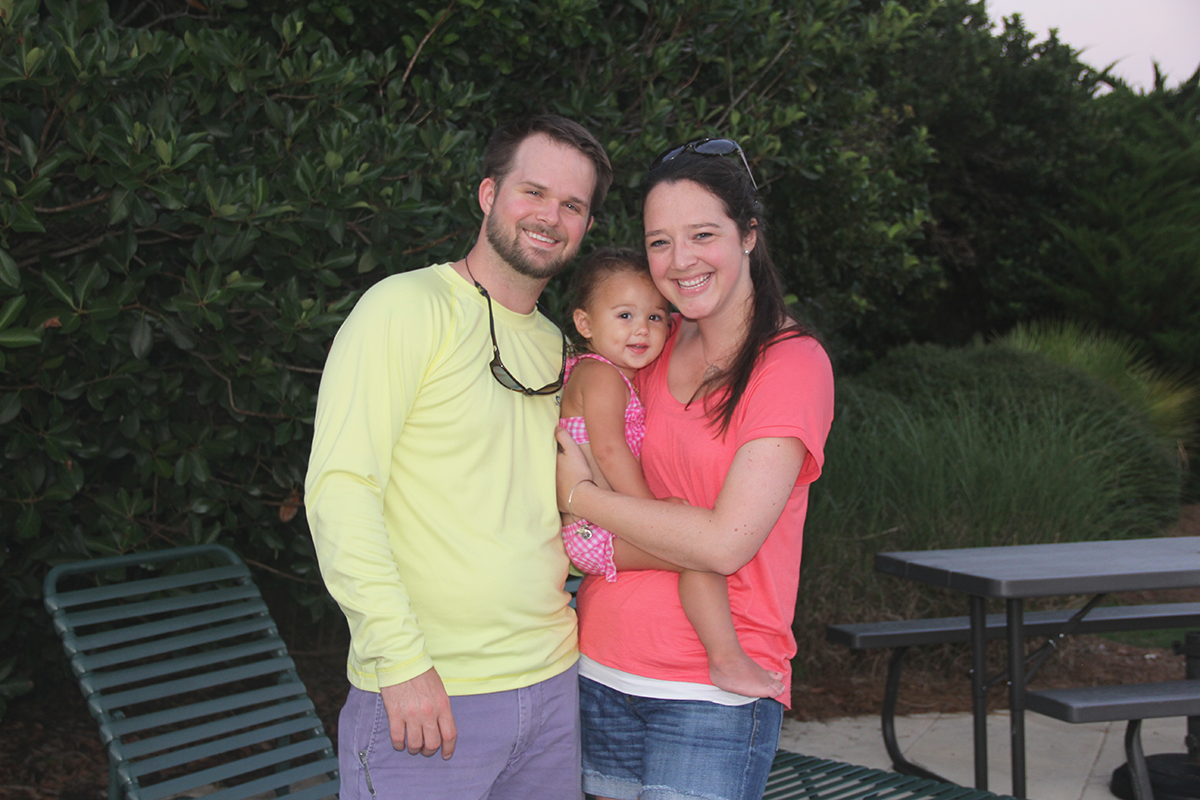 We are so grateful for the friends and family that came out to celebrate our princess! Making her feel extra special was my goal and thanks to everyone that came, that was possible. All night long she kept saying, "party fun, mommy – party fun!" And since the party, she hasn't quit singing "happy, happy, happy me" (her version of happy birthday!) to herself.
Did you miss Joy Belle's first birthday party? You can see photos here!