Shop small and support your friends this Saturday, November 26th for Small Business Saturday. A day dedicated to supporting small businesses. There is a good chance that you may be helping a parent pay for school expenses, extracurricular activities, or Christmas gifts for their children or others. Since it's such a great opportunity to support hardworking entrepreneurs, I've compiled a list of my favorite small businesses – including lots of local shops too.
Alice & Jay
Alice & Jay is more than a store, but they're friends. They are the most creative duo I've ever met and it's evident from the incredible, unique inventory in their shop. From custom painted furniture and door hangers, to quirky signs and hand towels, it's a splendiferous place to shop.
Blue Jaie Learning
A new, children's toy and craft store that encourages one's imagination and creativity. Every day is a good day to stop by Blue Jaie, as they always have activities for little ones. However, this Saturday, you don't want to miss out on the special deals and giveaways they'll be offering for Shop Small Saturday.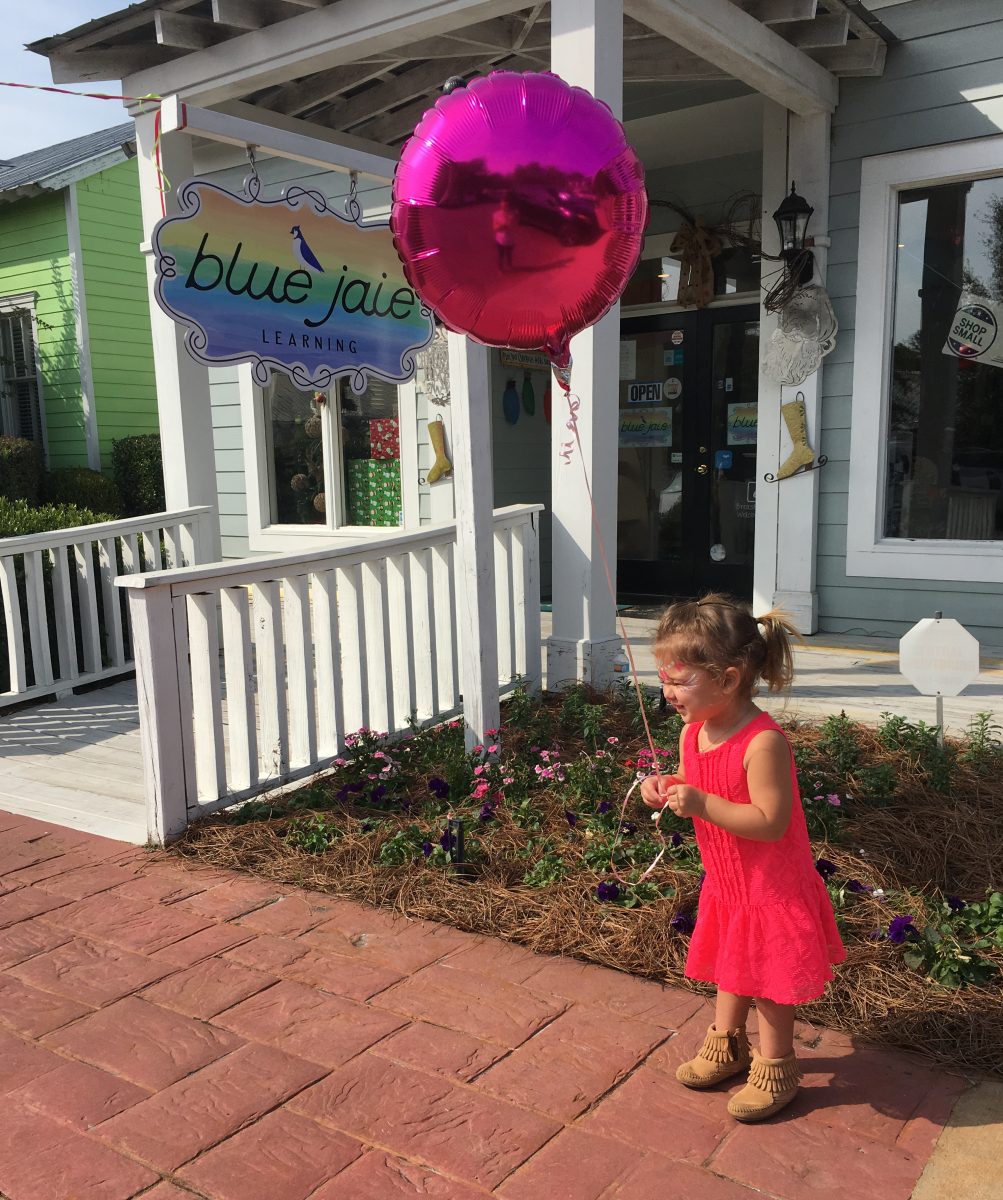 Blush
Shopping for fashionable and affordable clothing? Blush Albany is a boutique you'll want to shop. From the latest trends, to classic staples, Blush has you covered. I also love how they support other small businesses throughout the year by featuring local crafted jewelry.
Busy Elves Christmas Tree Farm
Owner and one of the sweetest gentlemen you'll ever meet, Mr. Joedy, prides himself on making his customers happy. If you're shopping for a Christmas tree, Fraser Fir wreaths, or bows for tree toppers, you'll want to stop by Busy Elves Christmas Tree Farm. Not only will you be supporting Mr. Joedy, but the bows are hand-tied by my sweet friend, Jessica.
The Clay Spot
Want to make something special for your loved ones this Christmas? Run, don't walk, to The Clay Spot and paint your own pottery. It's become a tradition to gift grandparents with hand/foot printed plates, mugs, and ornaments. Stop by this Saturday and be entered to win a $50 gift certificate.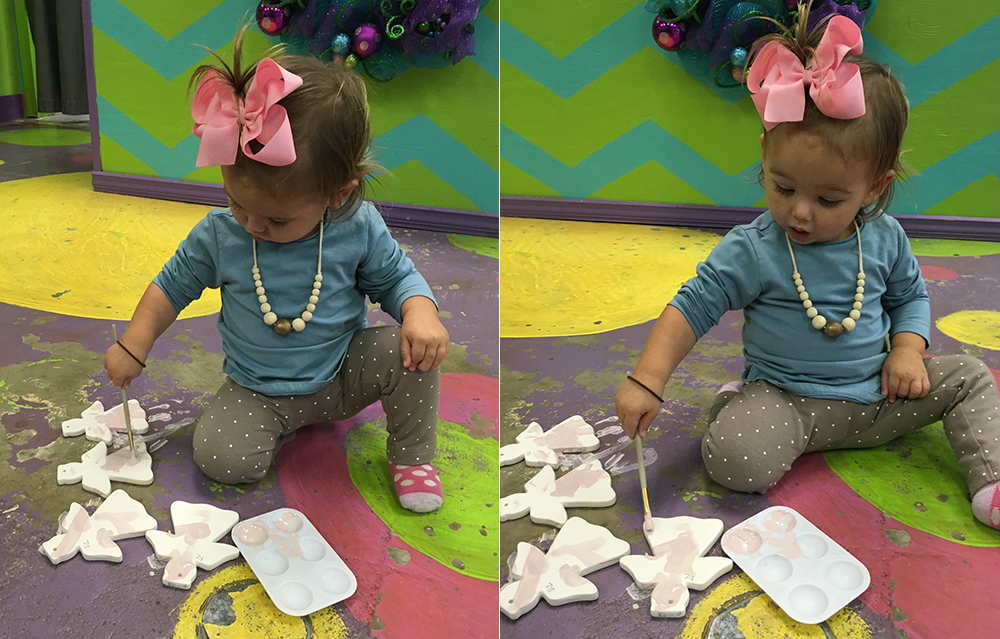 (Joy Belle's necklace was her first, EJD jewelry.)
Covered Goods
Shopping for a new or expecting mother? Covered Goods multi-use nursing cover is one of my absolute favorite baby/mommy products. As a breastfeeding mom, I love this product! Plus, it's super handy for car seat and grocery cart seat covers too. I love that Jamie is a mom, like so many of us, looking for a way to care and provide for her little ones.
Emma Jane Designs
Emma Jane is one of my super talented and creative friends, a mom of three and jewelry designer. You can shop her beautiful jewelry at Emma Jane Designs. All of her creations are beautiful, but we're big fans of the initial charm necklace (Joy Belle never takes hers off!) and the long bar initial necklace. I recently had the long bar customized with both of my little one's initials and I absolutely love it! And I have to mention this white marble triangle necklace. Not only is it absolutely stunning, but 15% of the sales of this necklace go to Feeding America. I love products and companies that give back. Now through Monday at midnight, use code THANKFUL2016 for 25% off.
Ivey's
Owned by some of our closest friends, Ivey's is a local gem that's been family owned and operated since 1952. It features the best of the best in outdoor gear, men and women's clothing, and home decor, along with food, treats, and toys for your furry friends.
Ryan & Rose
Another must product for new parents is the cutie clip by Ryan & Rose. Lindsey is a Godly, faith driven, mother and entrepreneur that founded her company on Mark 9:23 and created the cutie clip. This clip attaches to pacifiers, cups, teethers, and toys to keep from loosing them. It's quite ingenious and I love how cute they are too. Not only do I approve, but my sweet niece Avie approves too (my sister blogged about them here!). Use code: AVIEAPPROVED for 25% off your order.
Tommy Mc's Produce & Country Store
For the best selection of local, fresh produce and fruit, Tommy Mc's Produce & Country Store is the place to shop. In addition to fresh produce and fruit, find locally made cakes, cheeses, coffees, fresh seafood from the Gulf Apalachicola, and good old-fashioned customer service.
The Warehouse
Shop antiques, furniture, relics, jewelry, and repurposed finds at The Warehouse in Dawson. The products are one-of-a-kind, just like the owners and creatives behind The Warehouse. Can't find what you're looking for? Pam can make your Pinterest dreams come true – just ask.
Westover Christmas Trees
This Christmas, find your Fraser Fir garland, wreaths, and trees at Westover Christmas Trees. Each tree is hand picked in North Carolina by two, Albany natives dedicated to bringing the best of the best to town. The selection and customer service are exceptional. Now until December 13th, they are giving away Christmas trees on their Facebook page; so be sure to connect.
Skincare and Wellness Options
Are you interested in the effective, skincare products by Rodan + Fields? Contact my sweet friends, Katie and Jessica, for the R+F hook-up and see firsthand how the products work for them. They are both hardworking mothers that represent the R+F products beautifully.
Want to learn more about the safe make-up and wellness products by Beauty Counter? Shannon and Rebecca are models of the beautiful make-up and skincare regimens, offered by Beauty Counter. If you're interested in purchasing, these are the ladies to contact. Both are offering great, Black Friday/Shop Small specials.
Have you heard about essential oils and how I utilize them in our day-to-day lives? Young Living essential oils are carefully extracted through steam distillation, resin tapping, and cold pressing to bring us the purest essential oils on the market. Not only have they been life changing for my family, but they have almost completely replaced our medicine cabinet, cleaning supplies, and skincare regimen. You can learn more about how I utilize the oils here and follow along in my Facebook group for tips, promotions, and giveaways. Now through December 31st, I'll be giving a sweet Christmas gift to everyone that joins my team. Ready to start your oil journey? Start here!
Personal Stationery and Christmas Cards
Have you ordered Christmas cards yet? Be sure to check out my Etsy shop for eye-catching holiday cards and gift tags! Mallory and I have dreamed of bringing a Christmas collection to our stationery section and that finally happened this year. If you don't see something you love, we accept custom orders often and would love to create something for you. We're also offering a pretty amazing, Shop Small special that includes free shipping and a chance to win 25 free, Christmas cards here.
Crocheted turtle is handmade by local creative, Michelle behind Russell Treasures. You can shop her creations at Blue Jaie Learning, The Warehouse, and her shop on Etsy. Our crocheted turtle is the perfect size for little hands.