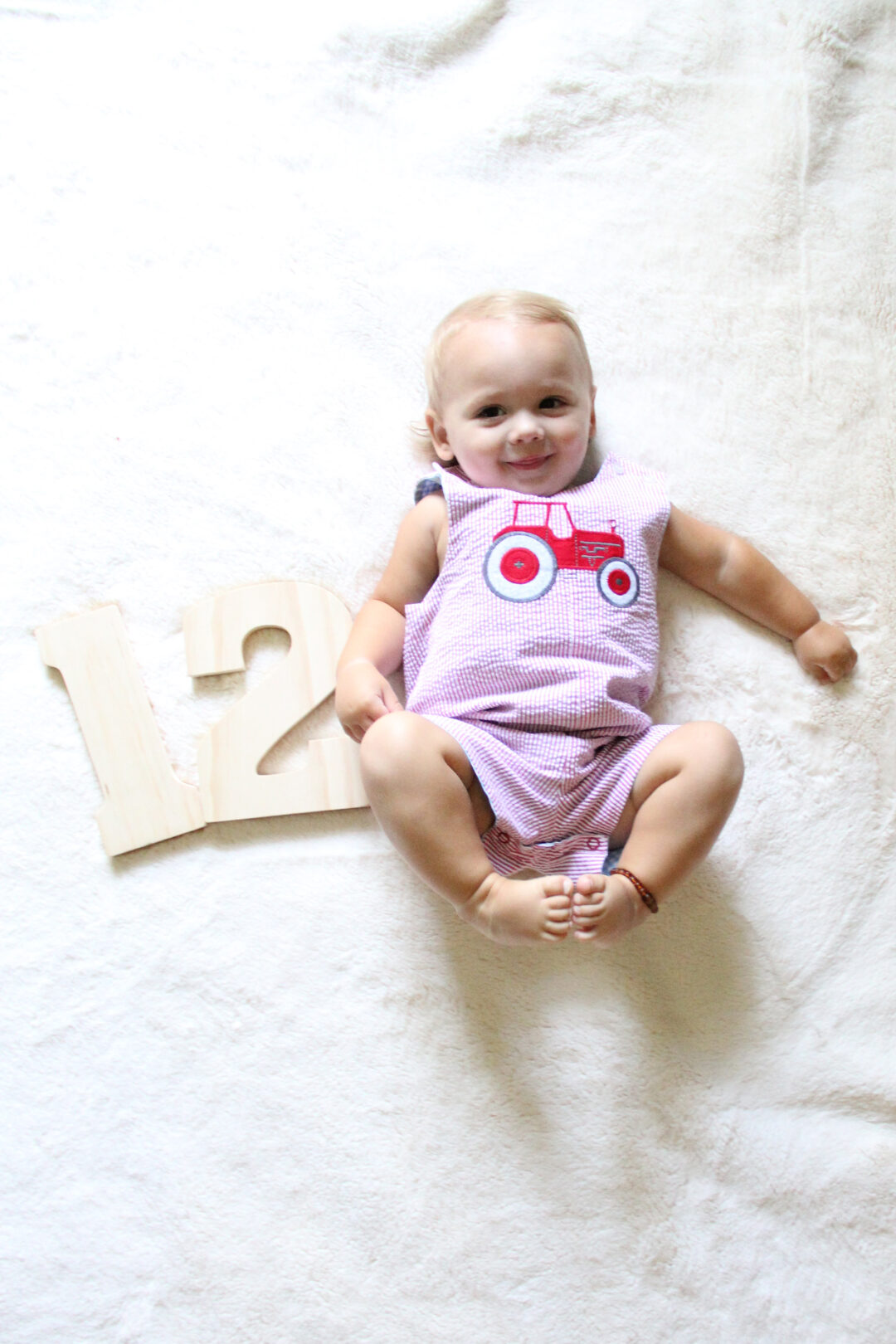 How has it been one year? Britt is the boy I didn't know I needed. He makes my mama heart so full and keeps me on my toes. He's healthy, happy, and on the move. Britt Colby, we love you to the moon and back!
BRITT COLBY, 12 MONTHS
HOW OLD IS BABY?
12 months, 20 days.
BEST MOMENT(S)?
Celebrating YOU turning one! It was so sweet to see you taking in all of the attention. With a big sister, it's rare you're the center of the spotlight – but this month has been all about you, baby boy.
FAVORITE FOOD(S)?
Cake. Just kidding, but only kind of. You loved your birthday cake and mommy's cake too.
SLEEP?
Yea, maybe one day he'll sleep through the night. 
ACTIVITY?
He's walking, running, and climbing everything.
MOOD(S)?
He is my happy baby.
GROWTH?
He's 19 pounds and 21 inches tall. He's wearing 12-18 month clothing.
FAVORITE TOY(S)?
He loves stacking toys, books, balls, blocks, anything he can throw, and anything with wheels.
WHAT IS BABY'S FAVORITE THING TO DO WITH MOMMY?
He likes to be with mommy, even if it's just on my hip. 
WHAT IS BABY'S FAVORITE THING TO DO WITH DADDY?
He likes to practice baseball and throwing the ball with daddy.
LIKES?
He loves dancing, music, reading, splashing in the water, and throwing toys.
DISLIKES?
There's not much this boy doesn't like, but getting in trouble for throwing his toys is not a favorite.
IS BABY DOING ANYTHING NEW?
He says "thank you" anytime anything is handed to him. It is so sweet!
MORE ABOUT BRITT COLBY
He drank his first, non-breastmilk: a coconut, almond blend. He wasn't the biggest fan.
Happy 1st Birthday, Britt Colby! You will always be my favorite birthday present. And I can't wait to blow out many more birthday candles with you. I love you to the moon & back!