Giving is one of my love languages. I love to gift others with things I know can brighten a day. Which is why I enjoy sharing a gift guide, especially since I know gifting isn't easy for everyone. This guide is all about the ladies! Things for the generous spender and the procrastinators (thank you, Amazon Prime!). Gifts that are sure to. make any woman in your life smile.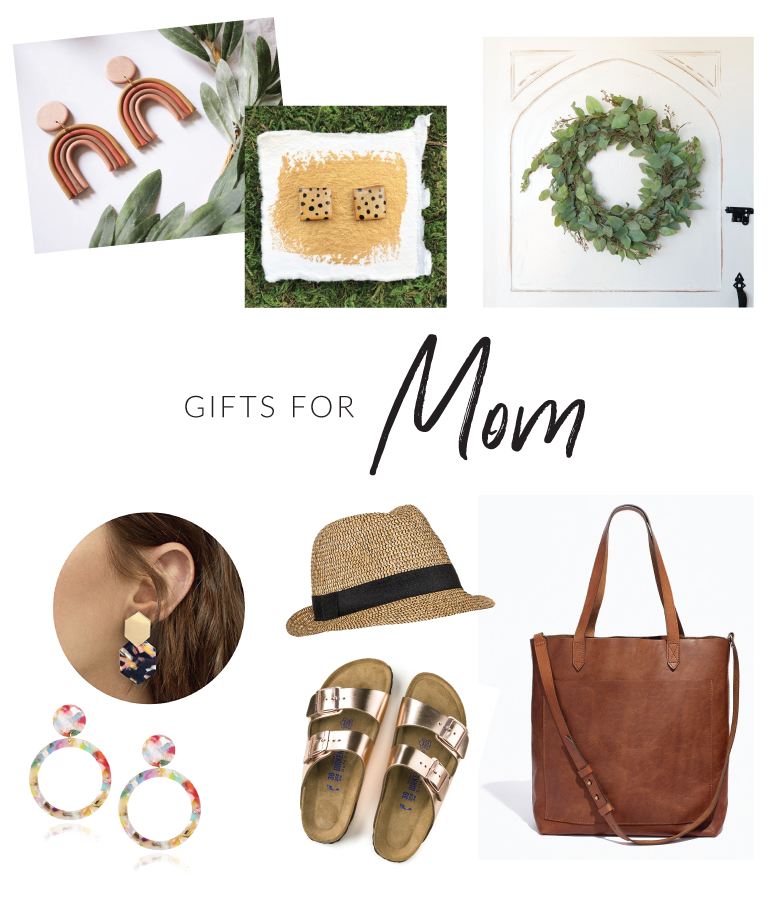 Sources (top to bottom, left to right): Woven Together earrings, leopard studs, a eucalyptus wreath, tortoise statement earrings, multicolored hoops, fedora, metallic sandals, the perfect bag.
Handmade gifts are always one of my favorites, whether they're crafted by my children or a local artist. Olivia with Woven Together has some of the most beautiful, handcrafted earrings I've ever seen. I love her unique style. I'm also a big fan of artist, Elaine Burge. She's recently added jewelry to her collection and I can't get enough of these leopard studs.
Most of the country is obsessed with Joanna Gaines and her simple, farmhouse style, which is why I'm certain any woman would love a faux, eucalyptus wreath. I absolutely love this one from Magnolia Market, but there are more affordable options in their Hand & Hearth line at Target or at Hobby Lobby.
I'm obviously a fan of all things tortoise, but an even bigger fan of a steal. I found both of these pair of earrings on Amazon for less than $10 + they were offering 10% off at the time. Do yourself a favor and type "statement earrings" in your Amazon Smile search bar. Only your wallet will regret it.
I know I'm not the only one dreaming of beach and pool days. This fedora is the perfect hat for keeping those harsh UV rays off of your cheeks, while looking extra stylish. I'm going to imagine it covers unwashed hair pretty well too. This one is less than $10 and can be snagged online or at your local Target.
Give me all the things metallic! I love a good slip-on sandal for the summer and my Birkenstocks only come off of my feet for showers or when I'm crawling into bed. It's only fitting I add the metallic pair to my collection, right? I love how easily a metallic sandal can dress up an outfit.
Last year for Mother's Day, Justin gifted me with this beautiful, leather tote from Madewell. I'd been eyeing it for some time and I absolutely love it. It's hands down the best bag I've owned and the color is so rich. I've since gotten the matching wallet (for my birthday), which I love equally.
I'm also a big fan of gift cards: Target, Amazon, or local boutiques and spas are always winners! And pajamas and slippers are also favorites of mine. No matter how you choose to show your love to your leading lady (or yourself, ladies!), remember that at the end of the day, most of us just want to be told we're remarkable and doing a darn, good job.