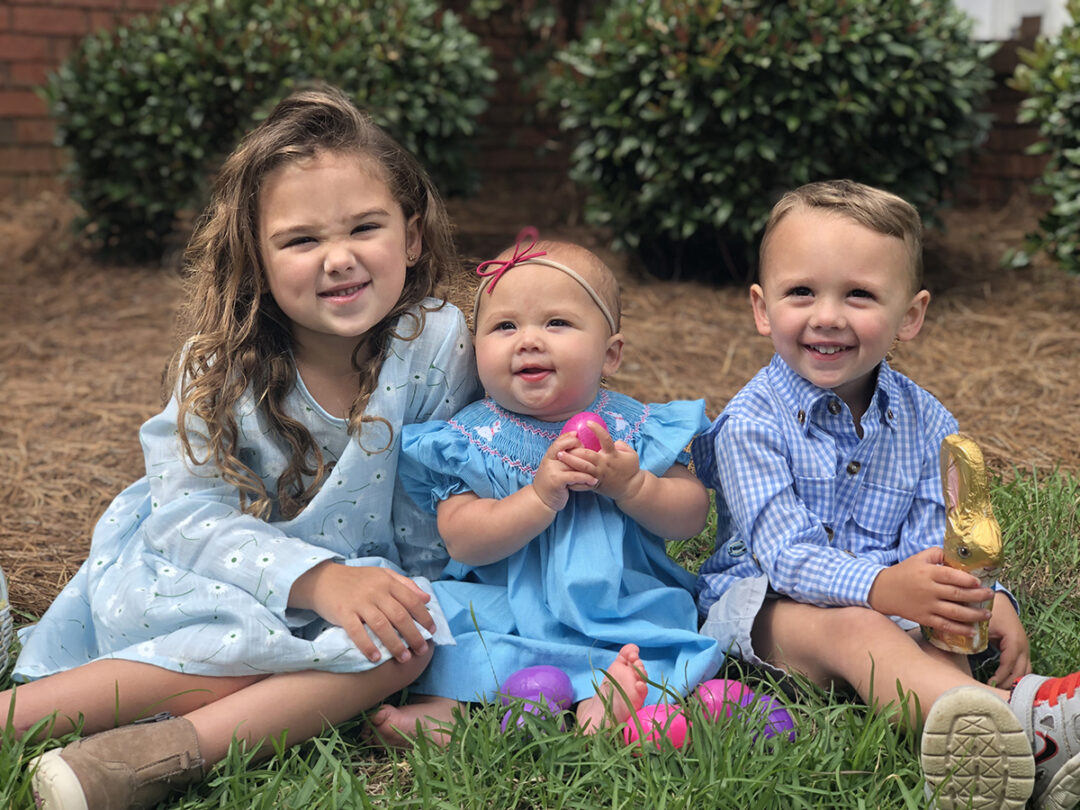 With the children being a little older and understanding a bit more, we added a few more traditions to our Easter festivities. It's always so rewarding to see the little ones grasp the real meaning of a holiday season and Easter was no exception. Whenever Joy Belle was born, I wanted to jump the gun with all of the holiday celebrations. But learned quickly that some things, you just have to wait until they have a little understanding for the activity or lesson to hold any value. This year was the golden year for us – with Christmas and Easter.
Growing up, we always talked about Christ's resurrection and the empty tomb, but never had I seen resurrection eggs. My mom grabbed this set from the local Christian bookstore. We opened them at the beginning of the Holy Week and walked through the story of Christ's death and resurrection. The kids were enthralled! They were sitting on the edge of their seats, waiting to hear the end and so eager to open each egg. Their reactions to opening the empty egg was the highlight of my week. A memory I hope to never forget. Literal screams of "What?" and "It's empty?" and "There's nothing there!" It was such a good representation of how Mary probably reacted to finding an empty tomb.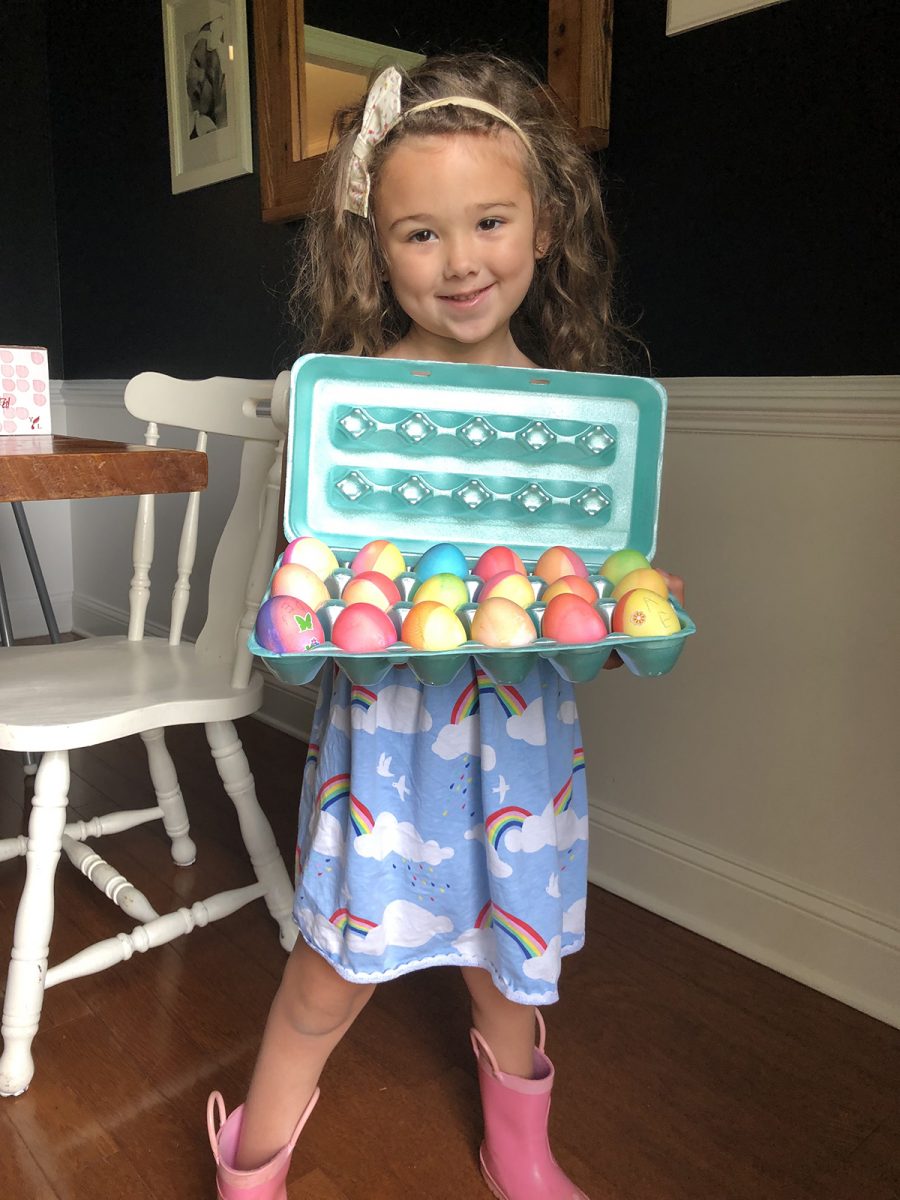 Last year we spent the beginning of the Holy Week with my sister, niece, and nephew in South Carolina. We started a fun little tradition of dyeing eggs with them. It was so cute to flash back to photos from last year and see how much they've grown. My sister's family has since moved across the country, but we FaceTimed them during the dyeing of the eggs. It makes me hope to always be together, in person or virtually for this little tradition.
A couple of years ago I discovered the talented Crew & Co. on Instagram. I love all of their scripture cards and had been eyeing their Christmas and Easter collection for some time. Let me tell you, they are even more beautiful in person. I hung the Easter cards along my mantel as a visual to counting down to His resurrection. It was such a neat way to incorporate the littles ones. Each card is created with original art and hand lettered scripture, with a reference to the Jesus Storybook Bible. We woke up each morning, read the scripture and followed it with the coordinating story. One morning, Joy Belle couldn't wait and kept saying, "Keep reading, I need to know what happens." Even though we had discussed the story with her before, she truly grasped that (in her words), "He was dead and now He's alive!"
Our aunt and uncle moved into our neighborhood a few months ago and visiting them is one of the kids favorite things to do. Uncle Max's grandfather always planted his garden on Good Friday and he was sweet enough to invite the little ones over to help him keep that tradition. He's always so great at giving them his full attention and teaching them while having fun. It's no wonder we all love him so much! He even had grow bags for them to plant their own cucumbers and watch them grow. They had such a great time.
We ended the Easter weekend with good, ole fashioned egg hunts. A local church did a benefit called "Egg My Yard" in which the proceeds went towards throwing birthday parties for children in foster care. For a contribution, your children could wake up to a yard filled with eggs and a special note from the Easter bunny. It was so perfect and the little ones had a blast. We did it all over again that afternoon with cousins. To me, nothing says the holidays more than being surrounded by family. I hope you all had a wonderful, Easter weekend.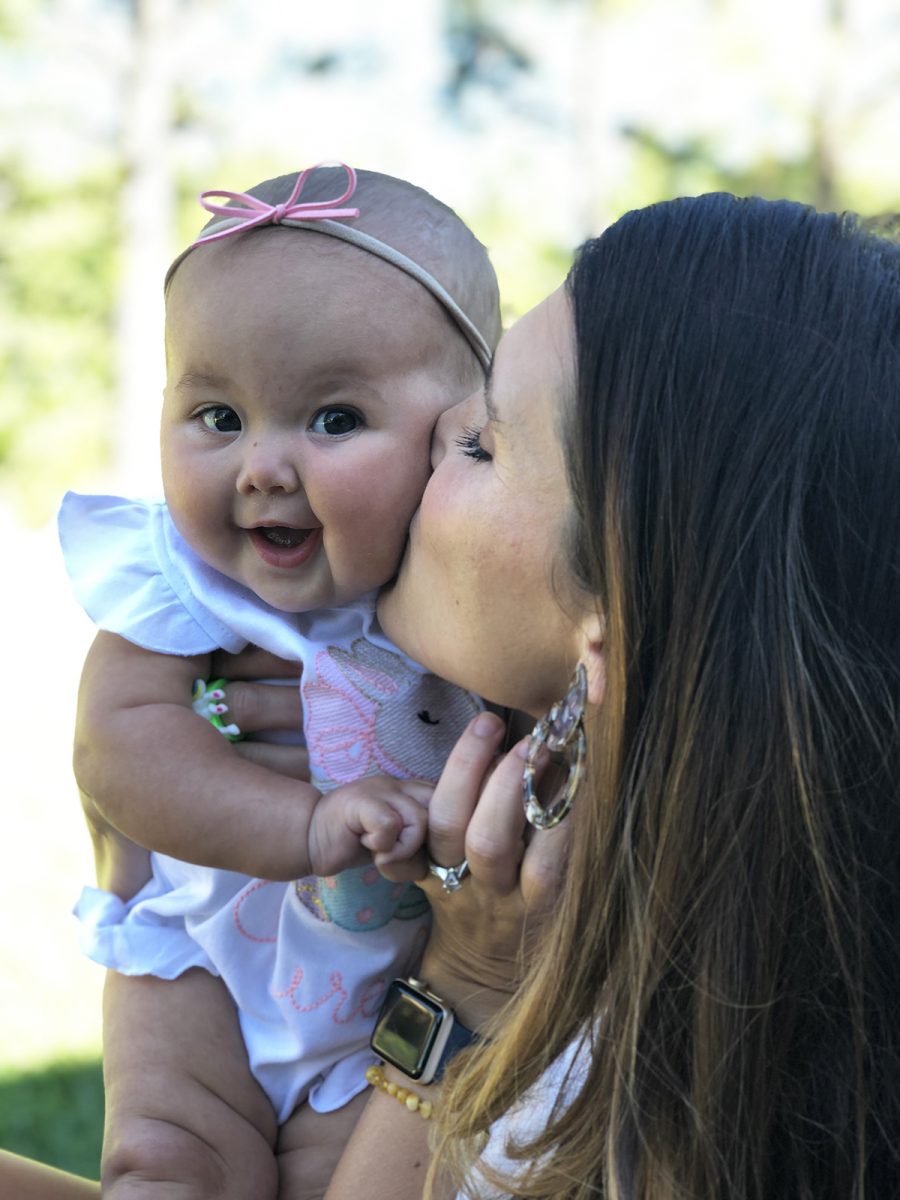 ---
Because He lives, I can face tomorrow. Because He lives, all fear is gone. Because I know He holds the future. And life is worth the living just because He lives!
Jesus said to her, "I am the resurrection and the life; he who believes in Me will live even if he dies, & everyone who lives & believes in Me will never die. Do you believe this?"
‭‭John‬ ‭11:25-26
For free shipping at Crew + Co. use discount code: HEAPEOFLOVE