Creating the perfect play space should be simple, and I've got some tips to make the space both fun and functional. Whether you've got a room specific for play or just a space, I've compiled a list of things that help us keep our space organized and the little ones entertained.
When creating a play space for my little ones, there were several things I had to keep in mind, along with some things I felt were necessary:
Organization
Inviting for children of various ages (mine range from 1-5)
Lots of self-directed activities
Hands-on learning toys
Visible and easy to access books
Low-maintenance
White walls (think blank canvas)
Whenever we moved into this home, we transitioned from a play space to having a playroom. With 3 little ones, I probably should have turned it into a 3rd bedroom, but I'm pretty set on letting them have their play space separate from their sleeping space as long as they are small.
We painted the walls white and started moving in the existing play toys – a train table, kitchen set, and easel. I love interactive toys that encourage imaginative play. We found the train table secondhand, which is one of my favorite ways to buy toys. It's a little larger than I had anticipated, but I've linked a similar table and smaller activity table below.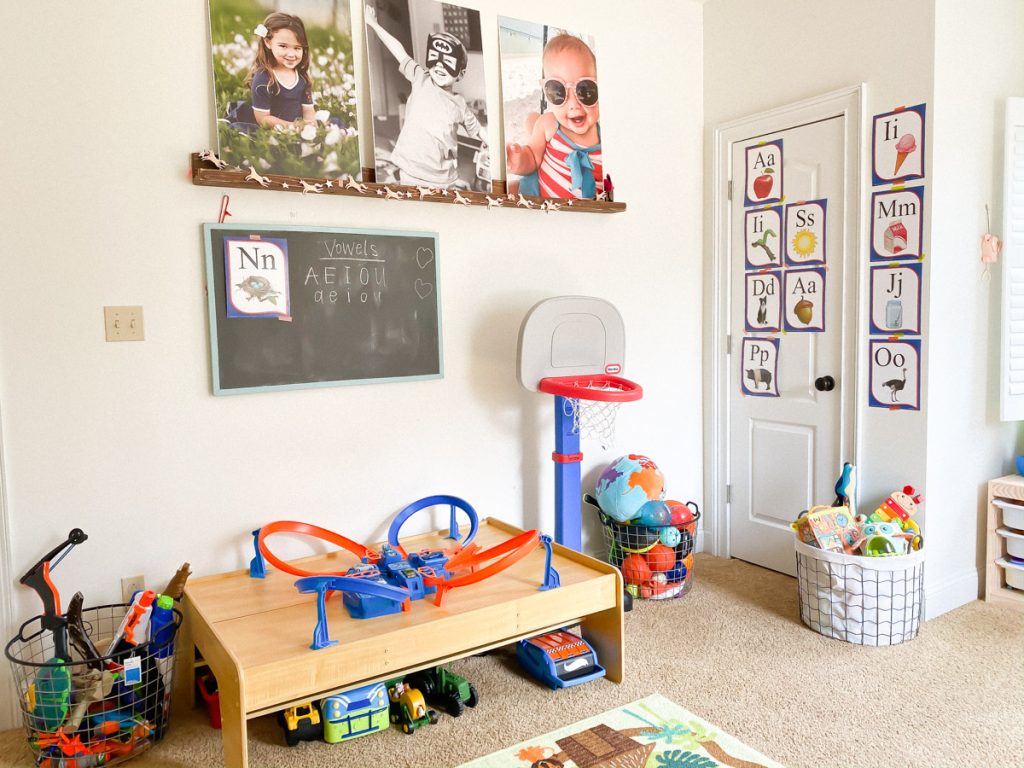 Our most played with thing is the kitchen set, which my dad and I built together. He did the hard labor and I completed the vision with the details – paint, hardware, and shelving. We finished it in time for Joy Belle's 2nd Christmas and it's been well loved by all of the littles.
The babydoll crib is also secondhand – it was mine when I was little and handcrafted by my grandpa. It completes the "home" section of our playroom.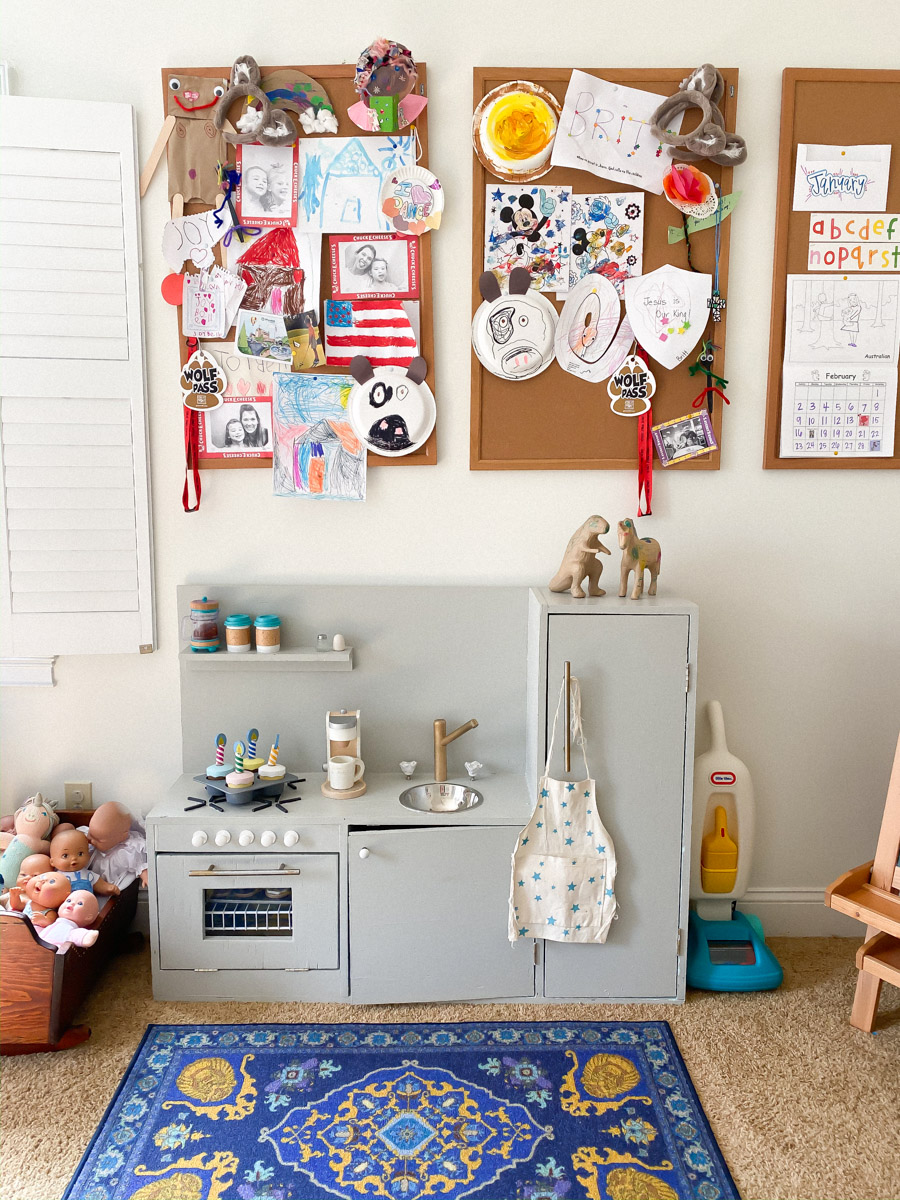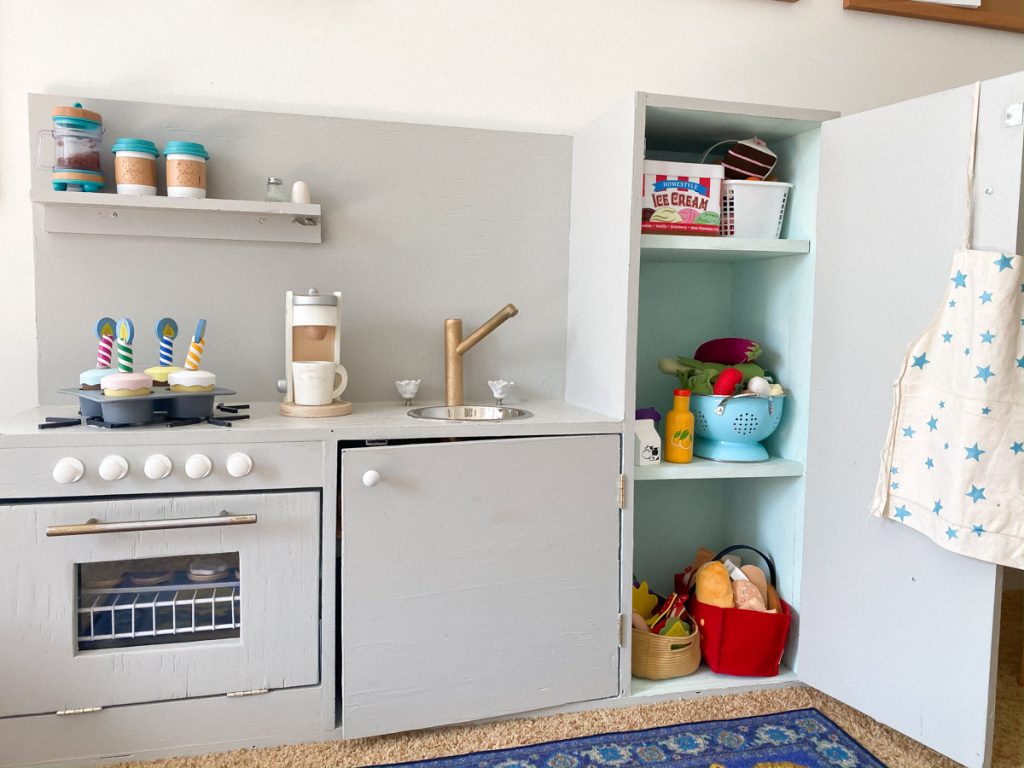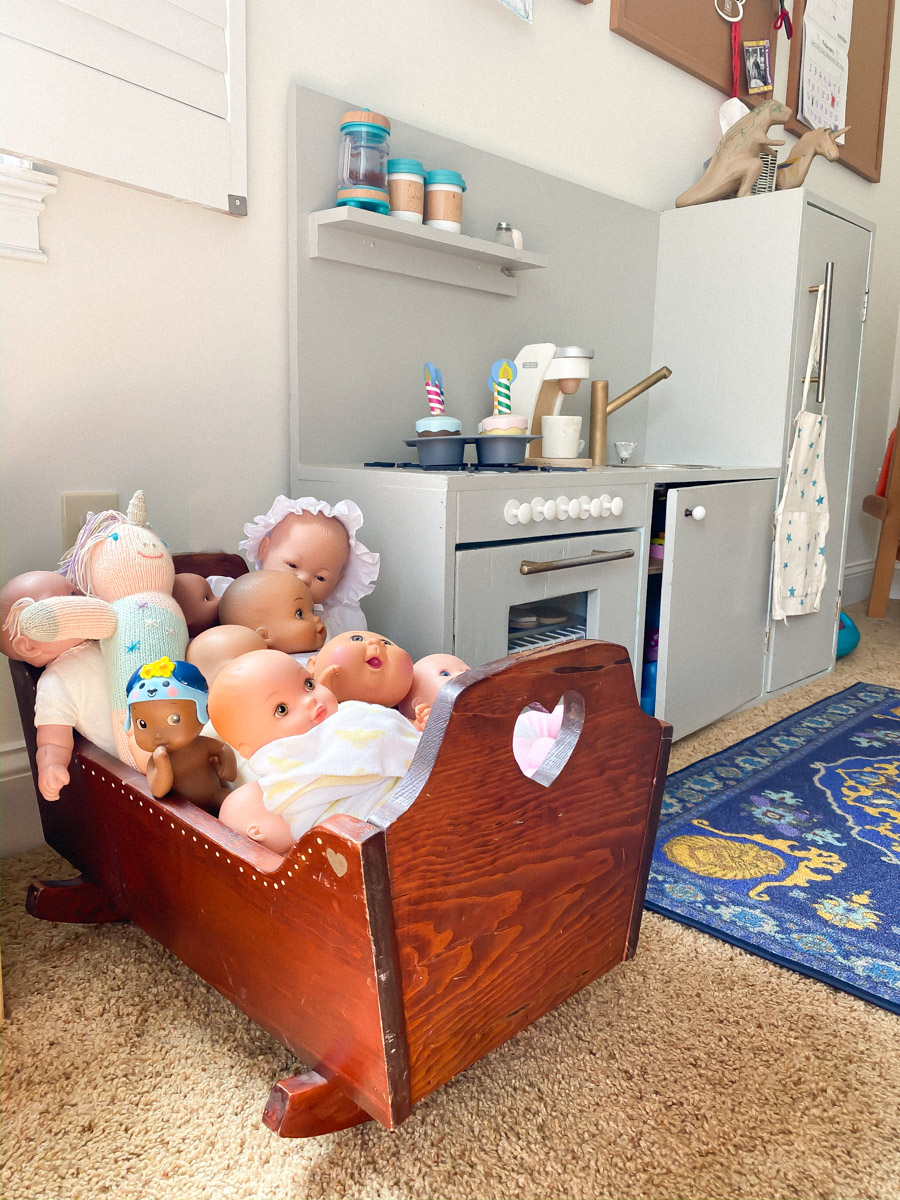 We have quite the collection of baby dolls, but with two little girls – there is lots of "playing mama" that happens around here.
The easel is probably my 5 year old's favorite right now. She's very creative and it makes me so happy letting her express herself through art. We use it for little games of pictionary, doodling, and some of our homeschool lessons.
As you can see, I love to display the children's artwork. It's so fun letting them choose what art goes on their cork boards and displaying it for friends and family to see when they visit.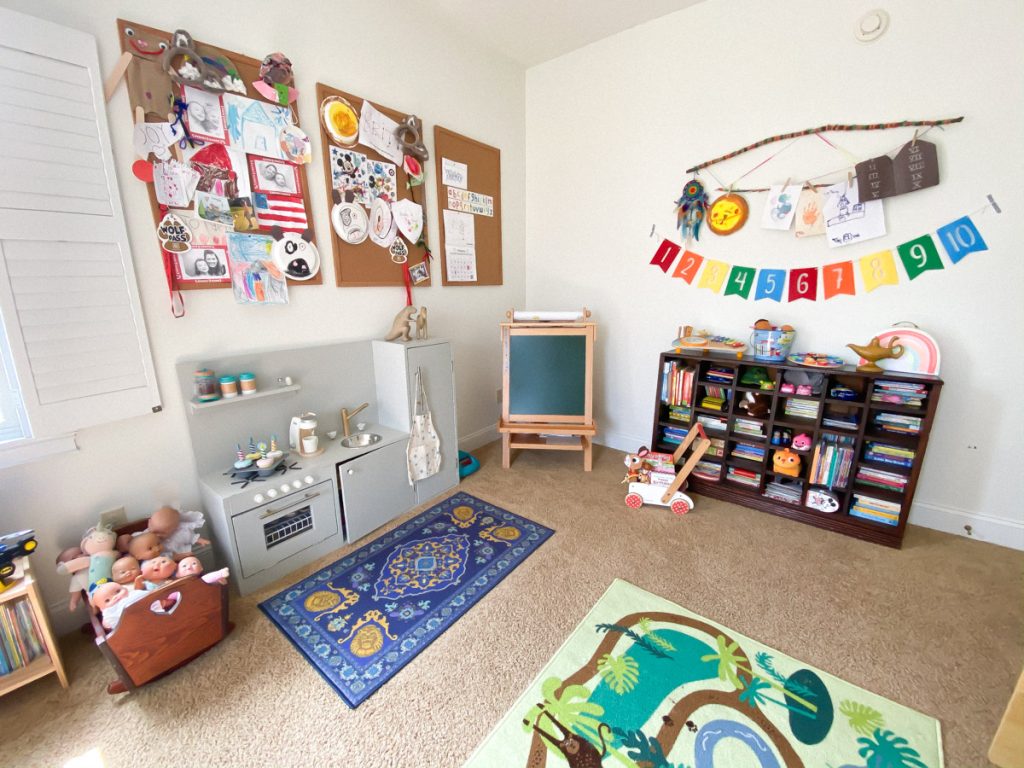 Now what to do with all of the little toys? Cue this vintage mail sorter and cubes like this one from Wayfair. I've linked some of my favorite ways to organize all of the little, I-do-not-want-to-step-on toys.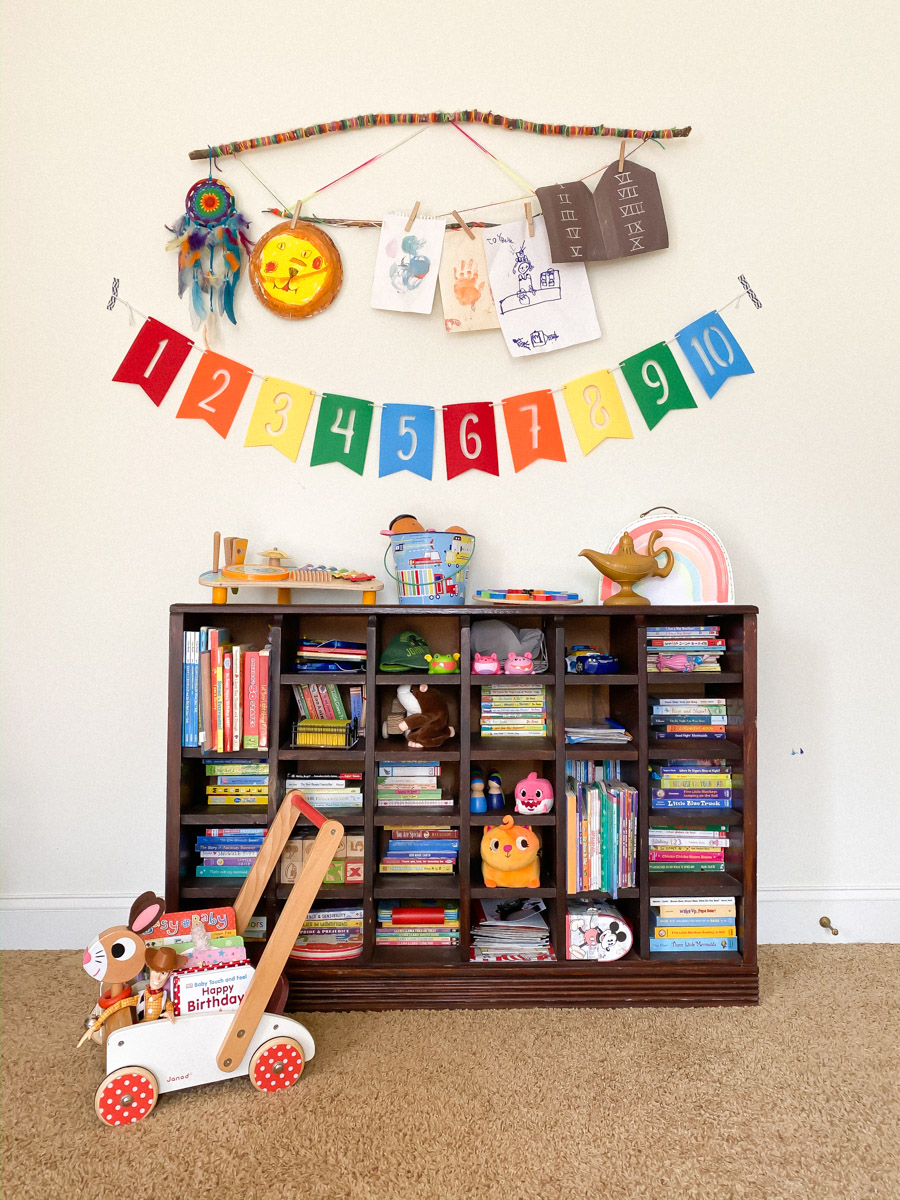 Toy organizers, like this one, have made keeping up with super heroes, dinosaurs, farm animals, and other little figurines so much easier. It's perfect for little hands and is great when you want to help them master sorting.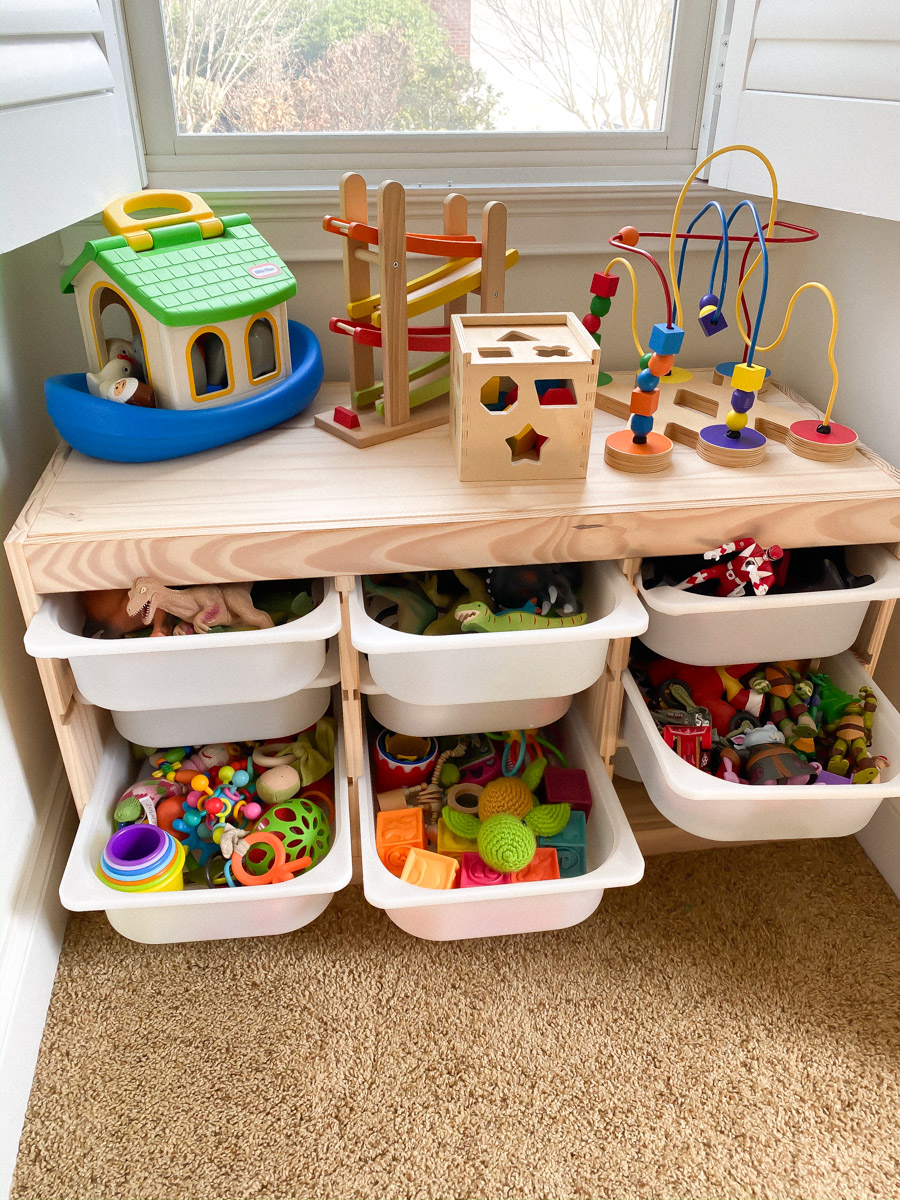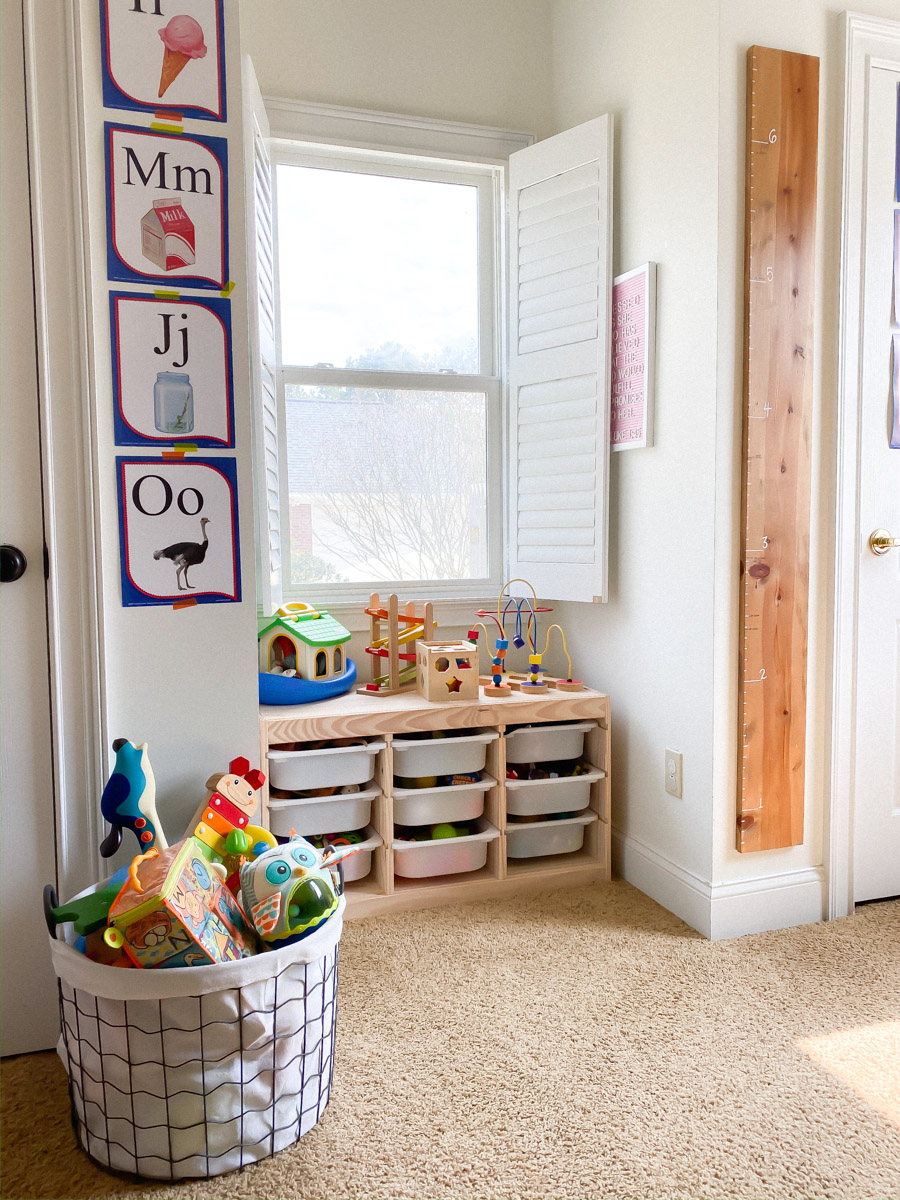 I've found various size baskets to be great for sorting and storing toys too. We have a hodge podge of wire baskets (similar to these!) that have been so helpful – particularly with keeping all 42 sports balls in one place.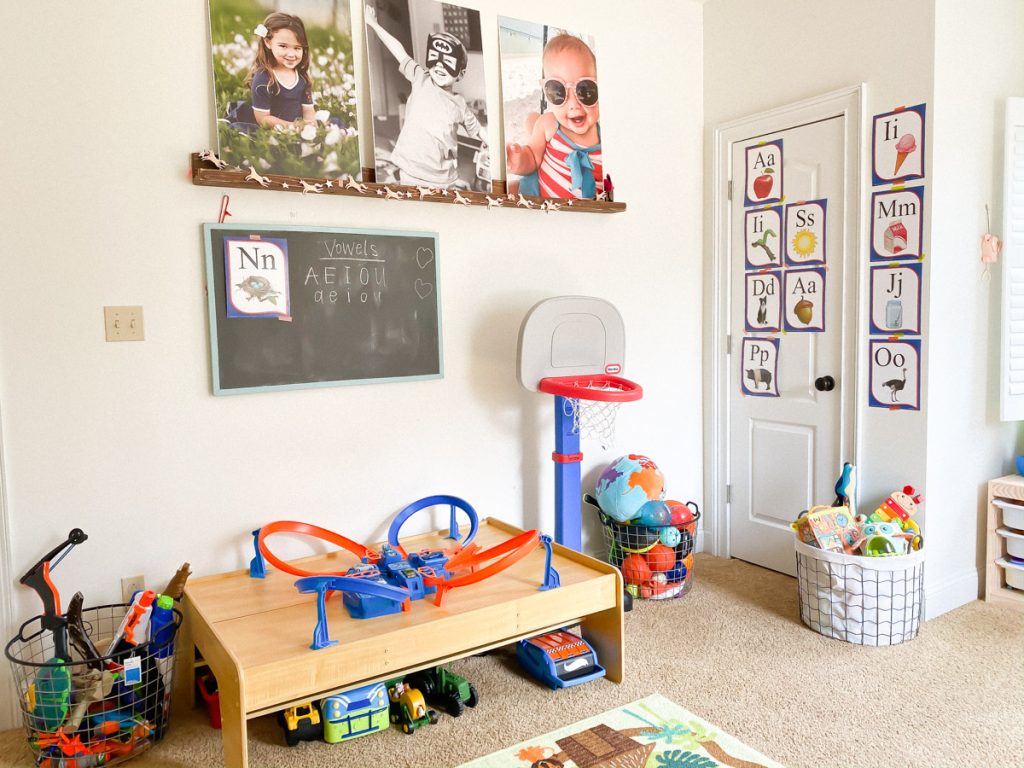 Book storage is something else I prioritized. We have bookcases around the house to make reading easily accessible. In fact, we have one in every room.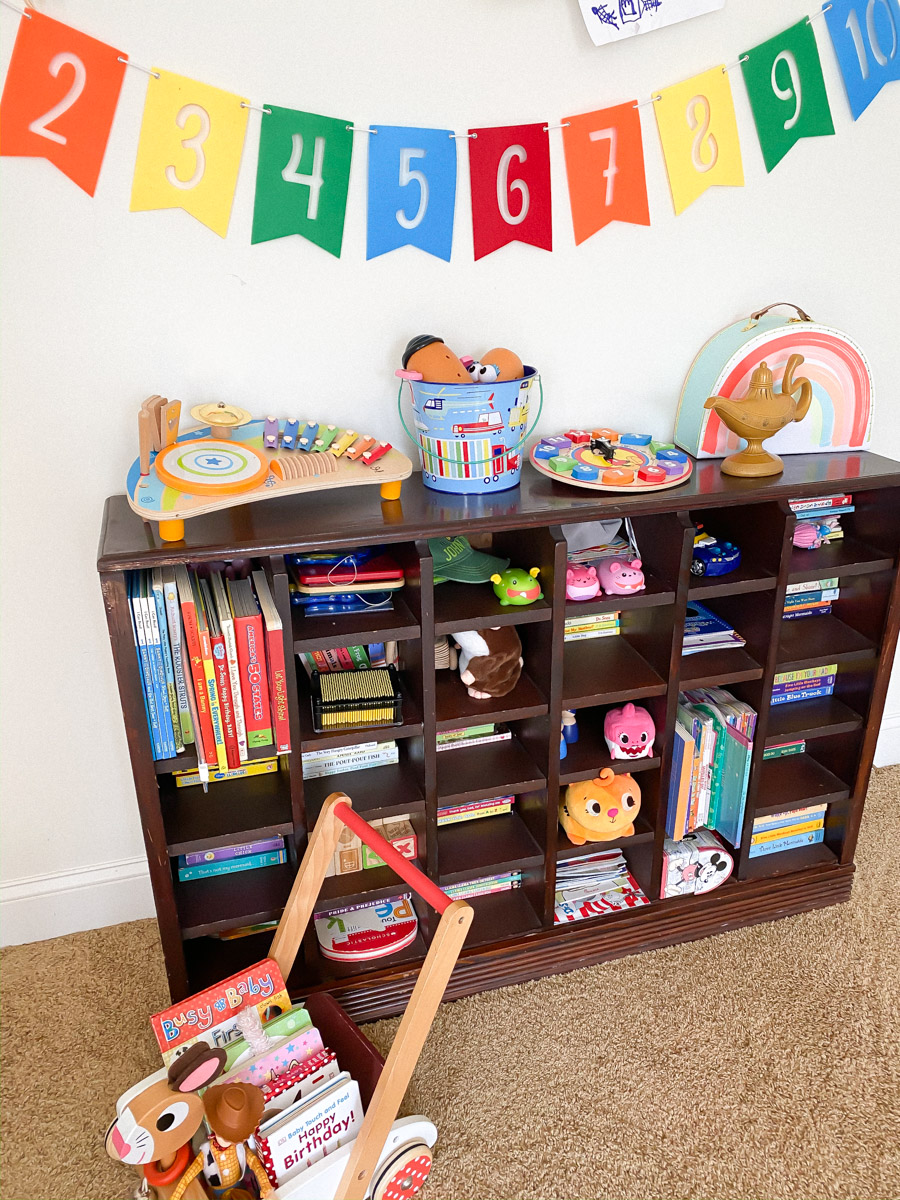 When creating a play space, I think it's important to find functional pieces that can help organize and display your little one's toys. From bookshelves and cubbies, to activity tables and mats, I've linked all of my favorite products for a very fun and functional playroom.
I hope you found this guide to creating a fun and functional play space helpful.