Mamas everywhere need to be showered with extra love (and grace!) this Mother's Day. Overnight, we became teachers and have been juggling our household tasks, jobs, extra meal prep, the grocery pick-up lottery, and confined motherhood. If we haven't gotten the fever from COVID, we've gotten the fever to get out and feel normal again. So here's a simple guide to spoil the mamas you know and love.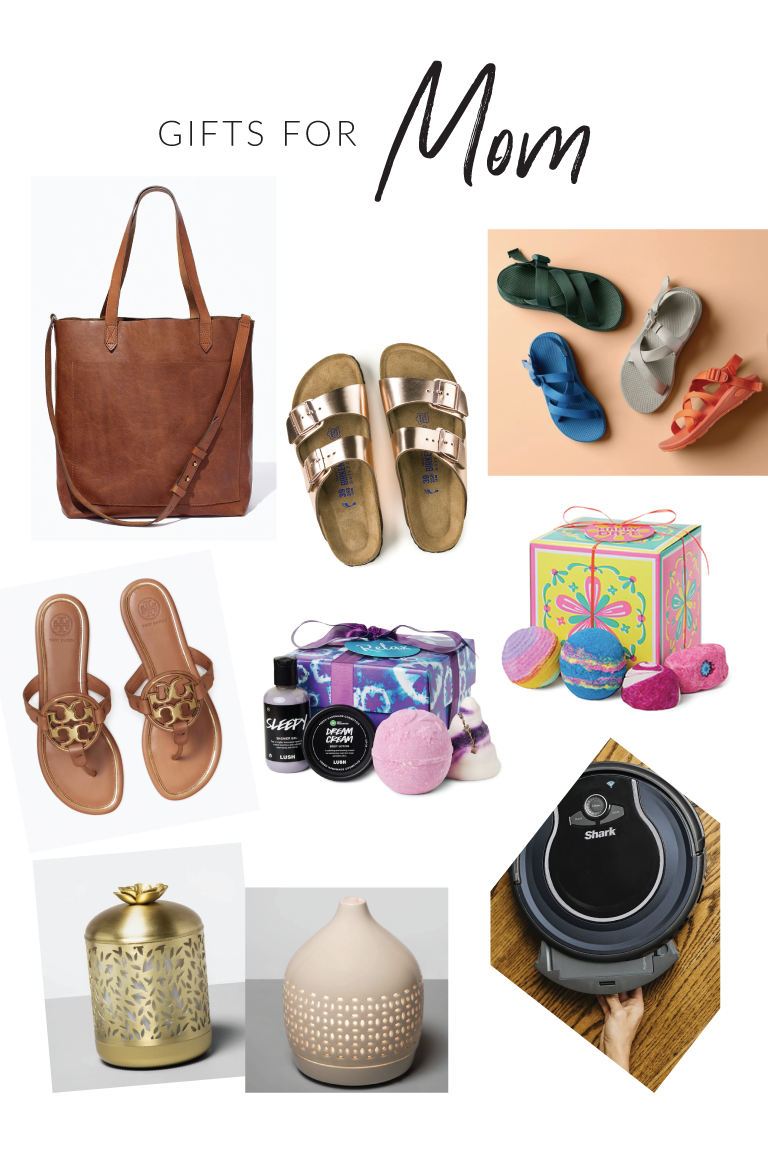 Softest blanket ever! We love it so much, we've got two! There were way too many fights over who got the "soft blanket" before we got the second one.
I hate walking on crumbs and dirt tracked in the back door, so I can't rave enough about our robot vacuum cleaner. It runs at night (while all the little snackers are snoozing!) and I wake up to clean floors. Only downside is that my kids leave socks everywhere and it's been known to eat a few. My in-laws got this for me for Christmas and it's been one of the best gifts I've ever received.
I am such a sucker for a good sandal – so my list has my top three favorites. I pretty much live in one of these three shoes all spring/summer long. Need a dressier sandal? I love these by Tory Burch. You can't go wrong with a TB classic Miller. Want something a little more cozy? These Birkenstocks are amazing. Plan on being outdoors? These Chacos are perfect. If you wear a size 7 or smaller, you can shop the children's version for about 1/2 price. I'm linking to Amazon just so you can view them, but please shop local at Ivey's Outdoors. They offer free shipping on $50+ orders. Tell them Brianne sent you!
Did you know our sense of smell is most closely linked to our memory and feelings? With so much of the news today being negative and many of us have found home to me our new or temporary workspace, I highly recommend diffusing some uplifting blends of essential oils. My two favorite diffusers are available at Target and linked here: speckled ceramic diffuser and metal flower cutout diffuser.
Treat mama to a lush bath with the most vibrant and luxurious bath bombs. Not only are these bath bombs and creams beautiful, but they smell heavenly and are filled with fragrant essential oils that are sure to spark a relaxing bath. Create your own bundle or choose from one of the gift sets.
Maskcara Beauty released several impressive bundles in time for Mother's Day too. Check out the Mother May Eye, Lip + Chic, and Fresh Start bundles that are available now – May 10th.
Want to shower her with gift cards? You can't go wrong with gift cards from Amazon, Target, Walmart, Maskcara Beauty, or some of my local favorites: Temp Coffee + Brew, Belle's Flower Truck, Blush, Bandit and the Babe, and Ivey's.