Holy Toledo, Batman! I can't believe it's already Monday, again. This past week flew by! With Mallory and I announcing and promoting our new business, Chevvy & Ron's – it's been a whirlwind of a week.
At the start of last week, Justin and I completed this home project. It's one of those projects that didn't take a lot of time, but I admire the finished product… daily!
The majority of the week was spent working with Mallory on our big launch. From shopping at Lowe's with those two, sweet babies to photographing our creations, Mallory and I spent a great deal of time together this week.
One evening, I put my crafting skills to work on a project involving a Georgia map and a frame, as a gift for an awesome couple – the soon-to-be Evans! I loved it so much, I made one for myself! (Future blog post? I think so.)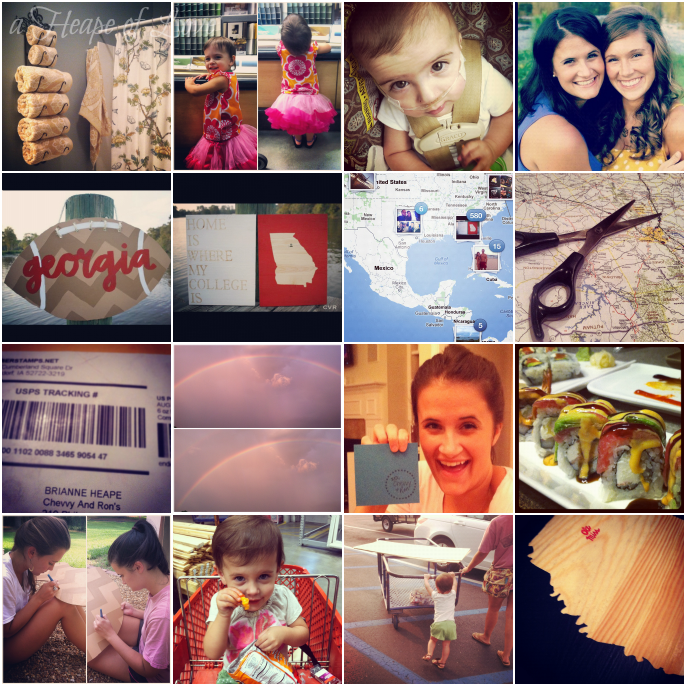 After only two days of launching our shop, Chevvy & Ron's received the 1st two orders! We were so excited, we celebrated with a delicious sushi dinner. On the way to Shogun, I spotted that lovely, complete rainbow – the kind you see the beginning and the pot of gold at the end. It's such a sweet blessing to see a rainbow and be reminded that God keeps His promises.
With three orders going into the weekend, we worked really hard on Saturday and Sunday afternoon. On one of our three trips to Lowe's, we were happy to have our little helper tag along. We leave the hard stuff to her! (Maximum Beau Power!!!)
Now, don't think I've been slacking on my wife duties – okay, maybe the laundry, grocery shopping, cleaning house duties – but, not the spending time with my Love duties. We both were busy working (real jobs and side jobs) this week, but we were sure to fit in some quality time together.
To end the weekend, Justin and I snacked on Ben & Jerry's ice cream pints and watched Batman Returns with the Glows. It was a nice, relaxing end to a very busy weekend.
Hope you all enjoyed last week and your weekend! Bring on the new week, with another road-trip in our near future.
happy Monday,
the newlyweds