We're back in action and back with our Instagram Monday recap. Brace yourself, I'm plunging right in like an Olympian diver. What did you think of the Olympics closing ceremony? I was psyched when the Spice Girls rocked the stage – definitely my favorite part.
To complete my birthday road-trip, we drove an additional 2 hours into Miami, Florida for the thrill. It's one of those places we've always wanted to visit, so we did. Shamelessly, I can admit that we cruised into Miami jamming out to Will Smith's hit Miami – you can watch the official music video here. As novices, we spent the day on South Beach – where it truly brings the heat and everyday is like Mardi Gras. (Yes, I'm referencing the lyrics to Will Smith's Miami.) We dined at the Clevelander (a hot spot for celebrities – specifically the Kardashians and Shaq, probably Will too) and dropped a pretty penny, but enjoyed every bite. After lunch, we spent the day soaking in the sunshine, turquoise water, grainy sand, and picturesque rainbow over the Atlantic. It was a birthday celebration to remember and spent with some of our favorite people.
Before leaving Naples, we (the Heapes and Cannons) enjoyed an authentic Mexican meal at a hole-in-the-wall restaurant – complete with a soup bowl filled to the brim with cheese dip. Did I mention Justin ordered a tongue taco? Yep, no description other than tongue. He said it was good, but I wasn't brave enough to try it.
Upon our return to Albany, we gathered with new and old friends for dessert night – which turned into game night. Together with the Glows, the Jones', and the McBrides, we tried our skills at Cranium – a game that requires acting, artistic, and musical skills. The Glows dominated, but we're ready for a rematch.
For a project inspired on Pinterest, I stopped by the Albany Welcome Center for a map of Georgia. (More on this to come.) Albany residents, if you haven't visited the Welcome Center downtown – you should! It's very clean and the staff is super courteous.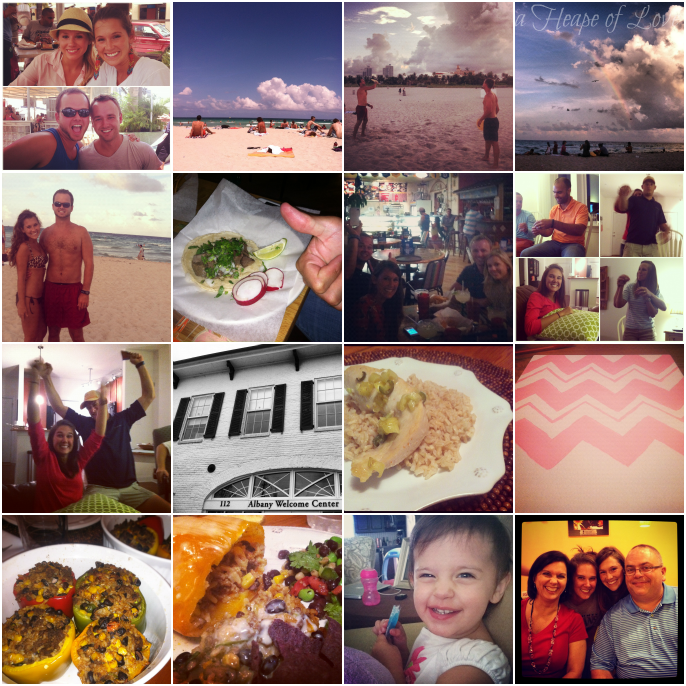 After a recent conversation with Justin, we decided it's time we changed up our diet and began to eat slightly healthy. So, last week I jotted down a menu of possible dinner options. One option, jalapeno and banana pepper chicken over brown rice. It was delicious and incredibly simple. I promise to post the recipe soon.
On Thursday, I rekindled my love for painting again… It's been so long since I've put my brush to canvas.  It was rejuvenating and ignited a passion that I'd nearly forgotten. I want to use my talent – to make others smile, to make me happy. It reminded me of a quote I've seen a dozen times, although I'm not sure who said it.
When I stand before God at the end of my life, I would hope that I would not have a single bit of talent left, and could say, "I used everything  You gave me."
I only wish I could claim the quote. It's so true though, how incredible would it be to stand before the Lord and say, "I used everything You gave me."
To kick-off the weekend, we invited the McBrides and Glows over for dinner on Friday evening. Recipe two turned out to be a hit. Southwestern, stuffed peppers with black bean salad (added edamame)… it was delicious, if I do say so myself. I'll share this recipe too.
Most of Saturday was spent with that little cutie pictured above. We shared a blue Pop-Ice and watched her new favorite show, Bo on the Go!
After Sunday school, our class gathered at Hong Kong Café for lunch together. Who would've guess that we'd share lunch and dinner with Mr. Jim & Mrs. Sheila on Sunday? Not me. It's such a rarity to begin with, that twice in one day made me feel pretty darn special. So special, we had to document the moment with a picture. (For those who are unaware, Mr. Jim is the Executive Pastor at Sherwood Baptist Church. Him and his wife were part of our pre-marital counseling and are like parents to both of us.)
Like all good things, the weekend came to an end and we went back to work today.
As sad as I know you are for me to end this Instagram Monday post, I'm leaving  you with three promises of future posts…
the two recipes mentioned above
my recent Pinterest projects
the secret Mal and I have been withholding, you know you want to know!
hope you had a happy Monday,
the newlyweds