We're a little tardy for the party with this week's Instagram Monday post! With my birthday on Saturday and our three month anniversary on Sunday, Justin and I planned a road-trip to Naples, Florida to visit Carolyn and Trae. (Okay, the trip was mostly for my birthday – but, we enjoyed celebrating both occasions!) With a 7 hour road-trip there and back, we decided it'd be worth our while to stay for a few extra days – which is why we didn't get home until late last night. So, we weren't really tardy for the party… we were tardy because we were enjoying the party! We had a blast! (More on this to come.)
To kick-off the birthday celebrations, I received a package from Birchbox with two of my latest favorite, make-up products – seen here and here. More of a gift to myself than anything else, but hey – it's my birthday week!
For a low-key evening, Justin and I dined on this recipe which I altered slightly by adding edamame. It may have trumped the original recipe. After dinner, we challenged one another to a game of Scrabble. I'm not sure why I was up for this – I always lose.
On Tuesday, some of us girls had a dessert night – which was great. After dessert, Teal was too anxious to wait for Kelly and I to open our birthday presents – so we opened them early! (Kelly and I have the same birthday, August 4th – how cool is that?) Anyway, I was beyond thrilled with my gifts – Once Upon a Secret by Mimi Alford and an amazing, scented candle! I must confess, I read this book to Justin on the way to and from Naples. We finished it on the way back and it was so very good. (Be forewarned that the book is filled with graphic recounts and may diminish your respect (if you have any) for our 35th President.)
I received my 3rd gift on Wednesday, whenever I opened a box with the multicolored wedges seen below from Nine West. I'm obsessed and for the record, got a steal! Originally $99, Nine West was so kind to email me and let me know they are now on sale for $29. Talk about a deal!
On Thursday, I happily opened a box from Warby Parker – for my 4th gift of the week! (I can assure you that I didn't coordinate the order of these gifts, nor for them to arrive daily the week of my birthday… this was complete coincidence.) Inside this box were these glasses here – part of Warby Parker's Summer Crystal Collection, Preston Bellini. Not only am I satisfied with my purchase, but the customer service and price was amazing. Totally recommend any purchase from Warby Parker, glasses or sunglasses – I will be shopping with WP again. Did I mention they have a buy a pair, give a pair policy – similar to TOMS? Yep, for each pair of glasses purchased someone in need of glasses is given a pair.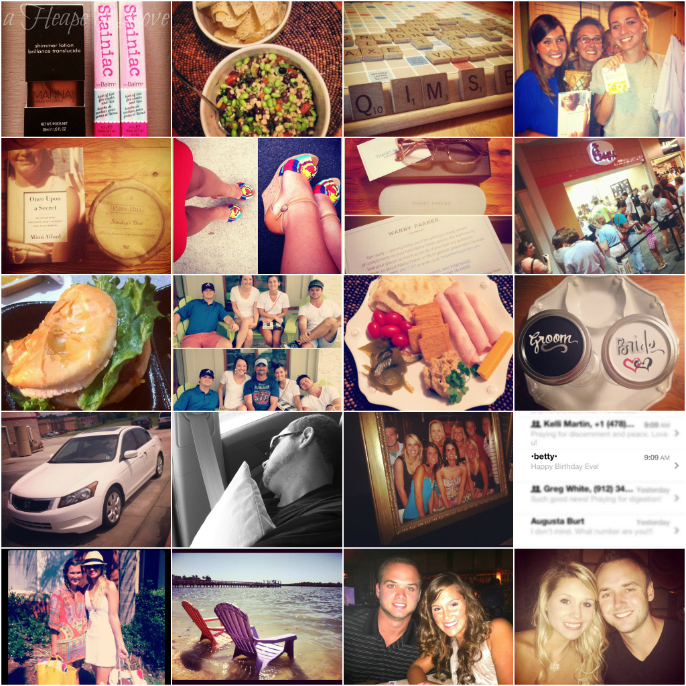 To show our support for freedom of speech and marriage of one man and one woman, we dined at Chick-fil-A on August 1st for Chick-fil-A Appreciation Day. It was extremely crowded, but moving. Even if you aren't a supporter of the cause, how impressive is it to see so many people who do, show their support? It was pretty incredible, just like my spicy chicken sandwich and waffle fries.
Thursday night Justin had to work on his project, so I was home alone for dinner. Which is why my plate was filled with a hodgepodge of miscellaneous foods – hummus, jalapenos, turkey rolls, cheese sticks, wheat thins, & pita. I'm a total snacker and old habits die hard. (Pretty sure I just made that word up, whoops.) After my hodgepodge dinner, Augusta stopped by our apartment with more wedding gifts! How adorable are those "Groom" and "Bride" mason jars? She also gave us several pieces of our Juliska stoneware. Thanks, Augusta!
Before our road-trip began, I decided it'd be nice to cruise 7 hours in a clean car. So after a trip to Goo-Goo Car Wash, Henrietta was looking nice! In about 15 minutes, they detailed the inside and outside of my car – for $22. You can't beat that. Especially since we enjoyed the new-car-scent on our journey to and from south Florida. Worth every penny.
Road-trip scheduled, check. Clean car, check. Playlist, check. Packed and ready to roll, check. Sleeping passenger, check – what? Only half a hour in and Justin was asleep, not how I planned that road-trip. So much for an exciting car ride. Fear not, he did wake up in time to take over driving the last leg of the trip. However, he is not aware that I took or posted the photo of him snoozing. Shhhhh, that's his payback for catching some Zzz's.
About 30 minutes into my actual birthday, we arrived in Naples! Whew, 7 hours is a long time to be in a car. We spent my birthday lounging on Marco Island, with lunch at the Isle of Capri – a hole-in-the-wall eatery I discovered thanks to this lady, this lady, and this lady. Since sushi is my favorite, we got fancy and dined at DaRuMa for dinner. It was so delicious and the perfect birthday dinner. Thank you, Carolyn and Trae for such a great experience in Naples. Plus, a very special, extra big thank-you to my super, sweet husband for such a wonderful trip together. It was a much needed, mini-vacation and I'll never forget my 25th birthday – thanks to you.
After completing Once Upon a Secret, Justin and I have decided to read together. We both enjoy reading and often have new books on our nightstands, but we've challenged ourselves to enjoy a book together. Not just a book, but one a month. We've already decided on our next book together, but we'd love to hear suggestions. What have you read lately that we should add to our must-read list?
The more you read, the more things you will know. The more you learn, the more places you'll go. Dr. Seuss
With our goal set, now we challenge you. Make a goal, a book a week or if you aren't a reader, try a book a month or 6 books in a year! Of course, let us know how you are doing and what you are reading. We'd love to hear!
hope it's a happy Wednesday,
the newlyweds