Last week may have been the fastest week ever. The week just few by, just like the weekend – unless you are one of the lucky people who are enjoying a 3 day weekend right now! I'm not jealous at all. Not!
Anyway, this Instagram Monday will not be spent ranting about how envious I am of all of you vacationing and celebrating Columbus Day not in the office – instead, I'm going to focus on the great week and weekend ahead and past.
Last Monday was heaven sent, seriously. I've been praying for more hours in the day, combined with much needed productivity and rest. Why? Because after waking up at 6:45 AM, spending 8 – 9 hours at work, getting home just in time to cook a frozen pizza before J rushes out the door for a flag football game, spending several hours with Mallory working on Chevvy & Ron's decor, spend an hour folding laundry and writing more thank-you notes, just to crawl in bed a bit before midnight is a typical Monday in my shoes. (Other days are similar, minus flag football games.) So back to last Monday, my day was oh-so-productive, relaxing, and we still had time left over at the end of the day. Not only did I get the last of duplicate wedding gifts returned, work was smooth, flag football was cancelled, Chevvy & Ron's orders were completed, the house was clean, fall decor was hung, no laundry needed folding, I wrote 20+ thank-you notes, and still had time for the Glows to stop by for warm cookies and a game of Battle of the Sexes! And… we were in bed before 11 PM! Hallelujah! Thank you, Jesus! Yes, last Monday was an answer to prayers and I am still so grateful.
On Tuesday, I enjoyed a lunch date with my love! That in itself was goodness. Heavenly Ham, the Paradise Club with potato salad and a Heath Bar, crunch cookie – yes, please!
Wednesday was spent with friends at our Debate Party, where I debuted my delicious pimento cheese!
Thursday I picked-up dry cleaning, which made me feel really grown-up and established. Does anyone else feel this way?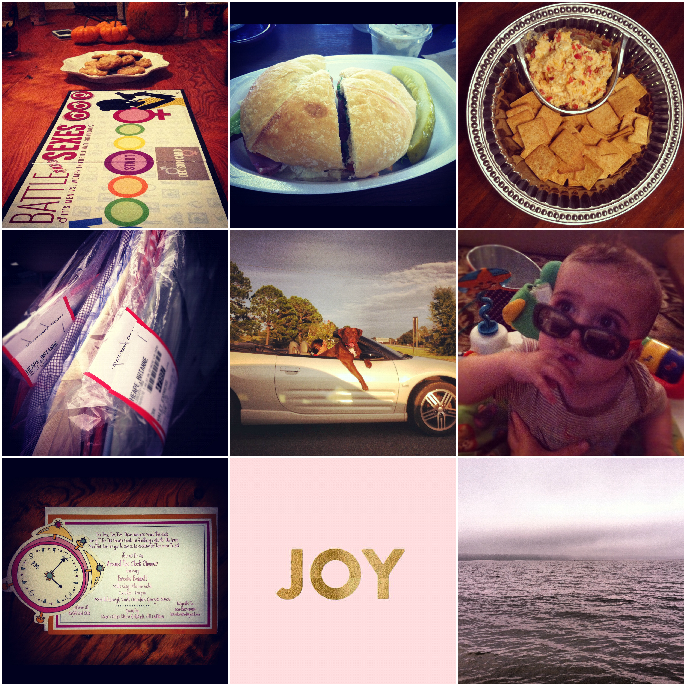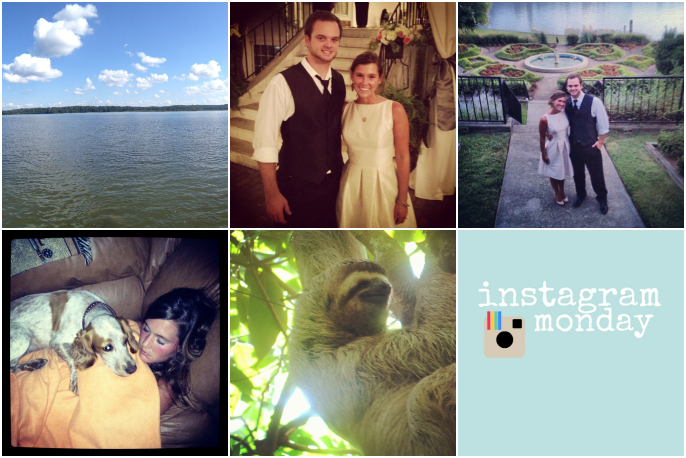 The Heapes spent their Thursday evening with the McBrides. The Ladies played with the Littles and worked on new, Chevvy & Ron's projects – get excited! And, the guys worked on feeders and talked huntin'. Together, we watched Grey's Anatomy while enjoying chocolate chip cookies!
Friday, I discovered these free, iPhone wallpaper downloads. I couldn't resist this adorable "Joy" print!
Saturday and Sunday was spent with the Glows on Lake Eufaula. The water and weather was beautiful! Above you can see two photos of the lake, one taken in the early morning and one mid-afternoon. There is just something about the water that always makes me say, "God is good." His creations are so beautiful – rain or shine.
After scrolling through J's photos on his phone, I discovered a few of us taken during our trip to Knoxville. They were too good for me not to share!
On J's phone, I also found the photo you see above of me with the pup, Piper! It was such a rare and unbelievable moment, Justin had to document it. For those that know me, you all know how hard to believe it is to see me showing some puppy love! Hugs, kisses, and love to all of my favorite pups: Pippa, Lola, Molly, Jaxson, Jeda, Buddy, Luke, Daisy, and the late, Maggie and Jewel. See? I do like dogs!
The sloth you see above? He lives in Costa Rica and I'm sure is having a blast hanging around right now! Get it? Hanging around! So to all of you enjoying Columbus Day off, I'm more jealous of Mr. Sloth and his day than yours.
happy Columbus Day!
the Heapes