After four days off from work, enjoying the holidays, and spending time with family and friends, it's an understatement to say neither of us were anxious to see Monday come. However, we're looking forward to a low-key, productive week – filled with dinner dates, Christmas decor, Bible studies, and creating memories! Cliche? Maybe, but true.
As Christmas nears, I can't contain my excitement as we prepare for our first Christmas together as newlyweds. Not only will our home be filled with cheer, but memories will be forever painted in our minds of our first Christmas as Mr. and Mrs. Heape! In lieu of my excitement, I designed our Christmas cards about a month ago. Unfortunately, we had some issues with the printing before finally resolving the problem and oogling over the finished product. I can't wait to get these addressed, stamped, and in the hands of loved ones. (Although, I must confess I've still got about 20ish thank-you notes to finish first! Wish me luck, because (after 200+) I'm ready to throw in the hat/towel – you get the point.)
On Monday, Justin and I celebrated his birthday celebration with my family. For the occasion  my sweet Mama cooked our favorites – country fried steak with gravy, mashed potatoes, black-eyed peas, creamed corn, and rolls! She also made this delicious, strawberry cream cake that was divine. With my parents living out in the boondocks, it isn't often that we're able enjoy their company over dinner. It was so nice. Reminds me of one (of many) reason I'm thankful to live in Albany – we're so close to family.
Later in the week, the Glows, the McBrides, and more McBrides joined us for dinner at Shogun – our favorite, Japanese restaurant in town. Not only did we enjoy the company and the food, but Beau learned taught herself how to use chopsticks! We were all surprised at how quickly this two year old mastered the skill. After dinner, we all enjoyed frozen yogurt for dessert. Thank you, Mr. Jim and Mrs. Sheila for the treats!
After a few nights off from Chevvy & Ron's, Mallory and I were back to work painting lots of Grinchy creations. So many paintings that we've actually sold out of the ramshackle sleigh pieces!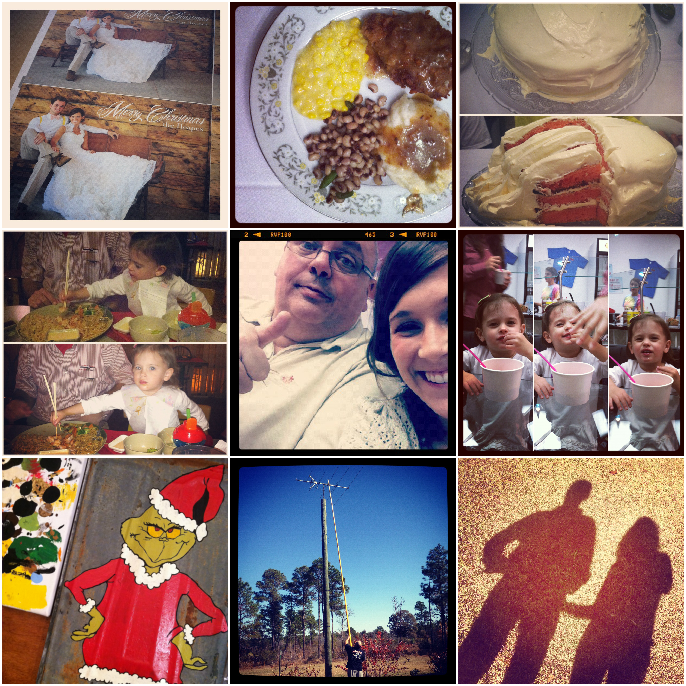 On Thanksgiving day, we drove out to the sticks for some relaxation and lunch with my family! The picture (you should see above) is in fact my Daddy adjusting the antennae to get the football game on TV. For those of you wondering, that's how we change the channel in hick town.
Later in the evening, we joined the Heapes for dinner and a round of Battle of the Sexes. Below you will see the table setting before we enjoyed the feast!

Overall, we had a wonderful Thanksgiving celebration with family, friends, and lots of good food! It's always such a blessing to spend time with ones you love and sharing good times. For our first Thanksgiving as newlyweds, I'd say it was a success. Now, if we can only survive Christmas!
How was your Thanksgiving weekend? Were you overwhelmed with the big, three F's: food, family, and football? We sure hope you enjoyed your Thanksgiving holiday and are looking forward to Christmas half as much as us!
wishing you a happy week,
the Heapes