Yep, once again it's Tuesday and I've fallen short on my Monday posts. But seriously, it was a holiday and I was spending valuable, quality time with my love – can you cut me a break? Ah, thank you! I knew you'd be so kind.
Last week, Mallory and I began selling our Christmas decor in the shop. To say it was is a success is an understatement, our sales have skyrocketed. With sales up, that means we've been busy painting, sanding, painting, and painting. Did I mention we've been painting? Yes, we have. Lots of Grinchy quotes, trees, and characters – haven't seen them? Here is my shameless plug for Chevvy & Ron's… Go check them out now in our shop! Order now and you'll receive your Grinchy, Christmas decor before Thanksgiving.
Can I also say, we have the cutest little helper ever? 'Cause we do! Mallory's little girl, Beau loves to help us paint and it's just too hard to tell her no! So, she paints right beside us.
At some point last week, we had 2 lovely wedding presents delivered. It was such a sweet and nice surprise to receive another gift!
On Thursday, I discovered that not only is 1-800-CONTACTS timely, but they also have fabulous customer service and text your prescription options. Awesome? I think so. Now if those contacts would arrive today, I'd be one extremely satisfied customer!
Same day, just later – the Glows, this guy, and his lady asked us to join them for a game or two of bowling. It was a nice, spontaneous date night – even if I broke a nail and was the loser. I definitely had the lowest score but Justin had the highest, so that counts for something, right?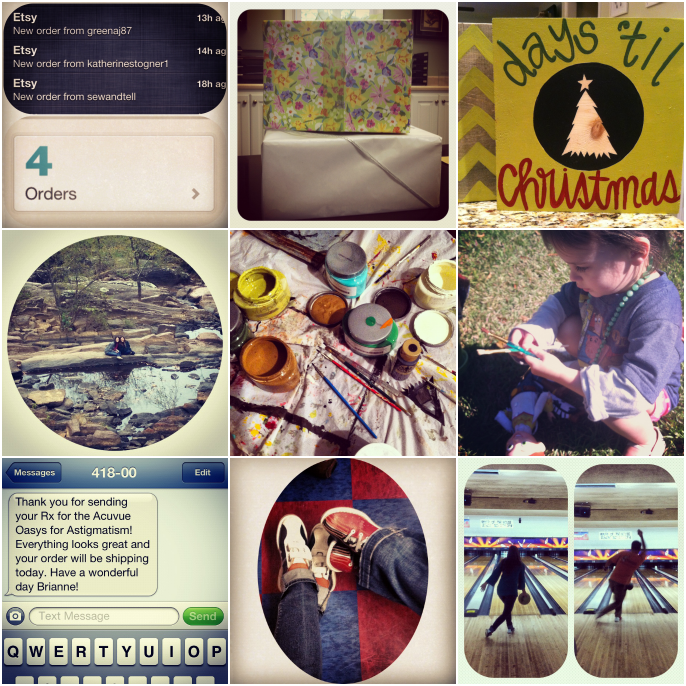 You may remember from my June Birchbox, these Cynthia Rowley BAND-AIDS® – well, Justin is a fan. (See below and note, that is NOT my hairy leg.)
On Friday, I woke up in time to enjoy the beautiful sunrise over the foggy marsh. It was such an exquisite reminder of God's goodness, faithfulness, and existence.
Saturday morning, I treated my love with a (go figure) Mexican breakfast, a breakfast burrito – complete with a side of black beans and salsa. For those of you who haven't figured it out yet, I'm really Hispanic. Okay, that's not true – but, I really love Central American type foods and that's the type of food I actually know how to cook. Seriously, if you haven't noticed… we eat tacos every other dinner. Now that is the truth!
The rest of  my morning was spent painting. Did you guess that? First, two old frames for a DIY project that I will be sharing later and second, another Grinch or two or three!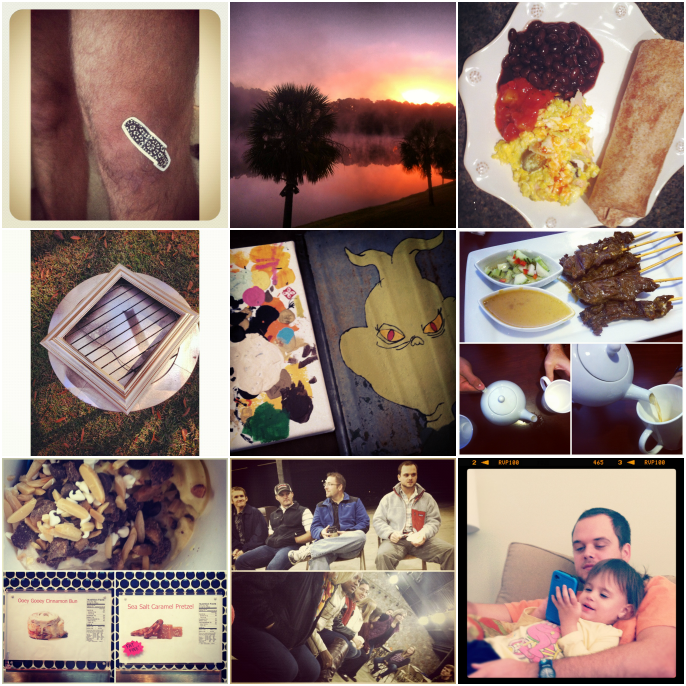 The afternoon was spent dating my husband. We tried the new, Thai restaurant in town, Lemongrass – it was delicious. It (Thai) was a first for me, and I was pleasantly surprised! We got something called Satay (seen above), Honey Caramel tea, and some goodness with shrimp, scallops, and veggies. If you're local, it's worth a try.
Of course I couldn't let our afternoon date end without frozen yogurt, so we stopped by Freeze. Talk about goodness, they had two of my favorite flavors EVER – Ooey Gooey Cinnamon Bun and Sea Salt Caramel! They are the best, hands down. Add almonds, dark chocolate chips, yogurt chips, and crushed Heath Bar – delicious!
That evening, we joined our Sunday school class for a social. The guys and ladies faced off for a game of Battle of the Sexes – which I'm sad to admit, the guys won. We did challenge them again at a round or two of Pictionary, before deciding that the cold was too much to bare and calling it a night.

you can follow me on Instagram, @BrianneJoy
Since it was a long weekend for us, Justin and I spent Monday enjoying our time together. We slept in and then spent the rest of our morning with the little McBrides. Since Buddy and Mallory both had to work Monday, we kept the little ones for a bit. Above, you can see Beau (the two year old!) challenging Justin to a game of Fruit Ninja. She sure loves her some "Ustin" and "Ustin" loves him some Beau too.
After our morning babysitting session, Justin and I did a little Christmas shopping at the mall, enjoyed lunch, and played with a birdie at the pet shop! The extra day together was such a blessing.
How did you spend your weekend? Have you started your Christmas shopping yet?
wishing you all a great week,
the Heapes