Due to my temporarily busy, chaotic life over the last few weeks, I'm recapping the last two weeks through our Instagram photos today. Brace yourself, it's a lot of snapshots and randomness.
Not last week, but the last – J.P.'s parents came to visit all the way from Canada. To greet them to the States, Bethany and J.P. introduced them to Chick-fil-A and the heavenly, chicken biscuit. I'd tell you what they thought of the experience, but you wouldn't believe me if I told you, so I'm just not telling.
Shortly after flying in, J.P. and Bethany brought them to Mama and Daddy's for dinner, dessert, and endless chatter. Of course if you know me, you know I picked their brains about life in Canada and gave them the scoop on south Georgia living.
1|
I enjoyed a cup of hot tea in Mama's fine china – in attempt of a little relief from the brutal effects of south Georgia pollen.
2|
J.P.'s parents brought my favorite cake for dessert. Chocolate layer cake, the best!
3|
New MacBook arrived the week before last…and I'm in love.
4| Just a peek into our hall bathroom at the new house! Tile is laid and that horrid pink paint is on it's way out the door.
Speaking of new home renovations, we shared a few of the latest updates with you all on Friday. In case you missed it, click here.
5|
Last Saturday, my college roommate got hitched at the lovely, Gin Creek in Moultrie, Georgia. Aside from the downpour, the wedding was perfect and the bride was beautiful, as usual. Since J was busy working on the house, Sarah went as my date – it was great!
6|
The adorable and delicious wedding cake.
7|
While hanging out with this gal, we put the babies in boxes to keep them preoccupied. Okay, okay – we aren't cruel, believe it or not they actually opted to sit in the boxes themselves. I just thought it was too cute not to snap a picture!
8|
This past Tuesday, I joined Augusta at my favorite, local sushi eatery for a going-away-lunch. Augusta is moving to Pennsylvania for a few months, so we got together to say good-bye and catch up on the latest in life. Before she left, she got to see the progress on our house. Hopefully when she's back in town the next time, we'll officially be moved in. Cross your fingers, because I'm crossing mine!
9|
On Wednesday
day
, I snapped a photo of some of our wood flooring, before it became flooring.
10|
By about 10 or so that same day, we had about 1/3 of the flooring laid – thanks to my Daddy, my Father-in-law,
this friend
, and my husband!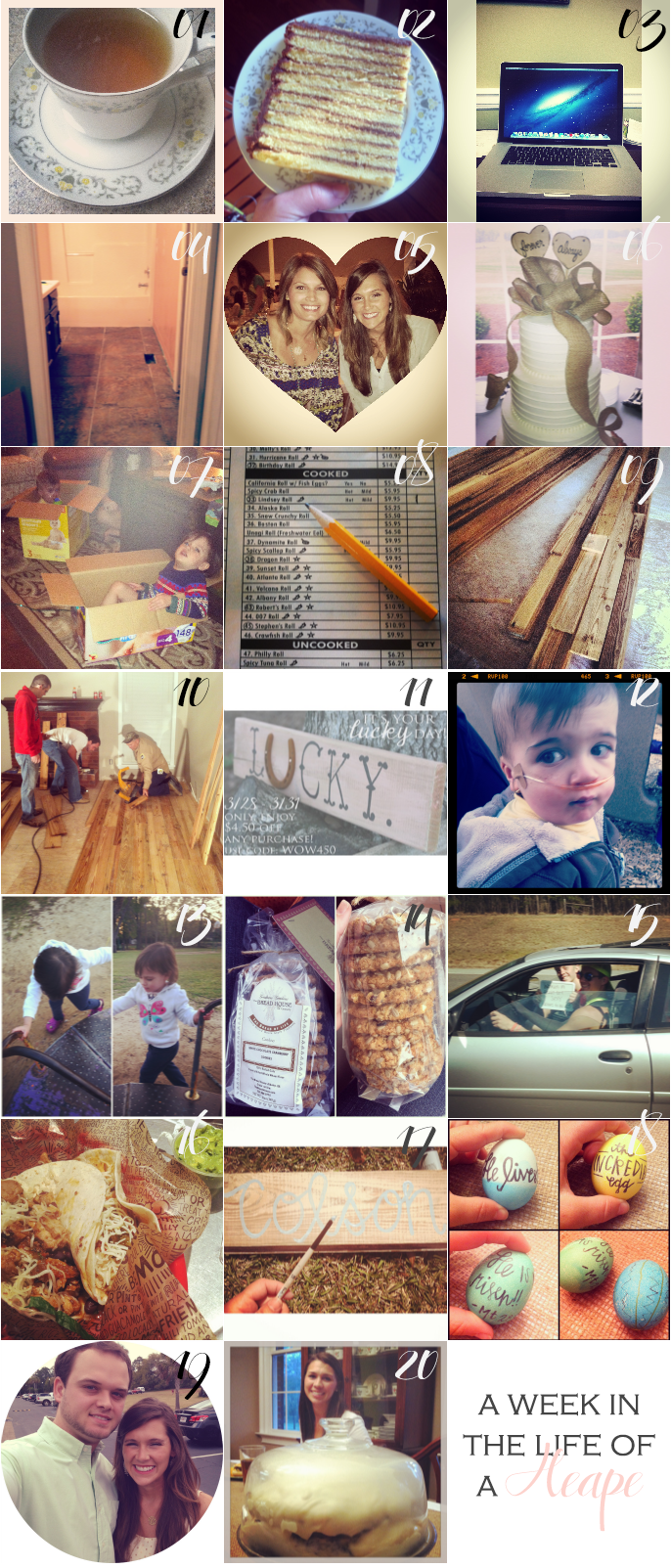 11|
As a thank-you to our 450+ fans, we offered $4.50 off any
Chevvy & Ron's
purchase through the weekend.
12|
On Thursday
 (while J was working hard on the house again)
, I babysat the McBride rugrats while Buddy and Mallory had a date night. Baby James and I played in the wood chips…
13|
While big sister, Beau conquered the jungle gym and merry-go-round. She loved to spin us!
14|
On Friday,
The Bread House
of Albany chose me as the winner of their Facebook contest. What did I win? Some extremely delicious, cranberry and white chocolate chip cookies – so, so good.
15|
To kick-off the weekend, my Mother-in-law and I hit the road towards Atlanta to pick-up the countertops for our new house and to get my wedding dress from the cleaners. On the way, a few spring breakers wrote me a note and waved us down on I-75. Embarrassed and flattered, I'm proud to say… I've still got it.
16| I couldn't go to Atlanta and not eat Chipotle. Although, after passing two Panera Bread's it was a hard decision to make.
Our main purpose in going to Atlanta was to stop by Ikea. Until we got there, I didn't realize it was Mrs. T's first Ikea experience – oh boy was she shocked! Needless to say, we are planning another trip back soon.
17|
My weekend was spent the typical way – with a paint brush in hand. I can't express how much I love doing what I love
and
with a great friend.
18|
On Saturday, J and I spent the evening decorating Easter eggs with family and celebrating
Bethany's birthday
. 
19|
Easter Sunday after church, J snapped the picture above. Unfortunately, you can't see my new, favorite dress and I have super, squinty eyes – but at least we documented our first Easter as Mr. and Mrs., right?
20|
Possibly the ugliest cake ever, wins the award of best cake ever! Mama tried her hand at homemade, cream cheese icing and it was divine. In fact, I may or may not have eaten a spoon full or two.
—
Over the next month, we'd like to ask you all to pray for us as we continue to work on the house, try to beat deadlines and prices, and for our sanity. Although we aren't building a house from the ground up, there are many, many similar decisions to be made and prices to compare – with that comes lots of stress. Plus, we've still got a pretty lengthy to-do list and only 28 days before move-out day. Let me reiterate… prayer is greatly appreciated!
Hope you all had a wonderful, Easter weekend and have a great week ahead of you!