As many of you probably know by now, James received a heart yesterday! (Yesterday = Sunday, May 19th) For those who aren't aware, baby James is the 1 1/2 year old of two of our closest and dearest friends, Mallory & Buddy. James was born with Hypo-plastic Left Heart Syndrome (HLHS), which means that the left side of his heart didn't develop correctly. In early March, he was placed on the heart transplant list. Yesterday (Sunday, May 19th) morning, Buddy & Mallory received the news that a heart was available for their sweet boy. Once a call like this has been placed, the family receiving the transplant has 4 hours to get to the hospital for the procedure. Before 9 AM, they were Atlanta bound with this handsome guy,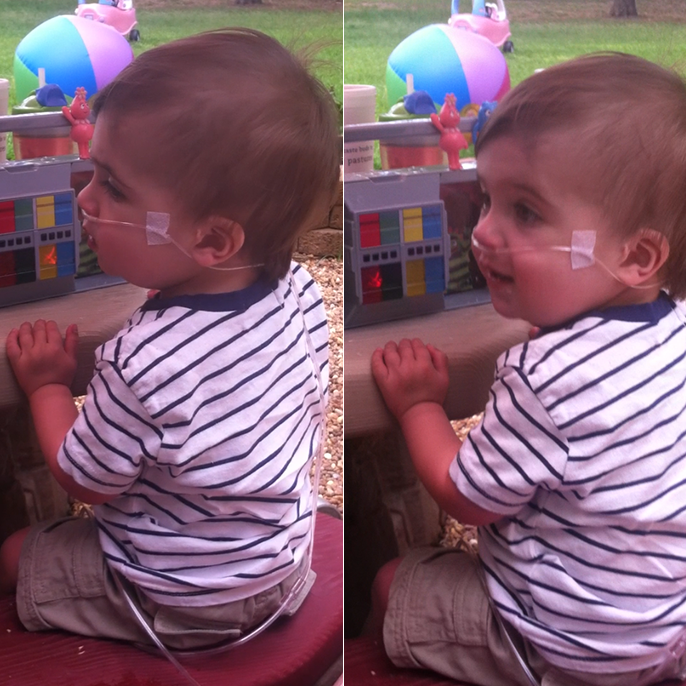 After hearing the news ourselves, Justin & I quickly hit the road behind them. Neither one of us could imagine not being there with the McBrides, during this emotional, yet blessed moment.
Three-ish hours later, we were touring the hospital with little bit (Beau, the McBrides 1st born), while they prepped James for surgery. The next 17 or so hours are a blur. But here is my best recap… At some point, they let us know that it would be several hours before James actually received his new heart. Not that I totally understand the process, but the delay was based on a few reasons: a) even though the heart is a perfect match for James on paper, it needed to be verified; b) prep is necessary on both sides, for James and for the donor; c) it simply takes time. Around 6 PM, Buddy and Mallory kissed their sweet baby good-bye and put their faith in the Lord.
Below are a couple of pictures of Jamesy Man, before surgery: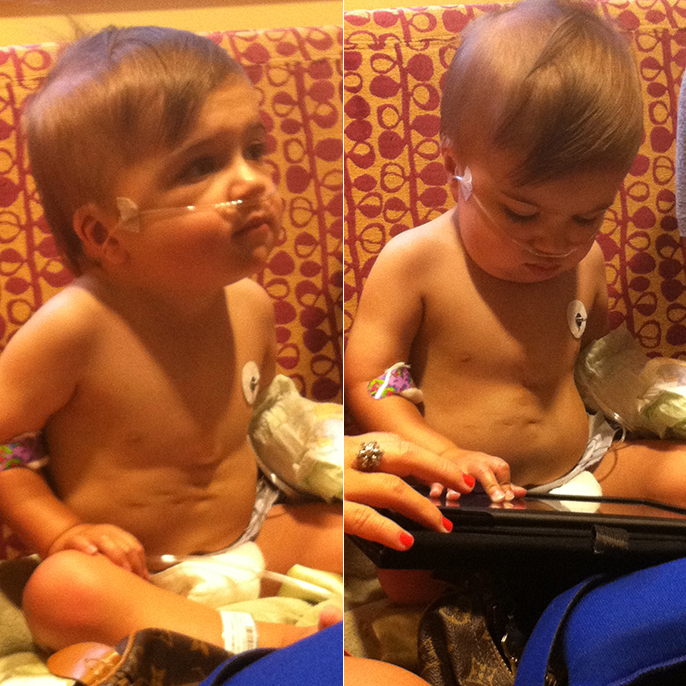 And a few Instagram pics from our time in Atlanta,

Throughout the night, updates were like clockwork – literally, every hour on the hour. He's back. He's open. The heart is a match. The heart is on the way. His scar tissue has been removed. The heart is in. The heart is beating! He'll be out soon. He's out! The procedure went well,  no complications, no signs of rejection. You can see him now.
God is good! He is The Healer. He works miracles! He guided the hands of the surgeons. He wrapped His hands around James. He calmed the nerves of the family. He is Amazing! I can't explain the feeling of witnessing the Lord working such a life-changing miracle before me. There is no doubt, He is in control… He heals! At some point today, I discovered this scripture and I found it so suiting,
He heals the brokenhearted, and binds up their wounds. Psalms 147:3
In between each call, there were lots of prayers whispered. Lots of napping. Lots of squealing and giggling little ones. Hugs, kisses, hand squeezing action. A few New Girl reruns, several tacos from Chipotle, more prayers, and some snoring.
Sometime about 4 AM, this surgeon stopped by the waiting room with the best news of the night,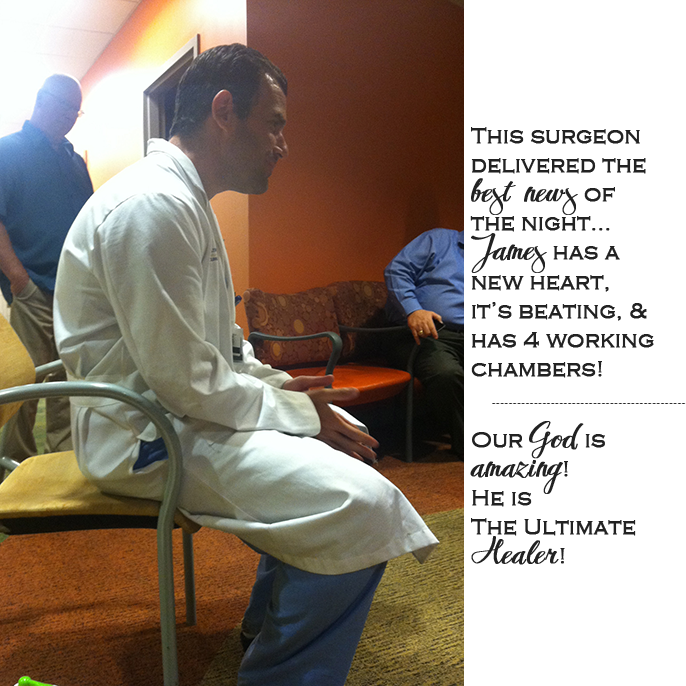 It was quite the sleepless night for most of us, but such an incredible night. Around 6 AM, Buddy and Mallory went back to see this warrior,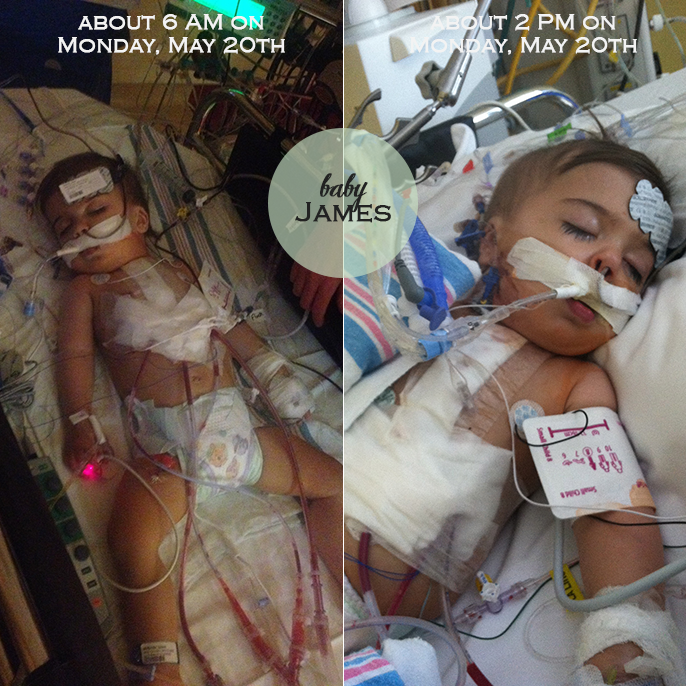 After that, we went in two by two to visit, peek, and pray over baby James – who, sprawled out on the bed, looked as if he'd grown inches throughout the night.
Sometime about 7 AM, we finally got some sleep – which brings us to today. James is currently, still sedated and sleeping soundly. His heart has four heart chambers, that are beating perfectly. All of his stats are ideal. There were no complications. There are 0 signs of rejection. Of course, the next few days are still crucial and James will be monitored continuously. Likewise, please continue to pray for this little man and his journey. This transplant is a milestone, but there is still a long road ahead.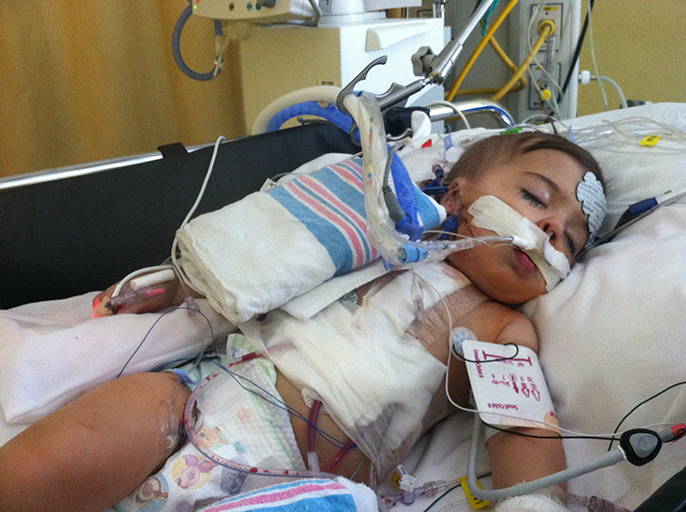 In addition to our joy, our thoughts and prayers are extended to the family of the donor. It is because of their decision and their little one's life, that James has a complete and working heart. Their gift is such a blessing from above and will impact others for years to come.
—
We've asked for your prayers time and time before for this sweet, little man… Again, we ask for your continued prayers! Not only does this baby mean the world to us, but so does his entire family, which is why we are so very appreciative of your prayers. Many of you have sent texts, messages, and calls to me – and each one of them have been beyond encouraging and passed along to Mallory and Buddy. We believe in the power of prayer and the work of God! It's been evident (and more real than ever!) throughout the weekend that God listens and heals! So again, thank you for all of the prayers – the family feels them.
—
*Update on May 21st at 2 PM: The doctors believe James' right lung may have collapsed, or there may be a blood clot. If it is a blood clot, the doctors will have to re-open James' chest to remove the clot.
**Update on May 21st at 4 PM: James' right lung is slightly collapsed, but there is no clog! Praise the Lord!! For now, a treatment will be done to help strengthen James' lungs – as they have undergone a great deal of stress.
Check back for updates, as I receive information I will be updating Facebook and Twitter – along with this post.

facebook // twitter // instagram // pinterest // bloglovin'