Justin and I spent the majority of this past week finishing up projects at our new house. We are so anxious to see the finish line on this huge, renovation project – but more importantly, we're anxious to be living in our own home! With that said, we knocked out some major projects this past week including:
installing all of our major appliances
(running water & ice, people!)
sealing
our shower
cleaning out all of the cabinets
(& scrubbing them!)
, in the kitchen and bathrooms taping off all of the trim
(last bit of painting!)
purchasing a new door
(for the entrance to the living room)
installing our island and granite
moving our massive, pine table to the dining room
What's left to do?
install our new door replace the light switch plates add the bathroom back splash dust from top to bottom set up our bed install dining room light fixture install light fixture in master bathroom
paint the front door
We're crossing our fingers that by Wednesday… we'll be sleeping in our new home!
Want to know what else we've been up to this past week? Here is our weekly, Instagram recap:
Chevvy & Ron's
offered a discount code just for our wedding anniversary! 4/ A little throwback to last summer, in the pool with James. 5/ My family and I ate dinner at Ed's Truckstop in Poulan last week. I'm about 95% positive Honey Boo Boo was at the next table – or at least her cousins! 6/ My grandparents found some old mugs of my Mema's – I was so happy to snag a couple of them! 7/
Chevvy & Ron's
custom creation for our missionary friends, Amy & Joseph – who will be moving to Huaraz, Peru in August. 8/ I spent my Saturday thrifting and shopping in downtown Sasser & Dawson. Oh what a sight – a caribou & 3 deer! 9/ A family friend created a day lily garden in memory of my sweet Mema. 10/ I couldn't resist soaking up some sunshine Sunday afternoon, poolside – since J was fishing on the Flint River.
11/ We received some snail mail from our dear friends, the McBride's and it made me smile!
And that, my friends, is a week in the life of a Heape.
—
James IV Update: Exciting news all around, on Saturday – James was taken 100% off of oxygen and is breathing on his own. Tremendous lung improvement, which was a huge answer to prayers! AND, today James was officially moved into a room in the Step-Down Unit! This is great news, mostly because it means he's doing well, recovering, and now in the next phase/step to come home. Mallory posted these photos on James' Facebook page: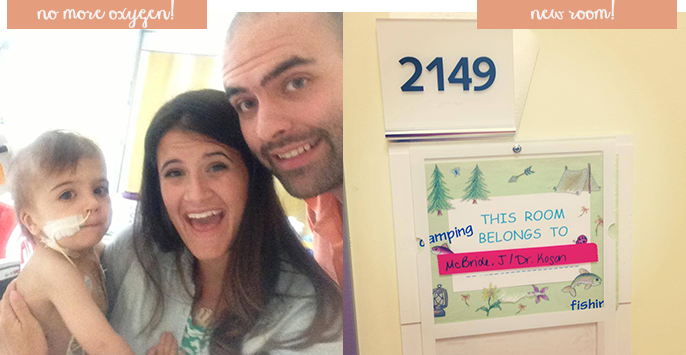 Thank you all so much for the continued prayers for baby James. Obviously, the Lord is listening and healing! Keep the prayers coming, because of course we want that little man healthy! Plus, the Heape's are ready for the McBride's to be home – and I know the McBride's are ready to be home.
—
How was your weekend? Any big plans for the week?

facebook // twitter // instagram // pinterest // bloglovin'