Yesterday I had the loveliest cupcake date with Beau, James, and Mallory. That's right, baby James is home and doing well. Since Justin and I left the hospital (a month ago today!), I've been counting down the days until our little quad gathered together for a lunch date. I'm not exaggerating when I say, I was giddy with excitement. I couldn't wait to see all three of those McBrides and hug their little necks. It was kisses and love around the house. I'm not even bragging when I say, I think they were equally excited to see me. Okay, maybe I'm bragging a little.
Jamesy Man chunked up – which is another example of the Lord's healing. Chunked up like he now has a double chin! He's a chuck of cuteness and a happy, loving, smiling, healing, and healthy little miracle. In the month past, he's gone from baby James to seriously, a little man. I couldn't be more smitten.
And Beau, oh Beau. She's grown at least and inch and oh so sweet. Hugs, dancing, and lots of jumping on the bed between me and my little friend.
Of course for Mallory and I to truly catch-up, we've got to have a kidless date – but, it'll happen! Even if it happens over a few Chevvy & Ron's orders, we'll the find time.
Me (the nickname Beau dubbed me instead of Bri) doesn't come not bearing gifts. So Smallcakes cupcakes were our treat and they were a hit! Beau chose the Birthday Cake with sprinkles and to keep them from extreme sugar highs, they split it. Then it was all smiles around the table. Smiles and happiness. As eager as I know they were to get home, Albany just isn't the same without that family of four. It was an answer to prayer and such a sweet reunion. I'll forever hold this little sliver of time in my heart. Too sappy? Yea, well too bad so sad! I missed 'em pretty bad.
My favorite photo of these little bits from our mini-date,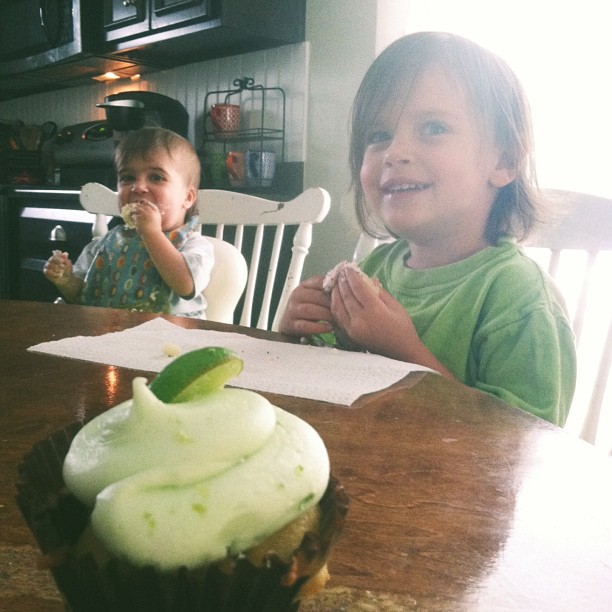 And just because he's too much cuteness for my own good, here are a couple pics of James enjoying his cupcake.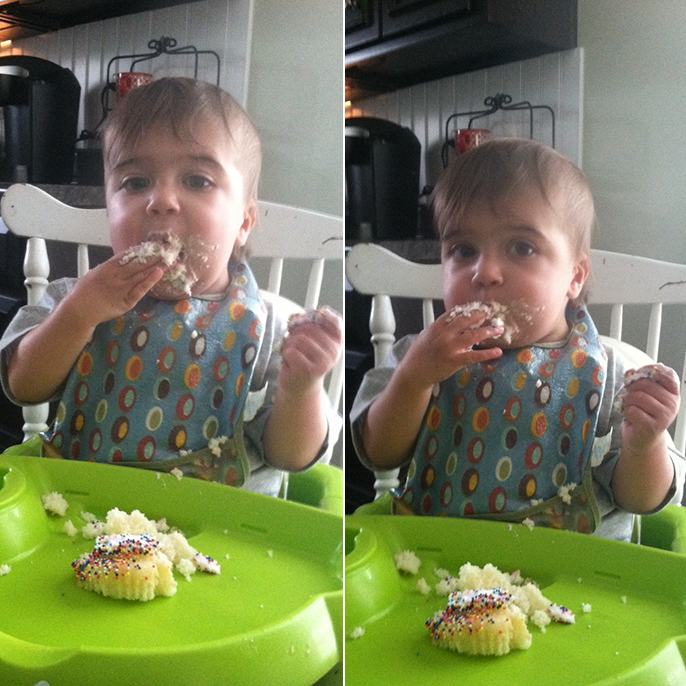 I can't be 100% sure, but I'm claiming that he said my name! Granted, I go by Me at their house – which can confuse anyone, but I'm going with it. He actually was pulling at my hand and said, "Me!" – not once or twice, but three very distinct times. And I may or may not have gushed to Justin that he said my name first. Just maybe though!
—
Since several of you have asked what I've been reading lately, I thought I'd share my list of summer books.
For the past couple of years, Justin and I started a reading competition between each other. The rules are simple, who can read the most books in one year. I won, of course. Both years, actually. But win or lose, it was a great way for us to commit to read, plus initiate a small book club. It's funny to me, to know Justin and his friends are texting back and forth  about which book to read next. (These guy friends I referenced will remain anonymous at this time. Buddy, ahem. Kyle, cough.) Although a competition wasn't in the mix this year, with so much going on… we are both still reading. If you're on Good Reads, you can find us both to keep up with what's on our currently reading list, our to-read list, and what we've already read.
For 2013, I've read several books – but here are a few of my summer reads.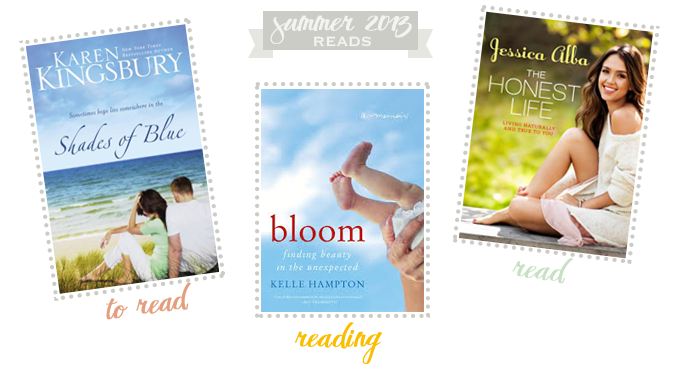 to read, Shades of Blue | reading, bloom | read, The Honest Life
What's currently on your bookshelf or in your beach bag for the summer? Any suggestions for me?

facebook // twitter // instagram // pinterest // bloglovin'