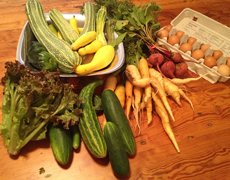 Last week, I shared a post with you all about our first, CSA box from White Oak Pastures. Each week – on Wednesday, we pick up our crate full of fresh, organic vegetables from our local pick-up. Like the first week, I was pleasantly surprised at the abundance of veggies in our box! From carrots and beets, to squash and zucchini – we've got all the best of summer.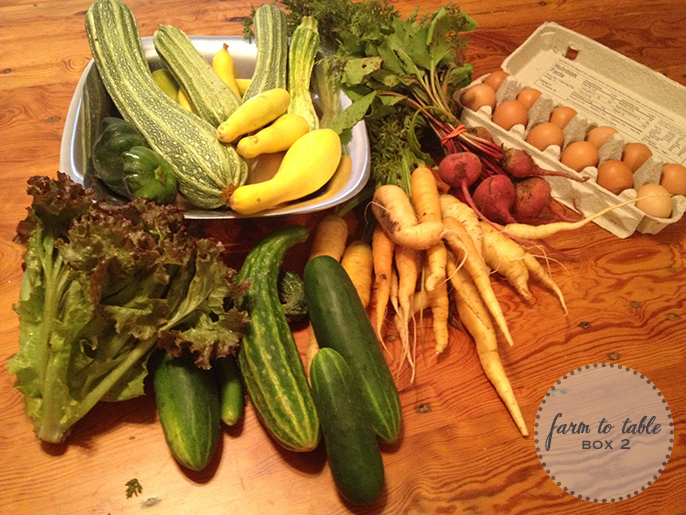 Not pictured: tomatoes, basil, & a bag of potatoes.
Truthfully, after 1 week of practice and some helpful tips from this gal pal, I think I've mastered the routine of crop storage! For me, it's pick-up, take home, rinse some, bag the others, refrigerate (if needed), and back to work I go.
Some of you asked how I stored the veggies, so here are a couple of methods I've been using.
These gallon bags by Hefty work like a charm! Because the veggies have literally been picked/dug up the day before and fresh from the ground – they are dirty! In fact, the first day I stocked our fridge, Justin insisted I find a solution to get the "dirt smell" out of our fridge. Since Evie had been getting the box for awhile, she suggested I try these bags from Publix. They are so cheap, it's ridiculous

 – ahem, $2 for 75, 1 gallon bags… You can't beat it! Plus they are larger bags (no zippers), so they are idea for some of the larger veggies.

Plus, I've been following these tips suggested by White Oak Pastures for roots, greens, etc. (You can find the tips towards the bottom of the page, under Crop Storage.)
A few more questions and answers,
Does White Oak Pastures offer other organic foods? Yes! They offer a monthly Meat CSA and Eggs CSA too. In fact, you see eggs in the photo above, because Evie and her husband also subscribe to the Egg CSA. Each week, they receive 1 dozen eggs – but this week (because the eggs are "small") White Oak Pastures gave each Egg CSA member 2 dozen eggs. Lucky for us, they were generous enough to share!
I tried to sign up, but they said there was a waiting list. How did you get on? Right now, there is a waiting list. We were actually on the waiting list 3 weeks ago, but were fortunate that someone dropped out and we were able to join for the rest of the year. I recommend you go ahead and get on the waiting list (if you are interested). We were on the list for about 3 weeks prior to getting our call. Because there isn't a commitment to the organization, you can sign-up and quit whenever it isn't convenient for you.
You're getting so many vegetables, how are you eating them all? Since it's only our 2nd week, we haven't had too much of an issues. Especially since our family loves cucumbers so much! Honestly, we weren't able to eat all of the veggies from last week, yet – but we only have the swiss chard and one head of cabbage left! Most of the veggies last (especially if you store them correctly) a decent amount of time, so we'll be eating right for awhile. Plus, we've been back on our smoothie kick to help us ingest our veggies that we may not love on our dinner plates.
So here it is, the full breakdown of what's in our box:
Tomatoes 

Herb, Basil (OR Marjarom OR Oregano OR Dill) | We got basil, but others received marjarom, oregano, or dill. Fortunately for us, a sweet neighbor has shared some of her dill, mint, and parsley plants with us – so we are in herb overload.

Head Lettuce

Carrots 

 | Several varieties of these were in our box – Yellowstone, White Satin, and Scarlett Nantes. Wonderful colors!

Beets

| Several 

varieties

 of these too – 

Detroit Dark red, Chioggia, Bull's Blood and Red Ace. These babies will stain clothes and countertops so beware!

Potatoes | Surprise, 

5 pounds of a healthy, colorful mixture of over 8 varieties of potatoes, including fingerlings and other great roasters.

Sweet Vidalia Onions

Squash 

– | We got patty-pans, yellow crookneck, and 

straight-neck

 squash!

Zucchini | We received Costata Romanesco, which are ribbed zucchinis.
Cucumbers, Slicing

 | A family favorite. These go quickly between Justin and myself, not to mention my mom & Bailey will snatch them up too!
Again, if you are interested in finding and joining a CSA in your area, use LocalHarvest.org! And if you have any questions, please leave comments below and I'll be happy to answer them – if I can.
With all of these fresh veggies, I'm hoping to be sharing many more recipes with you in the near future. This week, I modified our homemade pizza recipe to incorporate some of our veggies – and it's definitely on the must-share list. It was delicious!
That's all folks. Happy Friday!

facebook // twitter // instagram // pinterest // bloglovin'