We made a pizza pie! From this post and this post, you've probably caught on to the fact that pizza is one of the favorites in the Heape home. So to spice things up a bit, we typically add jalapenos. Okay, okay, that's true – but, we like to spice things up with new, fresh topping too! With a healthier goal for 2013, I was inspired to go green… Literally! It's as easy as the buffalo chicken pizza, but healthier and vegetarian style. And just as delicious, I should add. In fact, it's a new personal favorite! Right up there with the Holy Shiitake Pie at Mellow Mushroom.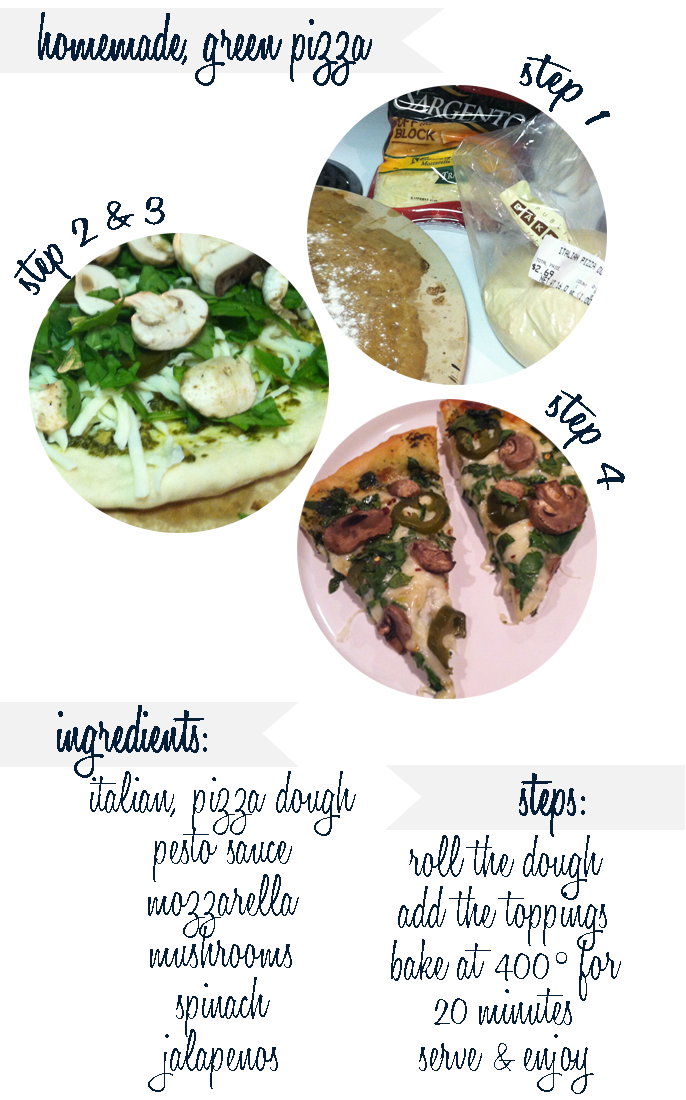 *Note: I love the pizza dough from Publix. It's fresh and can be found in the bakery section. Runs about $2 – $3 – you can't beat that!
Now that's easy peasy! Not to mention, it's a pretty cheap dinner option. Added bonus, we had leftovers! Of course, we were only feeding two.
Try it, enjoy it, and let us know what you think!
—
Five highs going into the weekend,
Surprise, surprise – we're officially home owners! Betcha didn't see that one coming!
It's a long weekend for both of us. We both get Monday to play!
My wisdom teeth fiasco will end – hopefully! The Doc is meeting me on Saturday for my last appointment, whew.
J is test driving a new truck! Yay for him.
We've got 0 plans for the weekend, other than time with each other – which is always a treat.
Hope you have a wonderful, safe, and blessed weekend!
xo,
the wife & honey