Instagram Thursday? Well that's a new one! Slack is what I've been when it comes to Instagram posts and blogging generally – at least lately. In fact, the last Instagram post was December 17th. Yep, that was one long month ago! Whew, I guess it's been one heck of a past month. So without further ado, here are the 22 Instgram photos you may have missed… unless you follow me, which you should – @BrianneJoy and then you've probably already seen them.
Go.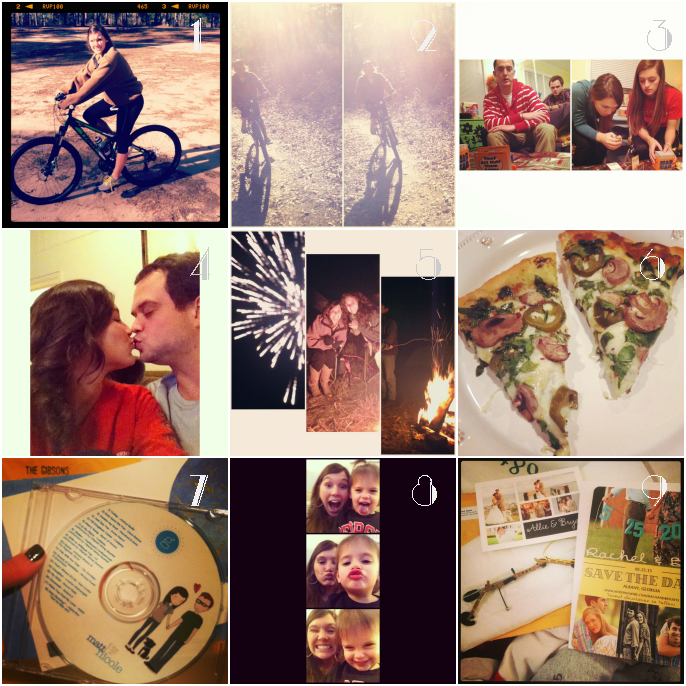 1| Me testing out my new wheels at Chehaw Park with J.
2| J captured a few action shots on the trail!
3| JP (my sister's bf) was in Canada for the holidays, so we celebrated a late Christmas with them in Valdosta. (He's Canadian, for those who were curious.) Above you see JP, Justin, Bethany, and Bailey seriously into Mad Gab. It was a game of male vs. female and I'm sad to say, I think the guys won.
4| A New Year smooch – which you may recognize from this post.
5| Fireworks, warmth of a campfire, s'mores, and good friends is the perfect way to ring in the New Year. (Also seen here.)
6| Homemade, mushroom/jalapeño/spinach/pesto pizza! Delicious and possibly the best ever.
7| Sweet mail from this gal – it was a CD of their wedding music, which quickly became a favorite. Her and her honey are expecting their 1st bundle, feel free to stop by their blog to say congrats!
8| On the night before the dreaded, wisdom teeth fiasco, I spent a bit of time with that cutie! Isn't she a doll?
9| During the healing process, I enjoyed sweet, snail mail: notes from friends, save-the-dates, and that awesome ornament from a childhood friend!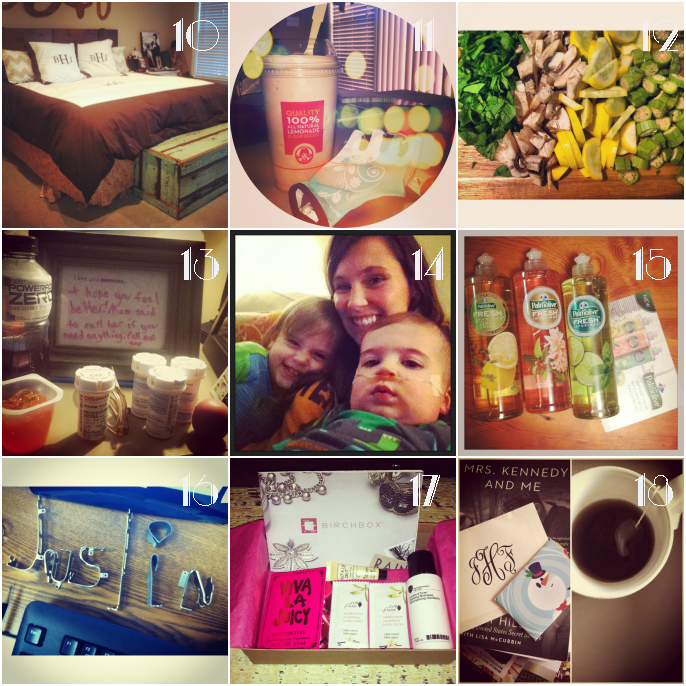 10| My Love is so thoughtful; he cleaned, made the bed, and put my new, hope chest in place – all while I rested.
11| This friend was so generous and kind, he brought me a large Frosty and new biking gloves to make me feel better! He also pointed out my chipmunk cheeks and laughed.
12| 2013 promises healthier eats, which is why homemade, chicken pot pie was made! It was delicious.
13| Sick, sick, sick. Pain, pain, and more pain. Did I mention the wisdom teeth fiasco was just that – a fiasco?
14| When you're feeling bad, those two littles are perfect to cheer you up! Their hugs and love made my chipmunk cheeks feel lots better – at least for awhile.
15| Influenster surprised me with a gift set of Palmolive's Fresh Infusions dish soap. They smell great, but more on this later.
16| Since I was in the neighborhood, I stopped by J's office to pay him a visit. He's obviously creative, check out those letters – that's talent.
17| Birchbox also sent me some goodies!
18| Warm tea, with a sweet note, gift card, and book – great remedies for feeling better.

19| Apple Infused Tenderloin, yummy. (Recipe coming soon.)
20| Except my husband didn't agree that dinner was delicious, but he sure liked the leftovers.
21| We're loving our new, wall decor! For Christmas, Bethany and JP bought us the wedding printed canvas. One of our favorite gifts!
That's all for the Instagram recap! Like I told you, it's been one busy and exhausting month. Plus, it didn't help I've been feeling so under the weather.
Thank you, friends – for all of the prayers, comments, and sweet texts. They definitely helped the healing process and are much appreciated. For a wisdom teeth update, the Doc assures me I'll be back to feeling 100% on Saturday. Let's hope he's right!
xo,
Brianne (& Justin)
ps. If you'd like to find us on Instagram, be sure to follow us me – @BrianneJoy. We're also on Facebook, Twitter, and Pinterest! If you blog, we'd love for you to link up with your Instagram posts.