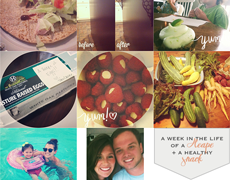 This weekend, Justin was over-the-top sweet! Not that he isn't normally, but on Friday he surprised me by folding (and putting away) two loads of laundry. He even put them in their color coordinated places. (I may be borderline OCD when it comes to color coordination.) Added bonus, he sent me on Saturday with orders to get a manicure and pedicure – for no reason other than he knew I wanted to do "girl things." Then, we had a date night – read, no renovation night! It turned out to be one of the most relaxing, weekends we've had in quite some time and it was nice to just be home… together!
Here is our week and weekend recap through my Instagram pics,
1 |
Pulled pork tacos
, you may remember
from here
. 2 | A little before and after
(only $10 project)
, to complete our island in the kitchen. 3 | Two of my favorite little enjoying Smallcakes cupcakes on
our lunch date
. 4 | This sweet gal shared their pasture raised, organic eggs with us. The note reads, "A Heape of eggs!!" 5 | A healthy treat for dessert one night last week.
(Recipe below!)
6 |
Our second, CSA veggie box
from White Oak Pastures. 7 | Saturday was spent at the pool and I was surprised by a swim with that cute lady! Made my day.
8 | A pic of me with my love before our date night!
Our date night was complete with Mellow Mushroom for dinner, followed by a way too late showing of World War Z. By the way, I do not condone or support children (specifically those under the age of 7) watching a R rated movie at a 10:30 PM showing. It's one of those things that is just not okay. But… the movie was amazing! It was so intense, definitely a puts-you-on-the-edge-of-your-seat kind of good! Granted I'm a huge Brad Pitt fan, but this is one of his better performances. Two thumbs up from me!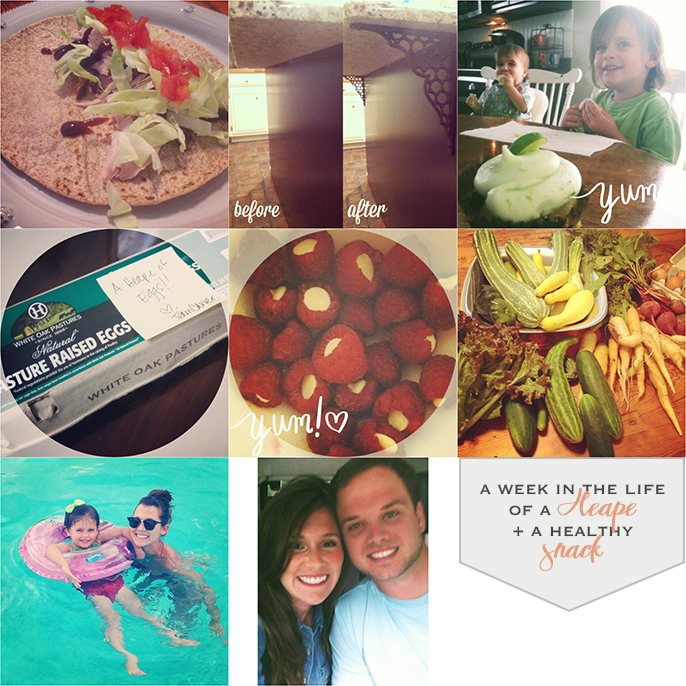 —
Since saying "I do," Justin and I have both been packing on the pounds. We've heard it's a good thing – you get comfortable, settled, and are too in love to notice, but neither one of us is too happy about the extra pounds. So…  In addition to our weekly, veggie box, we are committing to eating healthier and getting to the gym. With the pressures and stresses of our home renovations behind us, at least the majority of them (it took a toll on our kale smoothie kick and really kept us from the gym too), we're both trying to get our bums back in shape – literally.
With that in mind, I've been trying to make our meals healthier, incorporate more greens + veggies into our diets, and provide us with wholesome snacks too. After spying this treat on pinterest, I decided to assemble it for dessert last week. It was so, so, so incredibly simple. All you need is a handful of raspberries and white chocolate chips.
Step 1, rinse the raspberries for 30+ seconds to remove any pesticides that may be lingering on the berries. (We bought this batch at Publix, but freshly picked ones would be even more delicious!)

Step 2, stuff with white chocolate chips! One in each berry – they fit perfectly inside.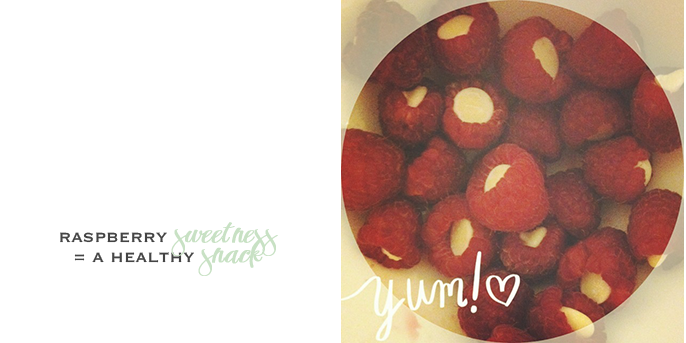 To cool the chips down too, I chilled the bowl of berry sweetness in the fridge through dinner. Afterwards, they made the perfect, healthy little snack to suffice my sweet tooth. Enjoy!

facebook // twitter // instagram // pinterest // bloglovin'