It's been awhile since I've posted a recipe, but I guess it's been awhile since I've had my own kitchen too. Since we've gotten our first, CSA box – I've been trying to incorporate most of the veggies somehow/someway.
As I mentioned yesterday, we used some of our fresh veggies for grilling out with the Heapes last Friday night. Although I wasn't the biggest fan of fennel, my father-in-law (Barry) really loved it. We opted to grill the bulbs, drizzled olive oil, sprinkled salt and pepper, with a dash of cayenne. The end result was similar to sautéed onions, but different. Different how? Well, we all voted that fennel must be the main ingredient in licorice. Raw fennel tastes just like licorice, but there was still a hint of the same flavor after it was grilled too. Okay, okay – enough about fennel and on to the pulled pork tacos.
How to cook the pulled pork? Truth, I wouldn't know.
Long story short, the guy who installed our DISH network has a side business of grilling meat. Anyway, Justin got his number and next thing I know, we've got a Boston butt from the DISH guy. Turns out, he lives within 5-10 minutes from us and he also does wings, turkeys, and hams. All of that to explain how we got the pulled pork, because I definitely do not know how to cook that. Nor do we have a grill, so that would be really difficult to do right now.
With us still in the reno/organizing phase of moving, dinner needs to be simple and quick – with a pinch of healthy. So I used soft tortillas (which I usually keep on hand), chopped up our Chinese cabbage, diced some tomatos + onions, and warmed up the Boston butt. After that, it's all easy breezy – self serve and enjoy!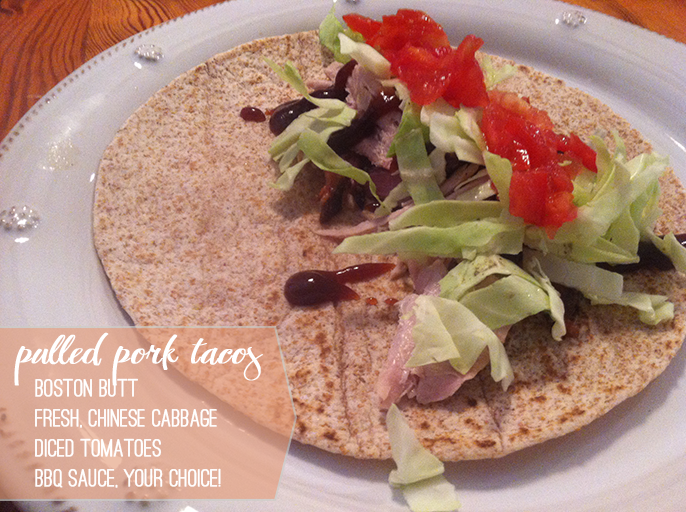 We used Sweet Baby Rays BBQ sauce, mostly because that's what my Dad is accustom too and we happened to have it. But, any BBQ sauce would be delicious or you could substitute that for salsa or guacamole!
After looking at all of that deliciousness, makes you want the DISH guy's digits doesn't it?

facebook // twitter // instagram // pinterest // bloglovin'