This past week and weekend was nothing short of a good time! It was a whirlwind of happenings, but filled with lots of family time and quality time with Justin. As I mentioned before, we've been in the process of getting settled – which means take-out, mild bickering, and still more projects. Despite the chaos and lack of "feeling settled," we managed to squeeze in time with family and friends.
Last Wednesday, the city of Albany welcomed our first, cupcakery to town. Thanks to the awesome, ladies at Smallcakes, I was able to sample a very delicious, Oreo cupcake before the grand opening. It was my first Smallcakes cupcake and it exceeded all expectations. But I must confess, it was only the first cupcake of the week – I've since indulged in the Sea Salt, Caramel Crunch too! Thanks, ladies – for my treats! And thanks to this lady's birthday, I got my 2nd one!
Like I said before, it was a take-out kind of week. Sushi is one of our favorites, so I stopped by Publix on my way home from work one evening and brought home sushi and groceries.
In the still more projects category, I checked "paint the island" off of my to-do list. In case you missed the finished look…
A week or so ago, I purchased these adorable, notecards from this local friend and fellow Etsy shop entrepreneur! I love her work – everything is so unique and full of color, so check out her prints!
As you could probably guess, we've been enjoying the fresh veggies from our local, CSA box. If you missed it, you can find out more here! We got lots of new-to-us veggies and are really enjoying them all, including yellow cucumbers. Ever seen those before?
My oh-so-kind Mama and sweet cousin came over on Thursday to help me get organized! Although we only completed the living room, we got a lot done. From the ceiling to the floors and all of the furniture, we got the room complete – with the exception to hanging photos on the walls. We also managed to get the bedroom furniture in place and the room totally cleaned. It was such a relief and huge progress on this getting settled phase.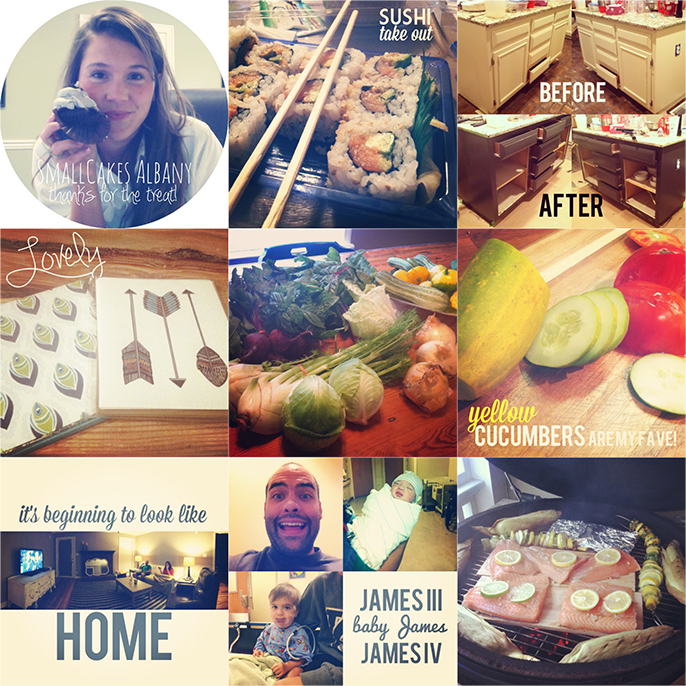 On Friday, we got news that James IV has been giving the green light to coming home! Just another blessing and answer to prayer, proof that God is steadily working in his young life. With that kind of news, I couldn't resist asking for a pic of the little guy. Except his daddy is funny or at least thinks he is… and he sent me a pic of himself (James III), then a pic of baby James (but as an infant), and finally, a pic of that sweet baby I can't wait to see!
Later on Friday, we kicked off our weekend with a cook-out with the Heapes. With salmon, fresh squash and zucchini, fennel, and corn on the cob smoking on the Green Egg, we were ready to feast! Not only was the food delicious, but our company was great.
The rest of the weekend was spent pretty lazily and with family. Saturday with family and Father's Day on Sunday, with family! All in all, it was a great week and weekend. Now, I'm looking forward to another great week ahead.
How was your weekend? Anything exciting happen? How did you celebrate your Dad's special day?

facebook // twitter // instagram // pinterest // bloglovin'