From smoothies to soups and entrees to appetizers, we've found many ways to incorporate these fresh veggies into our daily diets. From my last few posts (this one and this one here), you can tell we've been creative! As time passes, I hope to continue sharing more recipes that were successes. In the meantime, I want to continue sharing our CSA boxes from White Oak Pastures.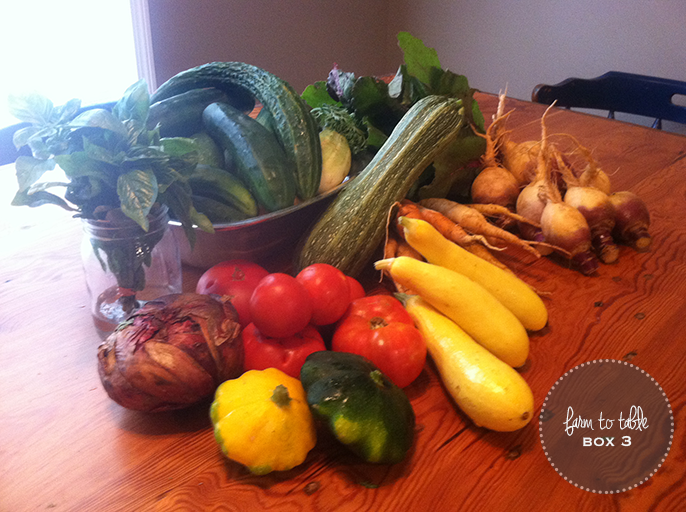 What's in box 3?
Tomatoes 

Kale OR Swiss Chard | We got swiss chard and I've already used it in a new, soup recipe.

Purple Top Turnips

Basil | Sweet smell of summer with Genovese (an Italian large leaf basil), Lemon basil (with green flowers), and Thai basil (with purple flowers). Seems the Heapes will be dabbling in making pesto!
Carrots 

 | Yellowstone, White Satin, and Scarlett Nantes. Wonderful colors, delicious texture and taste.

Sweet Vidalia Onions

 | Purples and Yellows – still coming on sweet and strong!

Squash 

Cucumbers, Slicing

 

Cucumbers, Pickling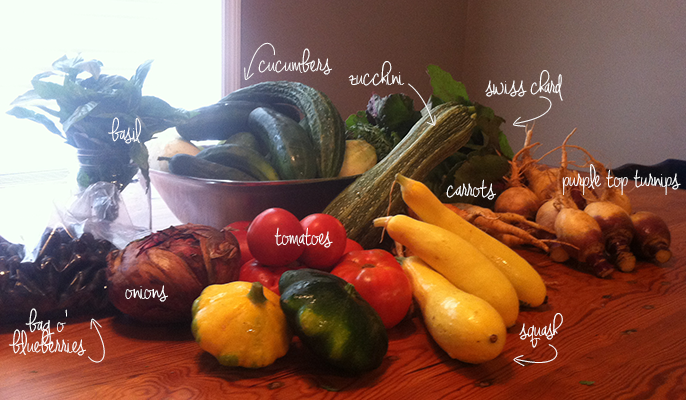 If you are interested in finding and joining a CSA in your area, use LocalHarvest.org! And if you have any questions, please leave comments below and I'll be happy to answer them – or at least try to answer them.
—
With a ton of tomatoes and onions, I'm thinking a good salsa would be great to make this week. Plus, we've gotten more basil – so I picked up pine nuts at Publix to whip up some homemade, pesto. And not to get ahead of myself,  but White Oak Pastures shared this mashed turnips recipe with us, so it may be on the menu this week too. We'll just have to see!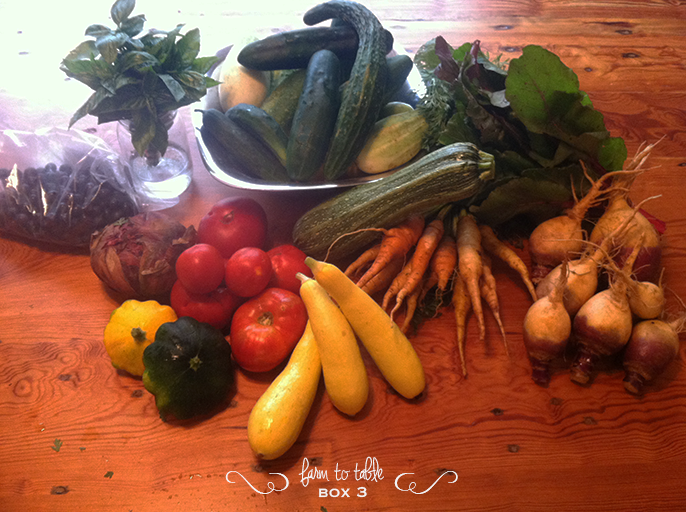 Also, if you spy any unusual veggies in our box (because odds are, I don't know how to use it) and know of a great recipe that calls for it – please share! I've been scouring Pinterest for weeks now. Overall, the recipes have been helpful – with hits and misses, of course – but that's pretty typical for Pinterest recipes anyway, right?

facebook // twitter // instagram // pinterest // bloglovin'