It's Friday and the Heapes are ready for the weekend! What's planned you ask? Nothing! At least nothing major or definite, but I guess there are a few things hovering over our radar. Like a possible dinner/movie date with the McBrides and a firework show out at Legacy Park, which would both be highlights!
Speaking of highlights, here are a few things that made me exceptionally happy this week – in no particular order, except maybe sequence.
(One) A lunch date with Mallory and her little ones; tomato sandwiches are our favorites. Of course, it transitioned into a playdate – which resulted in the photos below. That gal makes me smile, like a really big smile!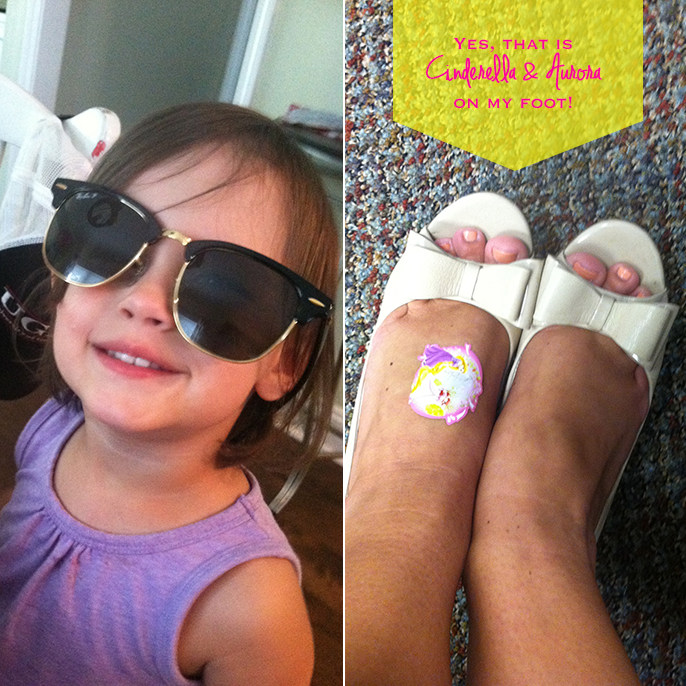 (Two) She wanted me to wear a sticker of her favorite princess, Cinderella. The funny part, I made it all the way back to work and it wasn't until mid-afternoon that I noticed that Cinderella and Aurora came back to work with me!
(Three) Same people, different day. James is WALKING!!! No exaggerating when I say, he was NOT walking the day before. So seeing Mallory literally beam with happiness (because she knew I was about to be knocked off my feet shocked!) as James showed off his walking skills.  He walked across the room, past the bed, and into the bathroom saying, "Daddyyy? Daddyyyy?" – definitely a highlight from this past week.
(Four) Zumba, totally new to me. A friend from work invited me to a Zumba class she takes on Tuesday and Thursdays – I'm hooked. Not only do I feel great, but I've really enjoyed the grooving and the awesome music too.
(Five) Video chatting with three of my favorite friends – Megan, Liz, & Julie! It made my evening to see their smiling faces and catch up on life lately. Man oh man do I miss those gals!
Additional highlights include life with Justin, watching the newest Pretty Little Liars episode, and a trip to my happy place – Publix… but those are all kind of a given, so I won't bore you with sappy "I love falling asleep next to my man" blurbs or recaps of my favorite teen drama.
—
Looking for a family friendly firework show in Albany (or surrounding areas)? Look no further, Sherwood Baptist Church is hosting their annual, Freedom Festival out at Legacy Park. It's free for all and they put on a great show. This will make our 5th year (?) of attending and we love it. In fact, you can find Justin in the parking lot directing traffic or me at inflatable #14 on Sunday! We'll be volunteering with our newlywed class and hopefully decked out in red, white, and blue. From 5PM – 10PM, you can enjoy live music, good food, inflatables, games, horseback riding, an air show, and of course, fireworks! For more information, click here.
*Our fun from last year's Freedom Festival and 4th of July.
Happy Weekend, friends!

facebook // twitter // instagram // pinterest // bloglovin'