You may remember me sharing this recipe for a green pizza awhile back. And new diet or not, we can't shy away from pizza. To keep it fairly healthy, we typically go vegetarian so this was no exception. With a crate full of fresh veggies, the options were endless.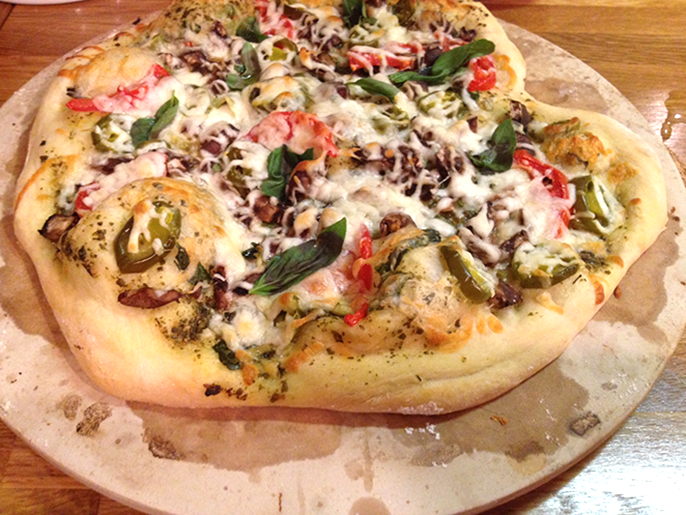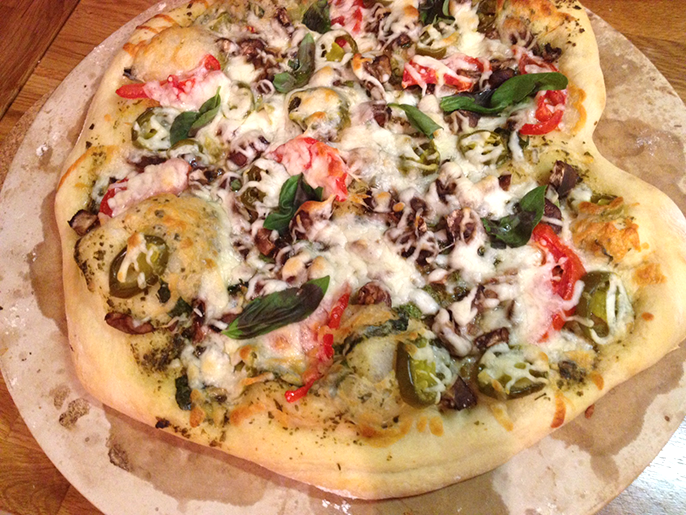 *Please excuse the stained, pizza stone. Like I've said before, we eat a LOT of pizza and that stone is old.
Aside from our Publix bought dough, cheese, and 'shrooms – everything was either home grown or from our CSA box. Instead of spinach, we used greens from this box and the fresh basil, onions, and tomatoes too. Jalapeños from the Heapes garden, and instead of the typical pesto, we used olive oil and our fresh basil. Score!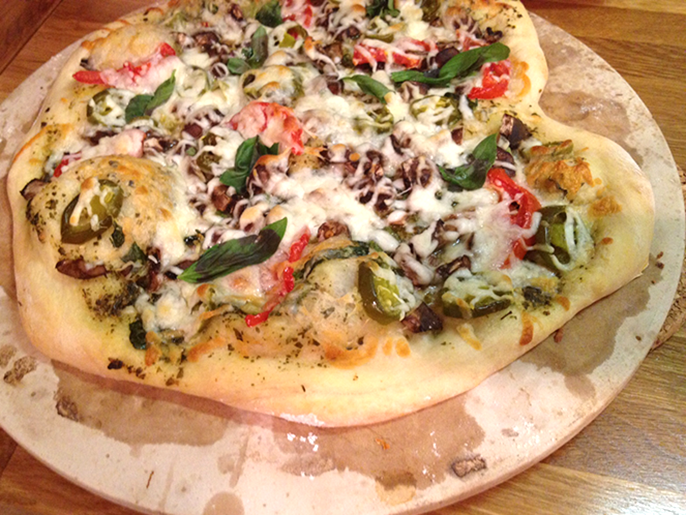 After about 2 minutes of cooling time, add fresh basil leaves on top. Voila! Another favorite for the books.
—
Last night I had a much needed girls night! It started with a Zumba class with two co-workers – which surprisingly, I really enjoyed. I'm not a hit the gym hard, pump iron kind of gal (obviously), so this was right up my alley. After getting my groove on, I got a slice of Savannah thanks to a group, video chat with three of my favorite ladies. It was MUCH needed and I'll forever be grateful for my Savannah friendships. As awesome as group, video chats are… they make me really miss my friends!
After our group chat ended, Mallory came over for more girl time and reminded me of all the good that comes with my Albany life. Our friendship and Chevvy & Ron's have thrived from my move home, after all. Plus, I got a pretty awesome husband out of the deal… and a house, family, more friends, and I'm home. In the end, I have no complaints or regrets – but sometimes it's hard not to miss my life and time in Savannah.
In other news, Chevvy & Ron's will be debuting some new door hangers this week! Mallory and I have been busy bees filling orders and crafting new creations. You can buy our products locally at Plum Southern or through our Etsy shop here!
Happy Humpday!

facebook // twitter // instagram // pinterest // bloglovin'