Of all the months, July may hold the record for most family birthdays – at least for us! My Daddy, my Aunt Rita, Teresa, and Meme all celebrate birthdays in July. While at the beach, we "celebrated" Daddy's birthday with dinner at Hunt's Oyster Bar. Which in my opinion, can't totally count as his birthday celebration because a) he paid and b) we were going to go out to dinner one night anyway. I'm hoping we can have him, Mama, Bailey, and BR over for dinner one night – as a belated celebration.
Knowing we'd be at the beach for Meme and Teresa's birthdays, we planned ahead and invited them over last Friday. As a joint celebration, we grilled out and spent the evening having a blast. For the special occasion, my in-laws, Meme, Chris (J's brother), and Chris M. (a friend) came over for apps, dinner, and a good time. Unfortunately, the only pictures I have from our evening are terrible – seriously, I would be killed in trouble for sharing them!
Due to that unfortunate circumstance, I'm going to share the only decent photo from the night, along with the recipe! I'm calling it a summer appetizer, only because it doesn't have a name, it's light and it's made with several summer vegetables.

olive oil diced tomatoes
(2 -6, depending on the size)
diced onion feta cheese crumbled
(1 1/2 cups)
minced garlic
(2 cloves)
salt + pepper
(to taste)

Step 1 Drizzle olive oil, enough to cover the bottom of dish.
Step 2 Top with diced tomatoes (I like to drain mine!), onions, minced garlic, feta cheese, and salt + pepper.
Step 3 Stir and serve with toasted bread or crackers.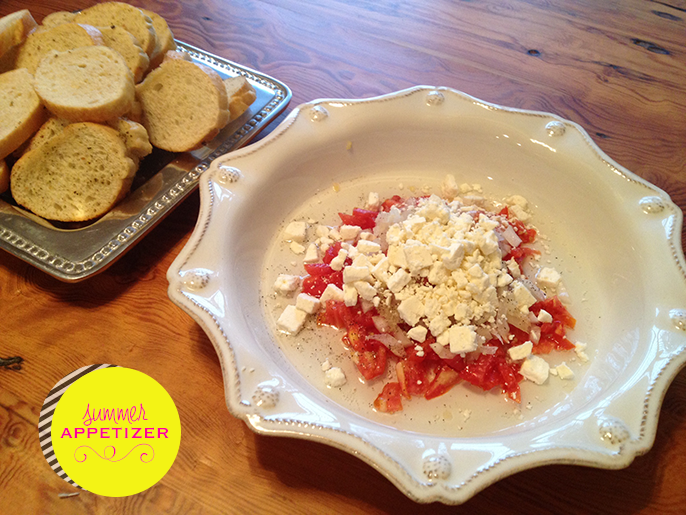 This photo was taken pre-stir and was loved by all! Such a hit, I made a second batch after the first batch disappeared so quickly.
—
To all of our family with July birthdays, we wish you each a happy and blessed birthday!

facebook // twitter // instagram // pinterest // bloglovin'