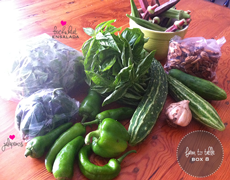 While we were at the beach, I asked a dear friend to pick up our CSA box for us – I didn't want the veggies to go to waste! Not only did she pick them up for us, she stored them and saved them for us to use when we got home. Thanks so much, Evie!
No photo available, but what was in Box 7?
Garlic
Tomatoes OR Okra

| We got tomatoes & we're not complainin

' – but okra would've been ideal!

Winter Squash

 

OR Bush Beans

| More winter squash for us.

Baby Celeriac

 

OR Lovage

 | We got Celeriac, which is basically baby celery. I'm not going to lie, ours was totally wilted by the time we got back from the beach – so they were trashed.

Basil!
Sweet Vidalia Onions

 

Squash OR Cucumbers 

| More squash!

Eggplant OR Peppers | Peppers for us, which were divine on our homemade pizza! (We used the onions too!)
Jalapeños

 | A favorite in our home.

Figs

 | So, so, so very delicious! I made a fig tart for us, as dessert – it was amazing!
This week's box was the bomb diggity, seeing as we got green and RED okra! I'm so excited to try them both, I can't imagine them not being delicious.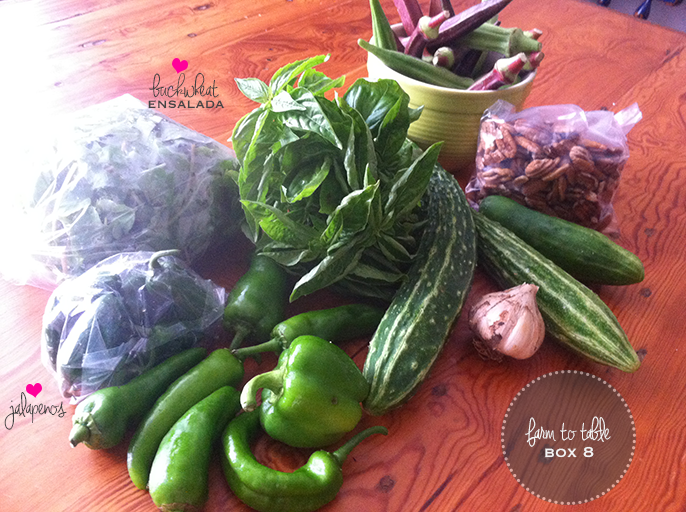 What was delivered in Box 8?
Buckwheat Ensalada

 | This green is supposedly perfect for a summer salad… We shall see!

Garlic

 

Okra OR Bush Beans | We got okra – hallelujah! This treat is one I've been patiently waiting for and I'm so excited to try it. We got red and green okra.
Basil
Cucumbers OR Squash

| We got the

 Suyu long cucumbers.

Peppers OR Eggplant

| More peppers!

Mixed Hot peppers

 | Jalapeños, perfect for

poppers

!

Elliot and Stuart Pecans

 
In addition to our summer vegetable, White Oak Pastures included pecans from Pecan Point Farm and Koinonia farm. For those who don't know, pecan pie (his mama's) is one of Justin's all-time favorites. I'm going to have to get Teresa's recipe for this one and give it a whirl.
We're also planning on grilling some spicy poppers, plus other peppers and squash, this weekend too!
If you are interested in finding and joining a CSA in your area, use LocalHarvest.org!
Happy August, friends! Only 3 days left until my birthday, but whose counting.

facebook // twitter // instagram // pinterest // bloglovin'