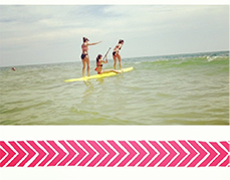 Our view last week consisted of salty waves, sandy shores, and sunshine… Unfortunately, the vacation is over and we're back to reality – which isn't ugly, but it's definitely not as glamorous. We spent last week in Santa Rosa, Florida with my family and it was a tiny slice of heaven for 7 lovely days. Most of our time was spent bumming it and eating, just how a vacation ought to be. We spent the days on the beach and evenings playing games – a Baggett family tradition.
Aside from one rainy day and scattered, afternoon showers – we soaked up the sun!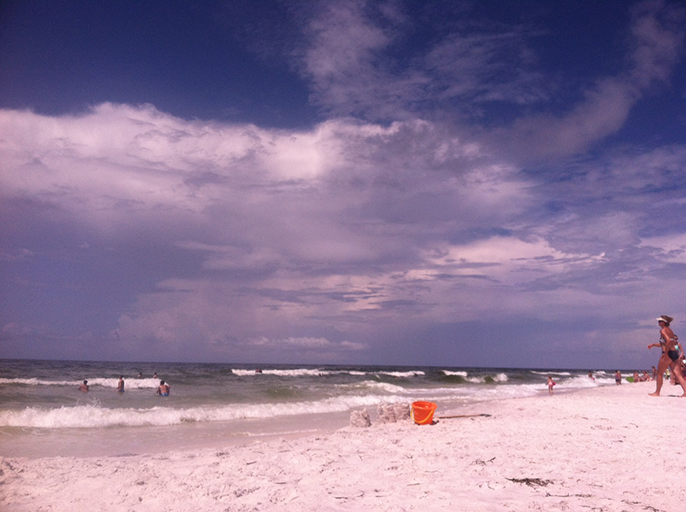 Here are a few photos from the week and weekend,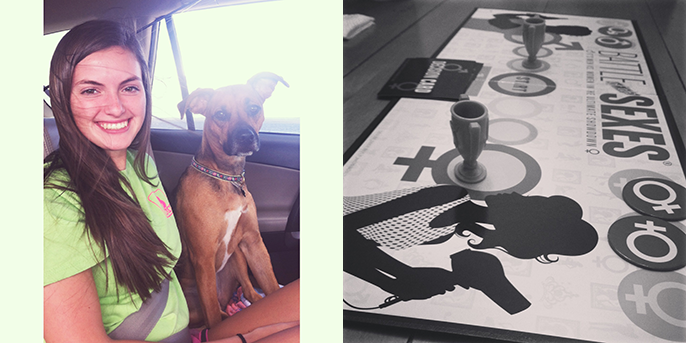 // Bailey and Pippa the pup were pretty excited when we first spied the ocean!
// Game night #1, Battle of the Sexes. Women win!
// Daddy, Justin, and BR enjoyed the big waves.
// For the Health of It served up some delicious, green smoothies. So good, I went back!
// Game night #2 was a round of Nertz – Heapes win!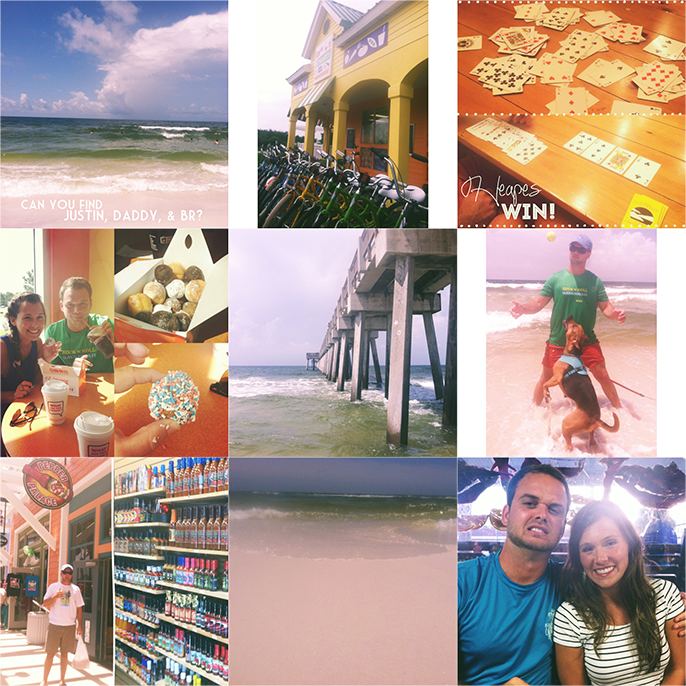 // After our trip to Tampa, I've been wanting Dunkin Donuts. My wish was granted, with a black coffee and The Royal Munchkin!
// A view from under the pier.
// Justin wants a pup so bad. He entertained Pippa for hours.
// We couldn't visit Pier Park and not stop by Pepper Palace; Justin is a spice addict. We left with some insanely spicy ghost pepper mustard and mango habanero hot sauce! Yowzer!
// Like I said before, we spent most of our time bumming it on the beach. My view for days.
// Dinner date to Hunt's Oyster Bar, that was so disappointingly out of oysters! That's like McDonald's not having ketchup or Chick-fil-A being out of chicken – it's just plain wrong.

// Daddy was my dinner date on Friday to Pickles in Seaside, Florida. Probably my favorite meal of the week, pimento cheese sandwich with pickled okra – yum!
// While beaching it, we gave paddle boarding a go. I'm sad to say, there wasn't a time that all 3 of us was standing. But it was fun to try. Next time, I'm planning to ride solo. I have this hunch it'll be a more successful experience and hopefully I'll drink less salt water.
Although these photos provide a pretty decent summary of our annual, beach vacation, I hope to share more photos later this week!
—
After returning from our 7 days in heaven, we drove out to Pinewood Plantation to see a friend's new puppies. See, Justin wants to bring home a pup really bad and now he's got me swooning over these two cuties!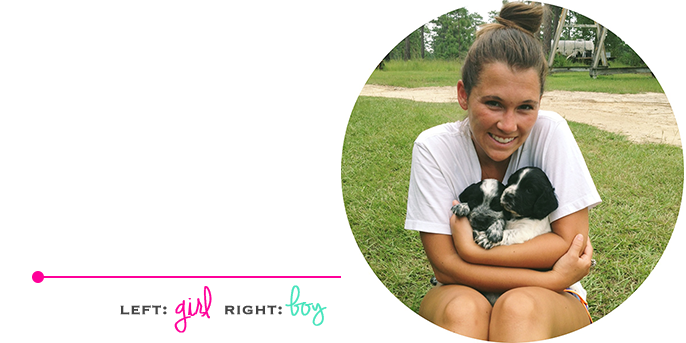 I must confess, these little ones are hard to resist. But then I think about our new home, our furniture, added expenses, and the several other reasons I've refused to get a pup in the past… and it's hard for me to eat my I'll-never-get-a-dog words. However, it doesn't make it easy when Justin really, really, really wants one and they are terribly cute. Ultimately, I don't think the decision at this point is whether we'll be dog owners soon, but more or less if our new addition will be a boy or a girl.
What do you think? I know what my conscience/best friend has to say. I know what my sister has to say, and my parents. I know what many dear friends think. And I know what Justin really wants. Guess we'll just have to wait and see? The pups are only 4 weeks old, so either way we don't be adding any new members to our family for at least another 2 weeks. With that said, the verdicts out – will I eat my words? #probably

facebook // twitter // instagram // pinterest // bloglovin'