Since birthdays are a big deal to me and mine just so happens to be around the corner, I'm sharing a few things I'm wishing for – just incase anyone (ahem, Justin) wanted to buy me a gift, but wasn't sure what I wanted.
Since moving into our new house, I've been spending a lot of time in the kitchen – which may be why my wish list is filled with items for my kitchen! While browsing Anthropologie's website a few weeks ago, I found myself drawn to those adorable kelp & coral potholders! There is something about the bright coral + lovely yellow & mint detail combination that has me wanting them! And after hosting a few get-togethers recently, I've been ogling a glass pitcher. No preference really, except glass. I love colorful ones, but am a fan of the Juliska pitcher that matches our china too!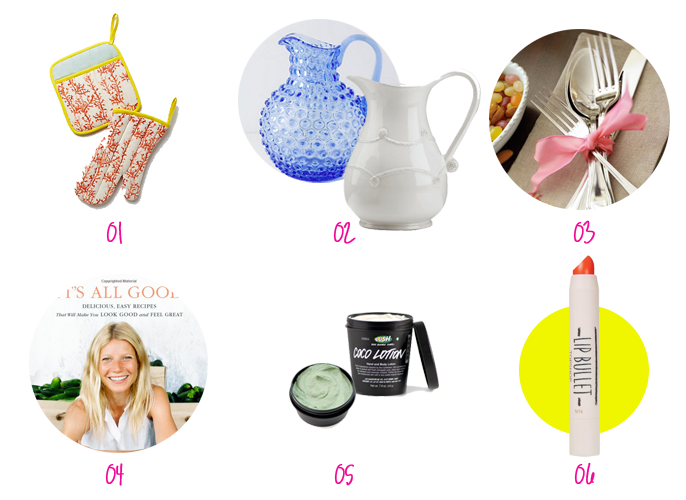 01 // 02 // 03  // 04 // 05 // 06
While we were gifted most of our registry items, we only received 6 settings of our flatware. It was funny to me, that all of our flatware came from Teresa's brother + sister-in-law and her sisters + brother-in-laws – none of which knew the others were purchasing the same thing! While 6 flatware settings has been plenty for day-to-day use, those get-togethers have made it obvious – we need more!
Of course, what would all of these kitchen-y goodies be good for without a great cookbook. I'm a book nerd and a celeb fanatic, which is why it should come as no surprise to anyone that I'd want a cookbook by Gwyneth Paltrow. I'm a big fan of her online magazine full of fun recipes and lifestyle tips, Goop – so this book has been on my must-have list for awhile.
Make-me-look-good products are always favorites to me, like an all natural mask from Lush. Recently, as a thank-you, Mallory gifted me a Love Lettuce, fresh face mask by Lush. Made with a fresh blend of lavender oil, almonds, seaweed, and honey – it was divine! In turn, I'm hooked. Basically anything from Lush, I'm convinced I would love.
Speaking of make-me-look-good products, I've been searching for the perfect, orange lipstick. I know, orange – weird, right? A month ago, I may have thought the same thing but after seeing a bright orange lip on a model in a magazine, I've been on the hunt. Although I haven't tried the Lip Bullet by Topshop, it has great reviews and the heartbeat color looks like a great orange! Although I must confess, I did find an "Electric Orange" by Maybelline last weekend that I'm loving.
Other things I'm loving include everything neon, grilling out, gold earrings, get-togethers, and anything for our home!
*Update: I would like to add a Southern Living subscription, a gift card to Sephora, & dinner at Henry Campbell's to my wish list!

facebook // twitter // instagram // pinterest // bloglovin'