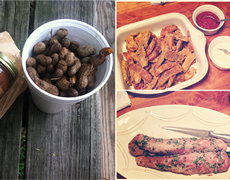 It seems I've been more consumed with living life lately, than sharing life on Instagram – seeing as I've only shared two real life pics in the last week! Fear not, I'm sure my normal habits will return by the weekend, since my family and I will be beach bound for a week. Oh yea, in less than 5 days I'll be on a road trip south – to Florida for some sunshine and family time. I'm so excited and I just can't hide it… I'm about to loose control and I think I like it, yea, yea, yea!
So with minimal photos, I'm going to recap our lovely week and weekend.
With a vacation and deadline approaching, Justin has spent much of his evening preparing for an IT test that will certify him (in something or another). While he's been studying, I've been painting – a lot. As some of you may remember from my little announcement, Chevvy & Ron's creations have been available for local purchasing at Plum Southern of Albany. Well after a mere 3 months of stocking a booth, we've decided to close up shop. Don't fret, you can still find us on Facebook and shop our products on Etsy!
With that said, you can find everything in our booth 50% off through August 15th – our last day! See something you like? We can customize it too!

That was the basic summary of Monday – Friday, with the exception of gym, Zumba, gym in the mix too.
Saturday was rainy, of course. I'm 99% positive that it's rained every. single. day. in July! As much as I wanted to spend my Saturday by the pool, we had a day of adventures. It started by a trip out to Sasser, where I purchased a few special gives for my Mother-in-law and Meme. Both of their birthdays are coming up soon, so I'm glad to have their gifts already picked out & ready to wrap!
After visiting Alice & Jay's, we made an impromptu trip by Mark's Melon Patch for boiled peanuts, ice cream, salsa, and melon, duh!
Once home, David and Teal came over for dinner, which included pork tenderloin, oven-fried potato wedges, and roasted carrots. It was all very, very good, so I'll try to share recipes soon.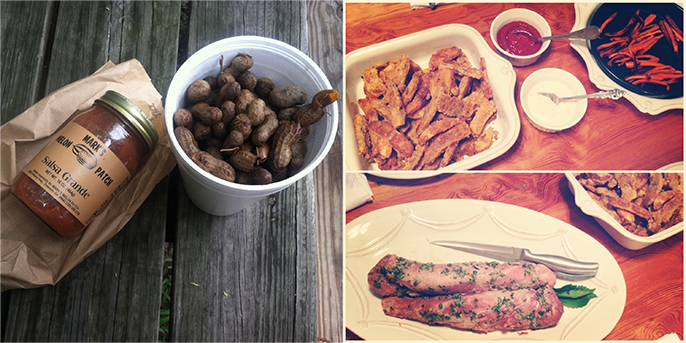 *Please excuse the crude image that the pork tenderloin may resemble. I swear that's how it looked right off the grill!
Sunday was spent at the pool, because surprise, surprise we had a few hours of no scattered showers! We called it an early evening and were sound asleep before 10:30 – probably a first time ever in the history of our married life.
How was your weekend? Eventful or not so much? Happy Monday!

facebook // twitter // instagram // pinterest // bloglovin'