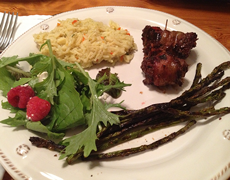 Justin and I have wanted a grill since… well as long as I can remember. During our time in the apartments, we weren't allowed to have one and since renovating our new house, we haven't really had the time (or money to purchase one). Which is probably why we were so excited when his parents decided to give us their older one!
Last Saturday, when it wouldn't stop raining and the clouds just wouldn't disappear, we drove out to his parents house to pick it up. While Justin and David worked their magic on the grill, Teal and I were slaving away in the kitchen with potatoes and carrots from my latest CSA box.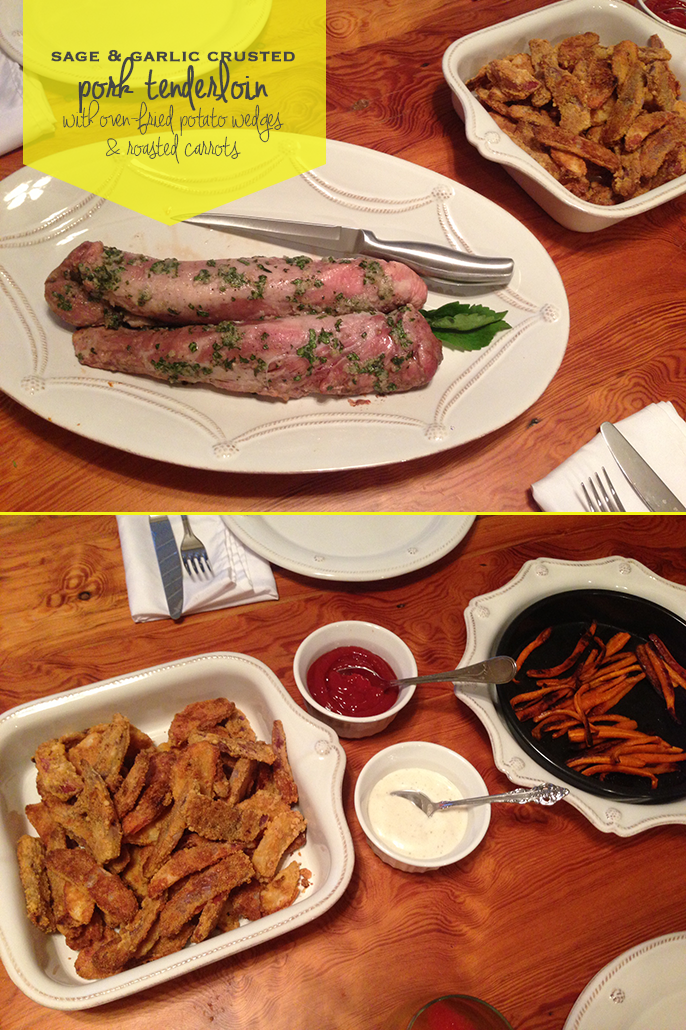 My only experience with cooking/prepping pork tenderloin was that time I made the apple infused recipe in the crockpot. If you remember, Justin thought it tasted like cat food – so I was a little bit leery on how this meal would go!

2 garlic cloves 1 tablespoon of fresh, finely chopped sage 1 1/4 teaspoon of Kosher salt 1/4 teaspoon of ground pepper 1 tablespoon of olive oil 1 pork tenderloin
(tied with kitchen twine, I missed this detail)

Step 1 Combine and mix garlic, sage, salt, pepper, and olive oil. Rub mixture all over pork tenderloin.
Step 2 Grill over indirect heat for 25 – 30 minutes or until it registers at 150º on an instant-read thermometer.
Suggestion, tent in aluminum foil for 10 minutes after taking the tenderloin off the grill. This will help keep the tenderloin juicy, rather than dry.

As unusual as it looked after taking it off the grill, the tenderloin was delicious and full of flavor! It was hard for me to understand how that simple paste, added so much in such a short amount of time.
For sides, we roasted carrots – at 375º for about 20 minutes with olive oil, garlic, salt, and pepper. We also tried an oven-fried potato wedges recipe by Paula Deen, which was a huge hit too! It was so simple, I'm sure I'll be sharing that recipe soon.
—
Fortunately for me, Justin is loving the grill and putting it to good use. He's enjoying it so much, that he and David surprised me and Teal with dinner last night. Tuesdays and Thursdays Teal and I attend a Zumba class. So while we were shaking off calories, the guys were grilling up some delicious deer meat stuffed with jalapeños and onion, wrapped in bacon. Tossed some asparagus on the grill and served up rice, plus a delicious raspberry and feta salad. Although I refuse to get accustom to this special treatment, I was so surprised and reminded that I'm one blessed gal to have such a sweet and thoughtful husband.
Check it out! I'd say the guys did exceptionally well!

facebook // twitter // instagram // pinterest // bloglovin'