Truthfully, with so many vegetables in our CSA boxes, it's hard to use them all in one week. So in addition to getting creative with some of our meals, we've been drinking a lot – I mean a lot, of our veggies. As many of you may remember, we began drinking kale smoothies back in February of this year. It was a great source of nutrients and guaranteed we consumed our greens for the day. It quickly became a daily routine – breakfast for us –  and we both really enjoyed how great we felt thanks to it.
At some point during the moving out and new home renovations, our routine was lost. After we began to get settled, we ignited it again but were still only using kale and a few fruits. Whenever we first began subscribing for our CSA box, I knew I'd have to start incorporating more of these veggies into our smoothies. So that's what I did.
Each morning for the past 4 weeks, I've gradually incorporated more greens (kale, collards, etc.), along with other vegetables like carrots, beets, and cucumbers. Even though it was a bit of trial and error initially, I think we've finally found a good mixture that works for us and we can both stomach. (Neither of us are too keen on beets!)
What goes in our daily, veggie smoothies?
1 1/2 cup of greens (kale, collards, or whatever we have on hand! Sometimes a combination.)
2 medium size carrots
1 cucumber (again, medium sized or small)
1/4 cup of blueberries
2 strawberries (or mango slices)
1 pinch of parsley
1/2 cup of organic, apple juice
2 1/2 cups of water
Chop, liquify, stir, and drink up!
*Depending on what we've gotten in our CSA box, I may add beets, swiss chard, or basil. (Sometimes those serve as substitutes for other ingredients listed above, sometimes they are just additions to the mix.) As the seasons change and other vegetables began appearing in our boxes, I'm sure I'll be modifying the concoction again and using other vegetables as substitutes.
—
In case you missed it, Justin and I have decided to participate in our local CSA by having a vegetable box delivered once a week from White Oak Pastures. It's a really great way to support our local farmers, while filling our plates with organic veggies and fruits. To find out more about the CSA we participate in, click here.
This is our 4th week of receiving a vegetable box from White Oak Pastures. That's one month of payment, but 4 boxes full of organic goodness we've been incorporating into our diets. Since our first box, we've tried several new recipes and found new ways to consume them. For instance, our smoothies are jammed packed with nutrients and fresh veggies.
After 4 weeks of receiving boxes similar to the one below, I'm still super eager to continue our CSA journey.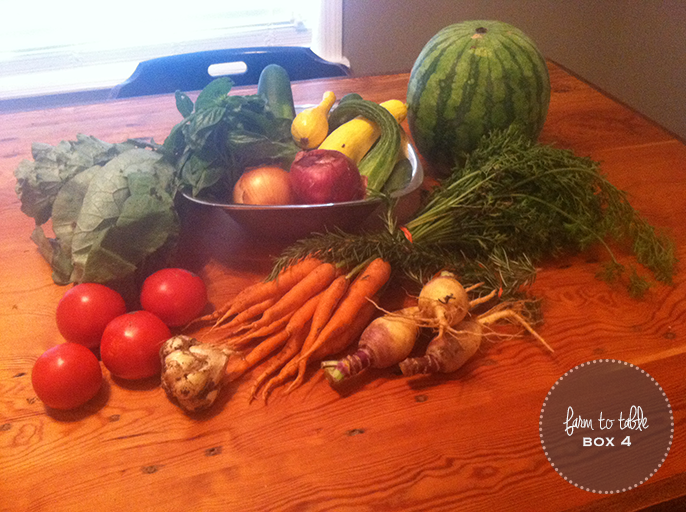 What's in box 4?
Watermelon

 | Seedless personal size watermelons from McClellan Organics, perfect for the 4th of July holiday!

Garlic

 | Inchelium Red softneck garlic, to be exact.

Tomatoes

Kale OR Collards

 | We got collards. I'm crossing my fingers for kale in the future.

Purple Top Turnips

 

Basil
Herb (Mint OR Rosemary)

 – Fresh Rosemary or Mint this week.

Carrots 

 | We've been adding these to our smoothies, but I'll be honest – I'm not the biggest fan.

Sweet Vidalia Onions

 

Squash & Zucchini 

Cucumbers, Slicing

 

Cucumbers, Pickling

 
If you are interested in finding and joining a CSA in your area, use LocalHarvest.org! And if you have any questions, please leave comments below and I'll be happy to answer them – or at least try to answer them.
—
Just this morning, Justin and I had a discussion on why I wasn't cramming our smoothies with fruits. (I was actually showing him how I make them and he wanted to replace our 2 strawberries with a cup of strawberries!) The way I see it, I don't have a problem grabbing a handful of blueberries or a bowl of watermelon or raspberries stuffed with white chocolate chips. I know how to eat some fruit! So the small amount of fruits included in our smoothies serve two real purposes: #1 blueberries and strawberries are packed with antioxidants, so why not? and #2 the biggie for me, to mask some of the not-so-pleasant flavors of vegetables like beets.
Don't get me wrong, fruit smoothies are still the bomb diggity – but for us to have a strawberry/banana smoothie for breakfast would be missing the opportunity for us to drink up our greens. Because if I'm skipping out on my Chick-fil-A biscuit or Clif bar, I want to know I'm consuming a ton of nutrients and vitamins  to make it worth my while. Plus, once I've drank my morning smoothie – I rest assured that I've gotten my daily serving of vegetables.
Since I prompted you all to participate in our kale smoothie challenge back in February, have any of you tried the smoothies for a meal replacement? If so, what's your trick?

facebook // twitter // instagram // pinterest // bloglovin'