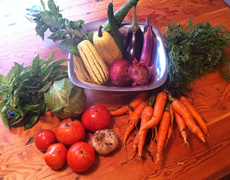 When picking up my CSA box yesterday, I realized I was a week behind with sharing! Last week, box 5 was filled with an abundance of summer vegetables and herbs. It's always exciting to pick-up my box and peek inside, but whenever I discovered more garlic and eggplant – I was one happy lady!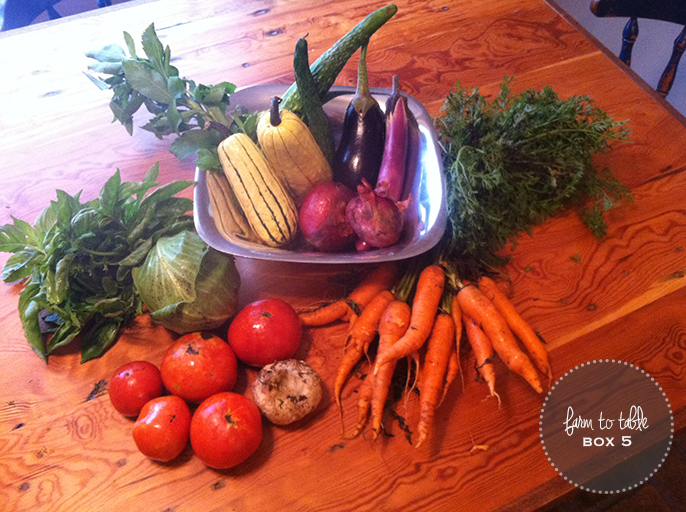 What's in box 5?
Garlic

Tomatoes

Delicata Squash

 

Baby Cabbage

 

Basil
Gourmet Herb (Sage OR Stevia) 

 | We got sage and used it for our pork tenderloin recipe on the grill! It was delicious!

Carrots OR Okra OR Cherry Tomatoes  | This should be the last of the carrots, and I must confess I'm glad. We've been using ours in our smoothies, but I'm not the biggest fan of those orange veggies. Although, I did try roasting a bundle over the weekend with olive oil, garlic, salt, and pepper – which was pretty good! In fact, Justin thought they were sweet potato fries throughout most of dinner, so they must have been good.
Sweet Vidalia Onions (Purples and Yellow)
Squash OR Cucumbers 

Eggplant OR Peppers | We got eggplant, which is one of my all time favorites!
—
This week's box was the least amount of goodies we've gotten. As you can see from the photo below, it was a bit skimp but definitely had a few treats inside.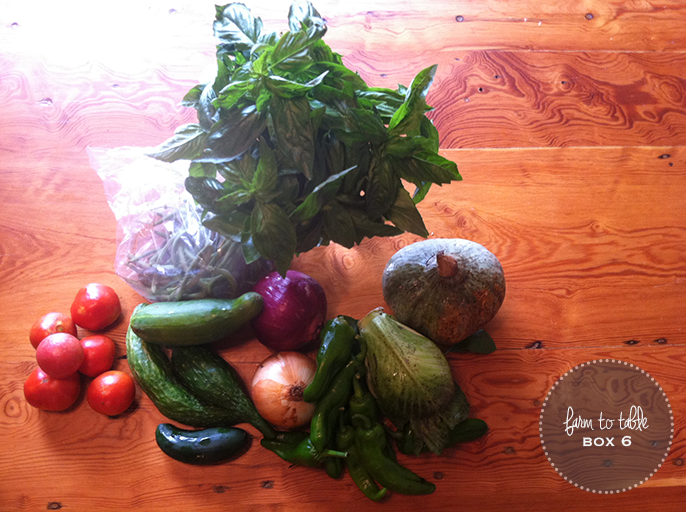 What's in box 6?
Garlic

 | Ours must have climbed out of our box on the way to Albany, ha!

Tomatoes OR Okra 

| We got tomatoes, which I'm happy for – but, I probably would have turned 

cartwheels

 for okra. I can't wait to get my hands on some!

Winter Squash

 | That would be the giant, odd shaped vegetable to the right of the pic above.

Baby Cabbage | We've used this baby cabbage head on tacos and in stir fry. It's very good!

Beans

 | A 1/2 pound of these babies, which I was pretty excited to see. It's our first time getting beans!

Basil
Sweet Vidalia Onions

Squash OR Cucumbers 

| We got more cucumbers, which was perfect timing since I used the last of ours in yesterday's smoothie.

Eggplant OR Peppers | 

Our box came with Carmen and Cow Horn peppers, which were grown specially for roasting! Maybe fajitas this week?
If you are interested in finding and joining a CSA in your area, use LocalHarvest.org! And if you have any questions, please leave comments below and I'll be happy to answer them – or at least try to answer them.
Aside from filling our glasses with veggies, most of these gems are delicious off the grill – which we recently discovered! What are a few of your favorite ways to cook up summer veggies?

facebook // twitter // instagram // pinterest // bloglovin'