Fall weather has official swept the south! Not that I'm the first to notice or recognize this fact. All of my social feeds have been full of pumpkin spice lattes, fall decor, and baked goods for weeks. Without any hesitation, I joined the hype, began decorating the house for the season, and documented it on Instagram. Because that's how you welcome fall, right?
Most of my weekend was spent soaking in the 80º weather and sunshine. Justin had a bachelor weekend trip on his itinerary, so I enjoyed a little R&R while he was away. Lots of reading, lounging, and some time with family.
Saturday, my mom and mother-in-law joined me for some thrift sale shopping and pumpkin pickin'. Followed by dinner over good conversation, and the rest of the evening with my cousin, Bailey.
On Sunday, the weather was too perfect not to be outside, and Justin was home by early afternoon. So together we biked around town. It was wonderful!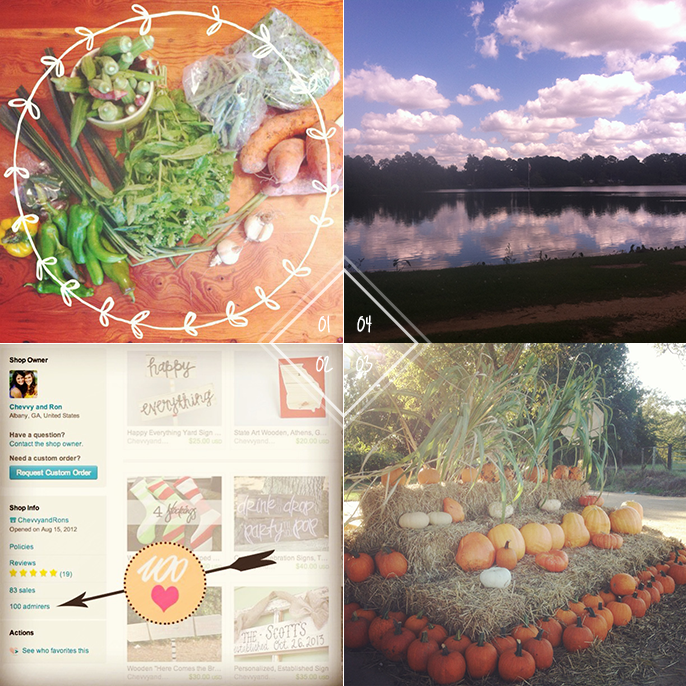 01 Last week's CSA crate of veggies. // 02 Chevvy & Ron's reached 100 admirers on Etsy!
03 / A snapshot from our pumpkin pickin' afternoon. // 04  A view of Lake Loretta, from our afternoon around town.
Here is a peek into Justin's weekend,
How was your weekend? Did you welcome fall with pumpkins and gourds?

facebook // twitter // instagram // pinterest // bloglovin'