In only 26 days, I will be snapping these photos (among others) with a new, gold iPhone 5s! That's right, in less than a month I'll finally upgrade from this 4th generation phone and quit taking grainy photos that I ought to be embarrassed to post. Although I should be snapping pics with uh, let's see – a camera! Phone pics are way too convenient for me.
Today at lunch, I picked up my crate of vegetables from White Oak Pastures. Pleasantly surprised, this box was full to the brim with a variety of goodies. From okra to sweet potatoes, I can't wait to get to the kitchen!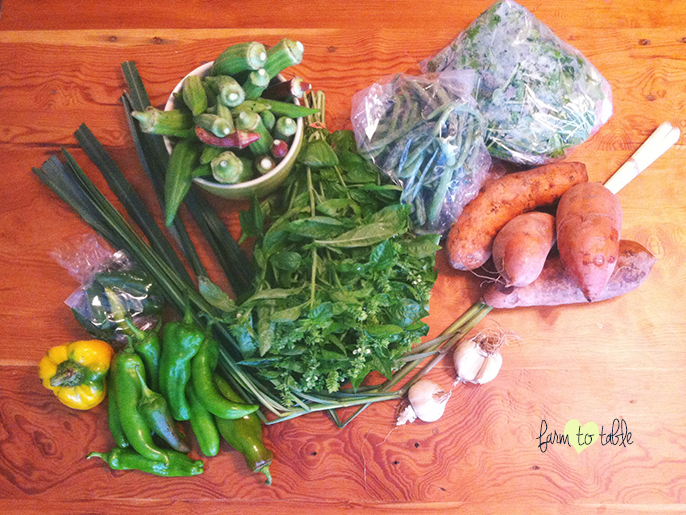 What's in box 13?
Braising Mix | A mix of arugula, mizuna, tat soi, baby kale, and more!
Sweet Potatoes 
Garlic
Okra 
Basil | We've enjoyed our homemade pesto, so I figure I'll whip some up and freeze it this week. I'll keep you posted!
Eggplant or Rattlesnake Beans | Of course I got Rattlesnake Beans, it creeps me out just typing the "s" word.
Peppers | We've got peppers coming out of our ears, but love them nonetheless!
Mixed Hot peppers | Bring on the jalapeño poppers & fritters!
Lemongrass | See that green onion looking thing? That wraps around all of the other veggies? That's lemongrass! What I'm going to do with it, I just don't know.
Now I'm off to the kitchen to whip up my main squeeze a healthy meal, followed by a bootie-shaking, Zumba work-out.
Any suggestions on what to do with the lemongrass? I'm clueless!

facebook // twitter // instagram // pinterest // bloglovin'