We're back with our weekly, Instagram pic recap of our week and weekend! Today's post will be short and sweet, since I've already shared most of our Insta pics last week with this post and this one. Can you believe I chopped my hair off? Ah, I'm still in shock. Although, after a watching the red carpet at the Emmy's last night – it seems I'm ahead of the fall fashion with my short do! Did you miss it? InStyle has a great slideshow of last night's best fashion. (Short hair awards go to: Claire Danes, Elizabeth Moss, Anna Chlumsky, Julianne Hough, Michelle Dockery (Mary from Downton Abbey) and January Jones.)
Last Thursday night, Alice & Jay's of Sasser, Georgia hosted their annual Witches Night Out event. Always a favorite event of mine, Mallory and myself went out for a little girls night. The event included appetizers, drinks, and halloween decor – and if you wear a witches hat, you receive 20% off your entire purchase. I walked away with a tin "H" for my front door, a wooden star, and 4 smaller, tin letters.
I was eager to display my new finds, so below you'll see the smaller letters hung above the stove! xoxo!
Most of Saturday was spent with a paintbrush in my hand! Sarah and Mallory came over; while Mallory and I painted, Sarah kept us company. A baby sign, a door hanger, 4 birthday signs, and 6 wedding signs later, we called it a productive day, joined our men for dinner, and relaxed the rest of the night away.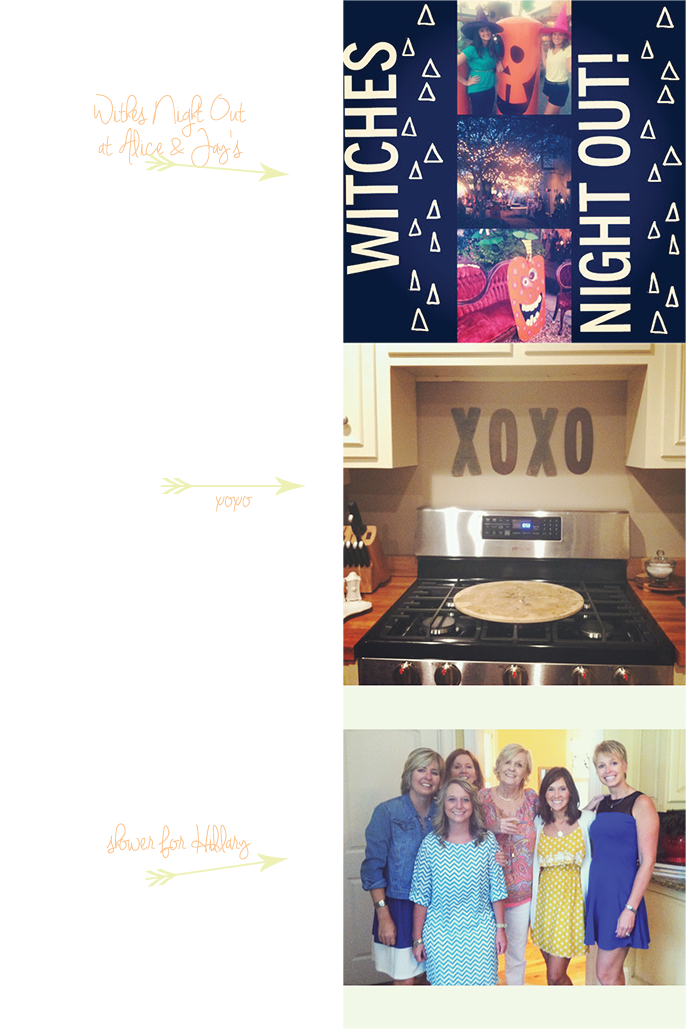 On Sunday, Teresa, Shari, and I hosted a wedding shower for Hillary – my cousin, their neice. We spent the afternoon celebrating Hillary and her upcoming nuptials set for November. Pictured left to right, Kim (Aunt), Hillary (the bride & cousin), Teresa (my MIL), Meme, myself, and Shari (Aunt). An afternoon with family is always a good one.
The weekend flew by and left me, once again, wishing for longer weekends and shorter work weeks. Sheeze, it's only Monday and I'm ready for the weekend! How was your week/weekend?

facebook // twitter // instagram // pinterest // bloglovin'