Although summer temperatures are still lingering around south Georgia, fall is in the air! With a new season rolling in, I couldn't resist the urge to change things up a bit. Forever and a day, I've had long to medium hair – never short. It just wasn't me, wasn't a look I wanted, and frankly, I wasn't brave enough to rock the look. Well this season, I decided to take the plunge and chop of my locks. Justin was fine with the idea and I was itching for change. So yesterday, I visited a high school friend and hair magician, then it was done.
My inspiration,

Justin doesn't believe it's a drastic change, but I'm on the "it's a really, really big deal" bandwagon and still totally shocked that I went through with it. Here are a few photos from the life-changing dramatic new do – before, during, and after!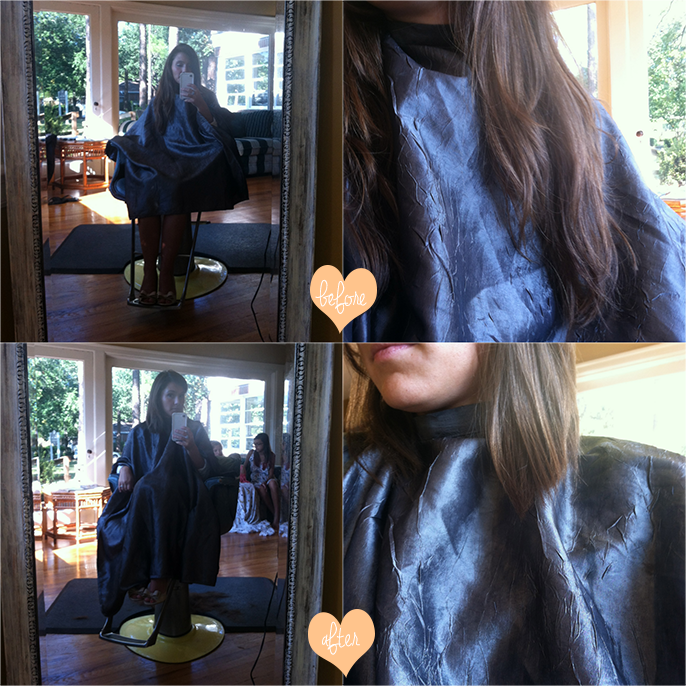 What do you think? Are you a fan of my short bob? You can be truthful, just don't be harsh! I'm not in love, but I definitely like the change-up!
Update: Word in the blog world is that this cut has been dubbed the clavicut. Get it? The longest length grazes the clavicle bone. If you'd like to see a better view of my new clavicut and to see how I'm styling it these days, you can follow me on Instagram (@briannejoy) or check out this post!

facebook // twitter // instagram // pinterest // bloglovin'