Eating healthy, it's a habit we started and don't want to kick. Although we'd both have claimed to be fairly healthy eaters for awhile now, our health kick didn't really began until I read The Honest Life by Jessica Alba. It was then that I started researching organic foods and products to bring into our home. During this time, I discovered a local CSA delivery through White Oak Pastures and couldn't wait to sign up.
Aside from the obvious benefits of vitamins and nutrients, we've found that eating healthier makes us feel better and leaves us feeling more energized. Plus, I've noticed clearer skin – which is always a bonus!
Since beginning our CSA deliveries 12 weeks ago, we've become more knowledgeable of local vegetables and learned how to clean, store, and prepare them. We've discovered vegetables that neither of us has even heard of and we've learned to love green smoothies.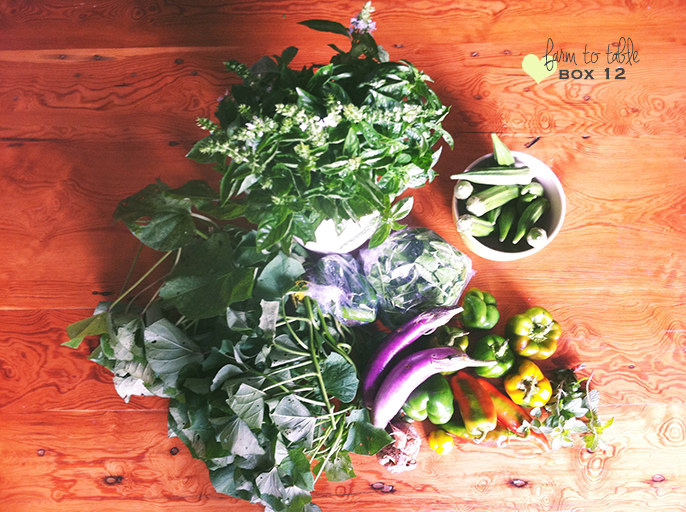 So what came in our box this week?
Arugula or Malabar Spinach | Young tender Arugula greens!
Sweet Potato Greens
Garlic
Okra | A personal favorite!
Basil
Tomatoes or Eggplant or Rattlesnake Beans | We got eggplant.
Peppers | These were lovely shades of yellow, red, orange, and green!
Mixed Hot Peppers
Mint or Marjoram | One sprig of mint and one sprig of marjoram.
We've been enjoying the sweet potato greens in our morning smoothies, arugula salads, and peppers on our pizza. Earlier this week, I tried my hand at homemade pesto – which was also divine on our pizza! That recipe actually calls for the garlic, which we've been getting for weeks and have an abundance of lately.
I foresee eggplant parmesan, roasted okra, and stuffed peppers on the menu this week! How have you been enjoying the last of summer's vegetables?

facebook // twitter // instagram // pinterest // bloglovin'