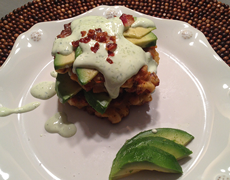 If you've been reading our blog for awhile now or know us personally, you are fully aware that we like our food with a little kick! When jalapeños were found in our most recent, CSA box, I was eager to make poppers… but, our peppers were a bit too small to stuff with cream cheese and wrap with bacon. So what did I do? I hit up Pinterest for some recipes that call for jalapeños, and found this recipe at ClosetCooking.com. It sounded delicious and aside from a few ingredients, I had everything at home.
Of course, a good friend once suggested substituting ingredients that you don't have around for kitchen staples. So with a bit of a tweak (not to be confused with twerk) and a pinch less of coriander, I made something similar to the recipe mentioned above.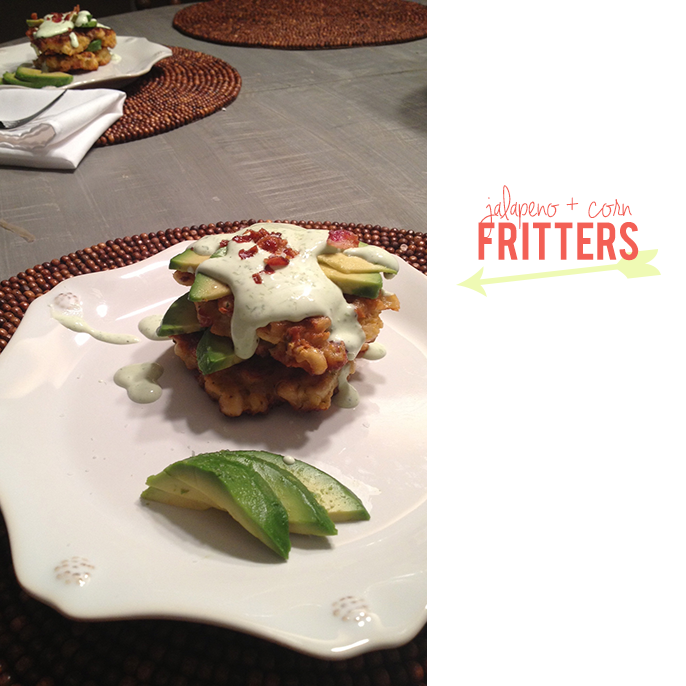 These fritters? Definitely one for the books! They were so delicious and a huge hit. And aside from greasing up my stovetop, they were super easy too!


1/2 cup of flour 1 egg 1 can of corn
(15.2 oz., drained)
1/2 cup of cheddar cheese
(shredded)
1/4 cup of cream cheese
(softened)
2-4 jalapeños
(diced)
2 slices of bacon
(cooked + crumbled)
1 teaspoon of paprika 2 green onions
(diced)
1 handful of cilantro
(chopped)
1 lime
(juice)

One. Combine and mix the flour, egg, corn, jalapeños, cheddar cheese, cream cheese, bacon, paprika, green onions, cilantro, and lime juice.
Two. Heat oil over medium – low heat, form into patties, and cook approximately 4 – 6 minutes on each side, or until golden brown.
Three. Serve with avocado slices and jalapeño popper dressing.
I followed the jalapeño popper dressing to a tee, but it was a little strong for both of us. Personally, I think the clove of garlic was a bit to much for us – and that's coming from garlic lovers, but overall it was a great combination. Next time, I'll probably minimize the amount of garlic in the dressing, but one thing is for sure – there will be a next time. It was too delicious not to share and definitely going to be a regular on the menu.
Enjoy!

facebook // twitter // instagram // pinterest // bloglovin'