We hope you all had a wonderful, Labor Day holiday! I know, we sure enjoyed our 3-day weekend. For the most part, it was pretty uneventful, but it was nice to relax and enjoy each other's company.
Over the weekend, I tackled a project I've been wanting to do for awhile – white-washing the fireplace! It was a daunting project, but I'm so very glad I did it. I love the finished look and only wish I'd braved up and done it sooner. A DIY, tutorial is coming soon!
We also went frog giggin' with some friends! Growing up in the south, Friday night activities may include gigging, night fishing, and cow tipping. I guess there is no denying my southern roots, eh? And to add to the redneck activities of our evening, I'm embarrassed to admit that the frog Justin is holding – was actually shot to it's death. You can add "shooting anything that moves" to the list above. That night, Justin and David were proof that boys will be boys is a very true statement.
Also last week, Chevvy & Ron's joined the other home decor at Ivey's. Even though things didn't work out with Plum Southern, we are glad to announce that you can once again shop our creations locally.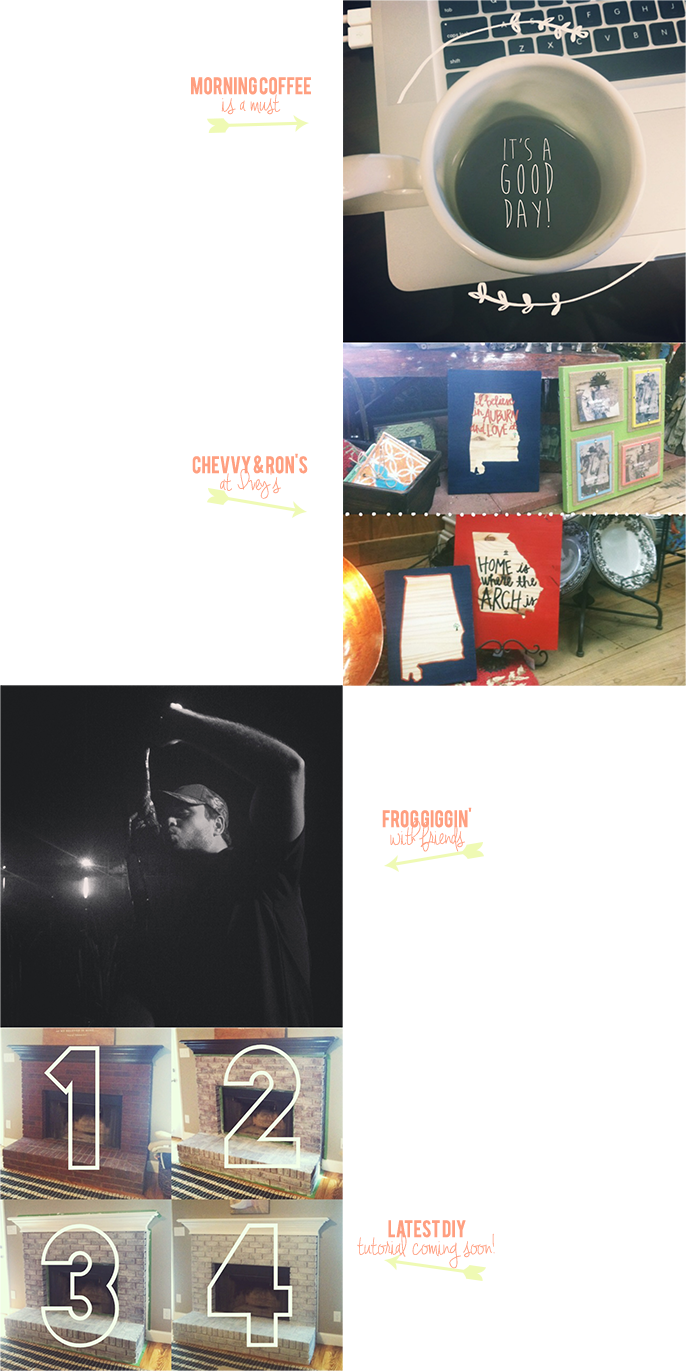 Sunday night, Justin and I were just relaxing on the couch, scanning the channels for a good movie to watch, when I spied Facing the Giants. For those that aren't aware, our church (Sherwood Baptist Church) has filmed several movies – one of which was filmed at our high school. Not only was it filmed at our high school, it was filmed while we were all in high school. Meaning there is a great deal of footage that documents many of us in our younger years – not necessarily the best years of our lives.
Now I'll be honest, my one line was cut from the film, but you can see me among the other cheerleaders on the sidelines. But… Justin's one-liner made the final cut! When I selected "Facing the Giants" the other night, it was just in time to catch Justin's line, "Darren is." Of course thanks to DVR, I was able to snap this adorable, much-younger still-shot of Justin. What can I say? My husband is a star!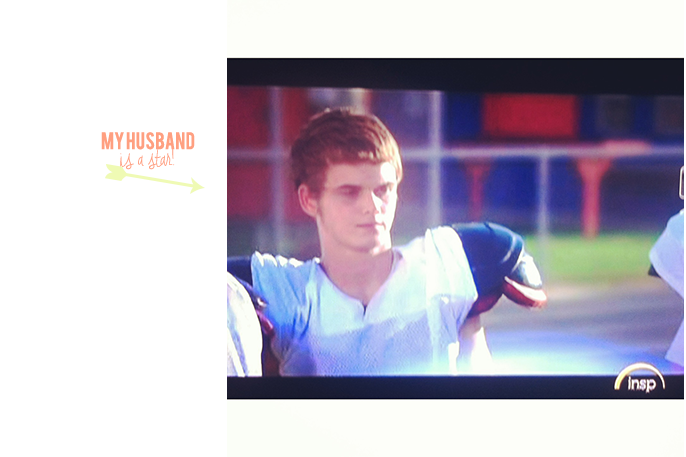 He is such a stud! To see Justin, Buddy, David, and my brother-in-law Chris in their high school years, you'll definitely want to rent Facing the Giants – or you're welcome to borrow our copy.
—
In other news, Justin and I began reading the Harry Potter series together. Of course the together ended almost as fast as it began, seeing as Justin is now in book 3 and I'm still in the 1st book – on chapter 7, to be exact. We love reading together; but this go-round, I was distracted with some home projects.
You may be wondering why we're just now reading this popular series, but would you believe it if I told you that neither of us were allowed to read the books when we were living at home? Among the many similarities of our childhood, Justin and I lived in a very sheltered bubble.
What's currently on your nightstand? Or on your iBook shelf?

facebook // twitter // instagram // pinterest // bloglovin'