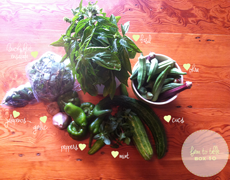 When signing up for the White Oak Pastures vegetable box, I was aware that the season would run for a total of 30 weeks, with a 2 – 3 week break towards the end of summer. However, I had no idea I'd be so crushed when the break actually arrived! After this week's box, there will be a break for 3 weeks – meaning our next box (#11) will be arrive on September 11th. Until then, here is our CSA Box 10.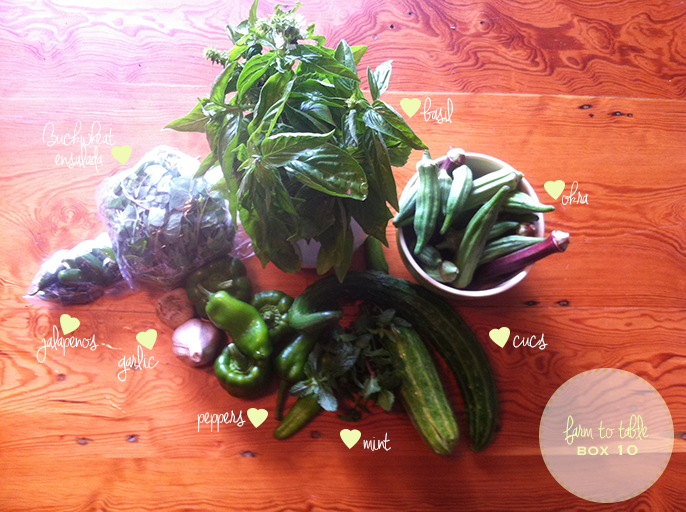 What Certified Organic Vegetables arrived in our crate this week?
Buckwheat Ensalada (or Malabar Spinach or Sweet Potato Greens) | We used our Buckwheat Ensalada from last week's box for a salad with strawberries + feta… delicious! So I know how we'll be using the Buckwheat this week too.
Garlic
Okra
Basil
Cucumbers (or Squash) | More Suyu long cucs!
Peppers (or Eggplant) | Peppers for us. Pizza? I think so.
Mixed Hot peppers | Hello, Jalapeños!
Mixed Herb (Sage, Rosemary, Stevia or Mint) | We got mint, one of my favorites!
On the menu this week/weekend,
green pizza, with some of our peppers
greek quinoa salad, with the cucumbers
leftover eggplant parmesan (from last week's box)
maybe this jalapeño popper dip recipe for a snack or these jalapeño cheddar biscuits!
and I may be trying
these roasted nuts
with our pecans
As you can tell, we typically go for simple, healthy, and quick meals around our house. What is a go-to, weekday meal at your house? Or any meal that's super easy to whip up?

facebook // twitter // instagram // pinterest // bloglovin'