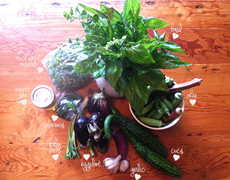 I can't seem to shrug off the excitement of unveiling our weekly, CSA box! Each week I eagerly wait for my email from White Oak Pastures, start pinning recipes for my veggies, and countdown until noon on Wednesdays – our pick-up day/time.
Yesterday was no different – excitement overload. After Tuesday's email – I anticipated a full box, with a surprise canned good. As soon as I spotted both okra and eggplant in my crate –  my day was made, I tell ya.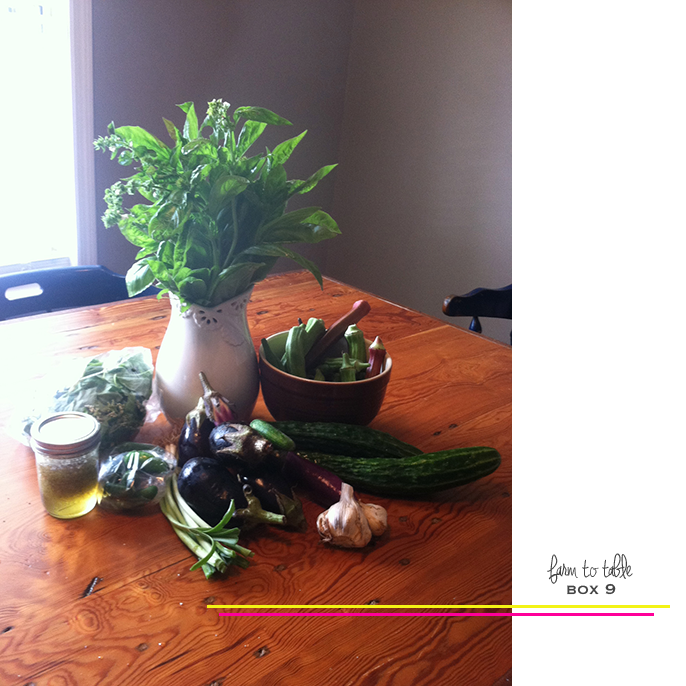 What certified organic vegetables did we get in box 9?
Malabar Spinach OR Buckwheat Ensalada | More buckwheat ensalada for us!
Baby leeks | You can treat these like green onions.
Garlic | Inchelium Red soft neck garlic, for days at our house!
Okra | One pound bag of mixed Red and Green Okra. We roasted our bunch from last week and they were divine!
Basil 
Cucumbers or Squash | Suyu long cucumbers are still hanging around!
Peppers or  Eggplant | Eggplant, whoohoo! Seems eggplant parmesan will be on the menu this week!
Mixed Hot peppers | Mostly, jalapeños for us.
Canned Goodness! | Made on the farm from organic ingredients, our surprise canned good could have been: pickled cucumbers, pickled radishes, hot pepper jelly, pickled bush beans, or pickled okra. This treat made me oh, so happy! I'd crossed my fingers for pickled okra or hot pepper jelly… We got hot pepper jelly and I can't wait to try it!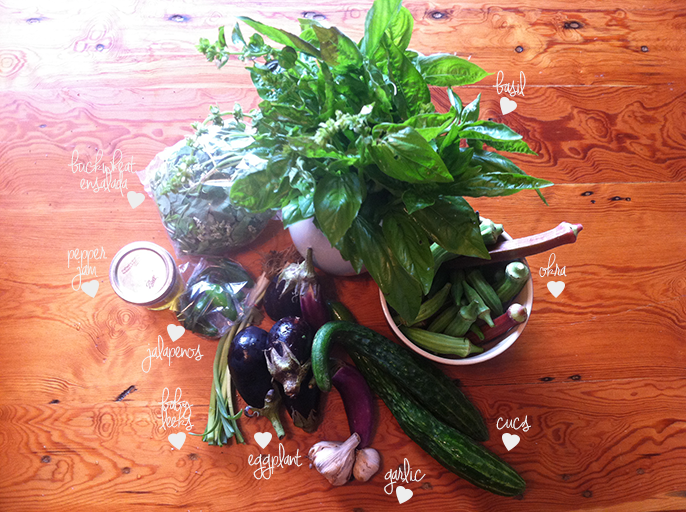 —
Wondering how we use all of these organic, fresh vegetables? Here are a few recipes (in case you missed 'em) that we've tried and enjoyed!
pulled-pork tacos
bacon & eggs with flair
green pizza, we're always updating this one with veggies form our box!
smoothies
fresh, homemade salsa
sage & garlic crusted pork tenderloin
summer appetizers
If you are interested in finding and joining a CSA in your area, use LocalHarvest.org! You can find out more about my local CSA farm, White Oak Pastures – here.

facebook // twitter // instagram // pinterest // bloglovin'