Remember that spontaneous, birthday cook-out? Yea, that one. As unplanned as it was to have a full blown dinner party, surprisingly I was prepared with most of dinner on hand. Since reading the latest copy of Real Simple® and unveiling so many beautiful vegetables in our last CSA box, I've ben dreaming of shrimp kabobs – with peaches!
My original inspiration was a plum/steak kabob and a tomato/shrimp kabob, both featured in the Real Simple® spread – but I decided to tweak them both a bit and create my own combination. Introducing peachy shrimp kabobs…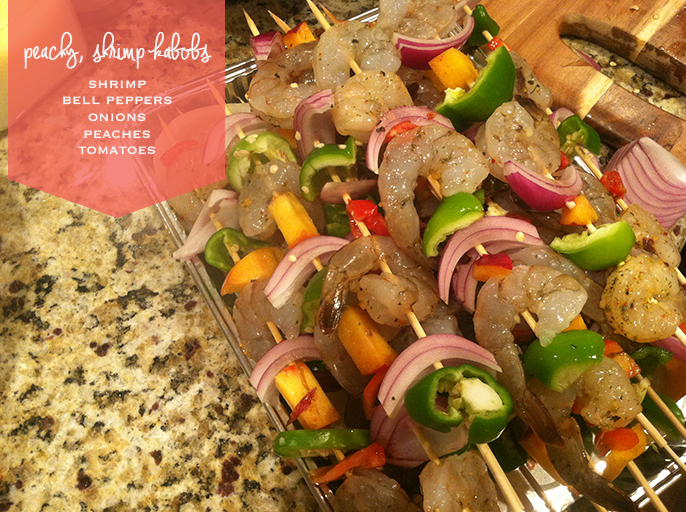 Aren't they beautiful? I can't get enough of all the lovely colors!

shrimp
(1 – 2 pounds, deveined & pealed)
bell peppers
(we used 6, but ours were mini)
onion
(2, red or white)
peaches
(2)
tomatoes
(2)
lime
(1)
In addition, you'll need wooden skewers; we used 20 for 7 people.

Step 1. Marinate the shrimp in lime juice (1) and Tone's Citrus Grill (to taste) for at least 30 minutes (the longer the better!)
Step 2. Soak the wooden skewers in warm water for 15 minutes.
Step 3. Chop the bell peppers, onions, peaches, and tomatoes.
Step 4. Decorate the skewers with the shrimp, and colorful fruits and veggies.
Step 5. Toss on the grill, turning often (we blackened some of ours, so be sure to watch them).
Step 6. Serve and enjoy!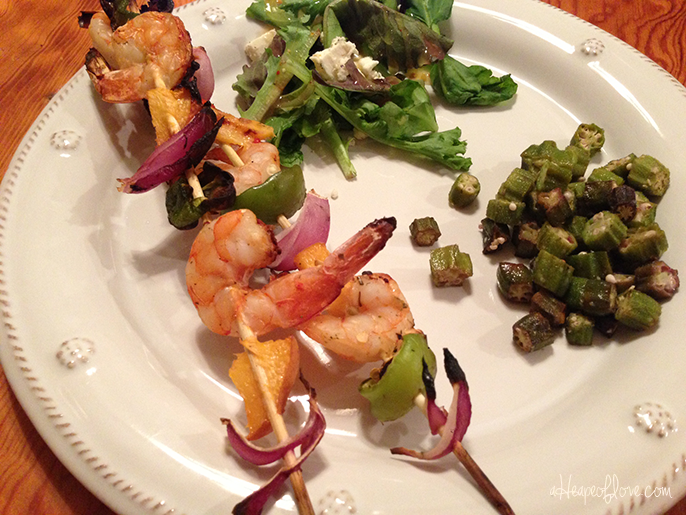 In addition to our peachy shrimp kabobs, we grilled jalapeño poppers for appetizers  – which were a hit, of course. Although, I substituted regular bacon for turkey bacon and definitely caught grief over that one. For sides, we served up salad and roasted okra! All were exceptionally delicious.
Are you a fan of kabobs? Any tasty fruit/veggie/meat combination you're fond of? The peach detail was definitely my favorite part.

facebook // twitter // instagram // pinterest // bloglovin'