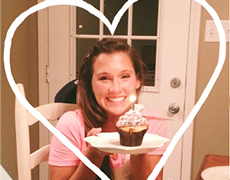 To kick-off my birthday weekend, Teresa, Barry, Christopher, Teal, and David stopped by for a spontaneous cook-out at our house! The evening was filled with laughter, appetizers, kabobs, and cupcakes. It was such a sweet surprise to have them all over and a great reminder that my life is filled with so many wonderful people.
On Saturday, this pretty lady drove over from Tifton to spend the day with me and Mallory. We spent the early afternoon poolside, and the rest of the afternoon chatting. Later that evening, several of us went out for a Mexican dinner. It was so nice to get together with so many friends!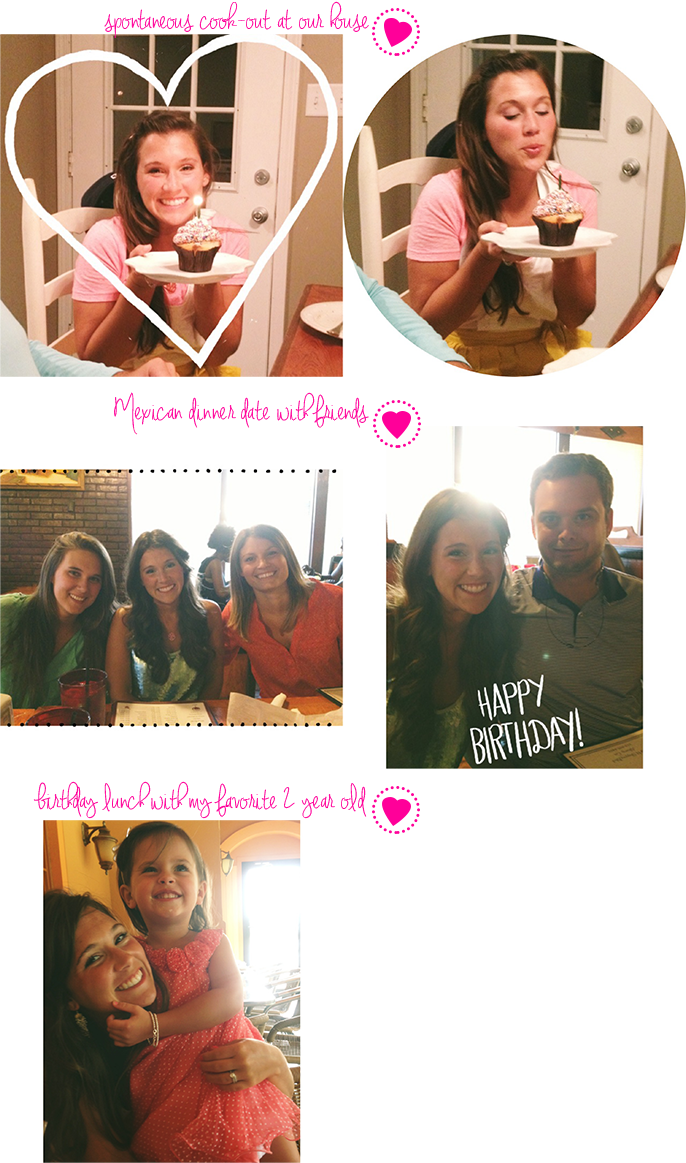 On my actual birthday, we had lunch with the McBride clan. I received lots of love and hugs from my favorite two year old. She always makes for a great lunch date. That evening, Justin and I went out to my parents for dinner, dessert, and games. Added treat, Bethany came into town too! We baked cookies, played Phase 10 (which sadly I did not win), and attempted to teach Justin how to play Vegetable. He was not amused.
We ended our evening with… Shark Week's Megalodon documentary. It was too hard to resist, especially considering we are normally at the beach this time of year. (For almost as long as I can remember, we've spent my birthday at the beach.)
Aside from Bethany classifying me as officially in my "late-twenties" oppose to "mid-twenties," it was an exceptional birthday weekend! I couldn't have asked to be surrounded by better people. Over my 26 years of life, I've been continuously blessed with wonderful family and friends, good health, and so much more – and I have no doubt, this year will be the same. I'm truly blessed beyond words and so happy to be where I am today.
Last Friday, several of my co-workers treated me to lunch. While out, the ladies reflected on where they were in life at age 26. It was fun to hear their stories and rehash some of their milestones. So even though many of you may not be the big 2-6, I've got to ask those of you that are – where in life were you at age 26? Any advice, tips, or words of encouragement for my years ahead?

facebook // twitter // instagram // pinterest // bloglovin'